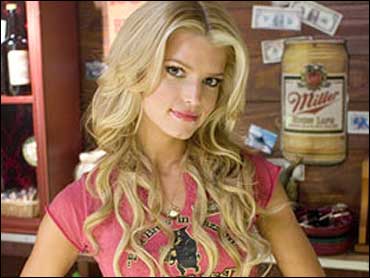 Jessica On Movie With Nick: Nope
Even as she was making her big screen debut as Daisy in "The Dukes of Hazzard," Jessica Simpson was downplaying reports she and husband Nick Lachey plan to make a movie together.

Simpson starred with Lachey in the MTV reality TV series "Newlyweds." (MTV is owned by Viacom, which is also the parent company of CBSNews.com).

But she

The Early Show co-anchor Harry Smith Monday a move by the two of them to the silver screen isn't in the cards.

"You know," Simpson said, "the track record on that is (not good). You know, we like to do the specials, and we went over to Iraq and performed for the troops. We like to do stuff like that.

"I don't know if we'll ever really do a movie together. I read somewhere that we were going to do 'Grease.' I was like, 'Oh, Lord.' "

"Dukes," which also stars Johnny Knoxville and Seann William Scott, zoomed right to the top of the box office charts this weekend, taking in $30.6 million in its first three days of release, according to studio estimates Sunday.

Simpson will perform some songs on The Early Show Wednesday, including "These Boots Are Made for Walkin'," from the "Dukes" soundtrack. The song is a remake of the Nancy Sinatra's hit.

Simpson told Smith she wanted very much to play Daisy: "I grew up watching "The Dukes of Hazzard (TV series). I'm from the South. It was definitely just part of the southern way. You watch "Dukes of Hazzard, you want to be in the General Lee (the car featured in the show), you want to step into the Daisy Dukes (short cutoff jeans shorts worn by Daisy).

"Especially when I heard Willie Nelson and Burt Reynolds and Johnny Knoxville and Seann William Scott, such an amazing cast. And we all had an amazing time together."

Simpson says she had some special help: "Lynda Carter who coached me on how to wear a bathing suit every day, because she was 'Wonder Woman.' Who would know better?"Simpson admits she "had butterflies" her first time on a movie set, particularly with a cast of that magnitude: "I was very nervous. I had no clue what to expect. It was a good thing that I did film 'Newlyweds,' because I got used to the camera. I'm good at ignoring cameras around me. It allows my talent to come through."

She was so nervous, she wrote thank you notes after the first day of filming to everyone involved: "I was so excited, my first day on the movie set. And I was so thankful for all of their encouragement and…"

Told by Smith she didn't look nervous in the movie, Simpson responded, "I was shaking. I was very nervous. I guess that I'm starting off as a good actress then."

Which is a good thing, since Simpson says she's "smitten" by acting: "I loved being somewhere for three months. I'm so used to traveling every single day of my life. And it's really tiring. When you shoot a movie, you get to be creative in a different way every day. Yet you get to stay in the same place and go to the same gym and go to the bathroom on the same toilet. You know, all the important things!"

She adds, "I just want to make people smile, make people laugh. The whole romantic comedy thing is definitely something that I want to do. Comedies. …I have to really get into the character if I'm going to take a dramatic role. I mean, I'm dramatic about a lot of things, but most of it's not real."

Though fans might not think she had to, Simpson says she trained hard to get in shape to play Daisy.

"Immediately when I got the role, I hired one of my best friends, Mike Alexander, who is a personal trainer. And we immediately started training for 2 1/2 hours a day, six days a week. I was running all over the place and, you know, doing squats and lunges trying to get my bootie up. …I can shake it. You do enough squats, it lifts on its own."

Thanks for reading CBS NEWS.
Create your free account or log in
for more features.