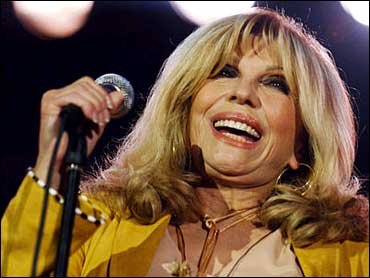 Nancy Sinatra Walking Back To Fame
Nancy Sinatra, who has appeared in box office smashes with Peter Fonda and Elvis Presley and who is famous for recording the hit "These Boots Are Made For Walking," is trying hard to break backinto show business.
And at age 64, she tells Correspondent Elizabeth Kaledin in an interview for CBS News Sunday Morning, that it's harder to make a comeback than it is to break into the business.
Of course, she had a little help the first time around.
The oldest daughter of singing legend Frank Sinatra and his first-wife (also named Nancy), Nancy Sandra Sinatra grew up amid the bright lights of stardom. She made her first TV appearance when she was still in her teens -- with her father and no less a star than Elvis Presley.
She began her acting career in 1964 and appeared opposite Peter Fonda in 1968's "Wild Angels" and opposite Elvis in "Speedway," released the same year. She has seven films to her credit, has provided music for another half dozen movies, including a James Bond feature, and has appeared in dozens of TV shows and specials.
With 23 songs that made the Billboard charts from 1965 to 1969, she also had a successful recording career. By the 1970s, she was recording tunes written by such well-known songwriters as Bob Dylan and Smokey Robinson.
Her best-known songs were "Boots" and a duet with her father titled "Something Stupid."
She began her singing career in 1965, after her divorce from her first husband, singer Tommy Sands.
Her second husband, Hugh Lambert, died in 1985. She had two daughters with Lambert –- Angela, who's in a band called Rockets and who goes by the stage name A.J. Lambert, and Amanda, who is a photographer.
According to her Web site, her latest album, the self-titled "Nancy Sinatra," features collaborations with other artists, including Morrissey and rocker Steve Van Zandt of Bruce Springsteen's E Street Band.
She began a world tour in April that took her to Glasgow, London, Paris, Berlin, Munich, Rotterdam and Madrid.
Sinatra's "These Boots Were Made for Walkin'" was made part of the soundtrack of the film version of "The Dukes of Hazzard." It was performed by Jessica Simpson, who played Daisy in the movie. She also did the song in concert for The Early Show.

Thanks for reading CBS NEWS.
Create your free account or log in
for more features.