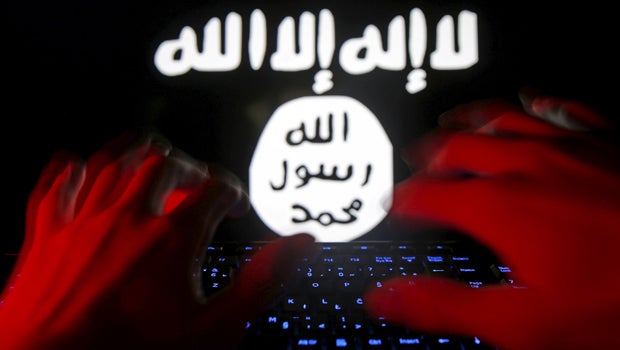 ISIS' media mouthpiece Amaq was silenced, but not for long
LONDON -- The cyber divisions of law enforcement agencies in the U.S. and seven other countries launched a massive operation last Thursday to disrupt the Islamic State of Iraq and Syria (ISIS)'s "capability to broadcast terrorist material for an undetermined period of time." A primary target was ISIS' online media portal, Amaq.
On Wednesday, CBS News discovered that the "undetermined period of time" may only have been a few days.
Amaq did disappear from the internet on Thursday -- the day before the coordinated operation was publicized by pan-European police agency Europol. But by Wednesday morning, Amaq was back online, seemingly hosted on a server in Phoenix, Arizona. ISIS used its freshly relaunched propaganda machine to claim a deadly attack Wednesday in the capital of Libya.
Its rapid resurrection after the coordinated international "takedown action" clearly demonstrates the challenge facing law enforcement agencies across the globe as they try to derail terror groups' efforts to radicalize, recruit and spread their messages.
It is a game of cyber whack-a-mole, and it may ironically be a less effective means of countering terrorism online than the old-fashioned methods of capturing or destroying people and hardware on the ground. But that doesn't necessarily make it less important.
Europol said in its Friday statement that the operation involving authorities in the U.S., United Kingdom, Belgium, Bulgaria, Canada, France, the Netherlands and Romania had "compromised" ISIS' "capability to broadcast and publicise terrorist material."
Europol spokesperson Tine Hollevoet told CBS News on Wednesday that the press release on the coordinated operation was deliberately vague in stating its achievements.
"We never claimed that we silenced them (ISIS) forever," Hollevoet said.
She was unaware of Amaq's website having been relaunched, and said she would refer it to the agency's technical teams.
Regardless, Hollevoet said Europol remains "convinced of the seriousness of the damage that we were able to do."
Rob Wainwright, Europol's executive director, lauded the effort in a quote included in the Friday statement, saying: "With this ground-breaking operation we have punched a big hole in the capability of IS to spread propaganda online and radicalise young people in Europe."
ISIS "is no longer just losing territory on the ground -- but also online. We will not stop until their propaganda is entirely eradicated from the Internet," said Europol commissioner Dimitris Avramopoulos last week.
ISIS losing its territory "on the ground" may actually prove more important to eradicating that propaganda. CBS News monitors ISIS propaganda online closely, and it has undeniably taken a major hit over the last year or so. The content produced by Amaq today is far from what it churned out during ISIS' heyday, in both quality and quantity.
Cyber weapons don't appear to have hit ISIS the hardest, however, but rather the physical disruption of its media operations on the ground. Since U.S.-backed forces reclaimed major ISIS strongholds in Iraq and Syria, there have been far fewer Amaq videos. Today, it rarely releases videos to rival the highly-produced, TV-ready and graphically enhanced productions it used to churn out daily.
The U.S. military, in its regular bulletins describing coalition airstrikes in Iraq and Syria, has noted many strikes in the past year targeting ISIS "media centers." The dramatic drop in Amaq productions has coincided directly with ISIS losing its grip on the last two major cities it held: Mosul in Iraq, and Raqqa in Syria.
Tackling ISIS and other extremist groups online is two separate but linked fights. Media companies, including the powerhouses YouTube and Facebook, under pressure from governments, have taken major strides at removing accounts that spread extremist content.
ISIS has adapted to the changing landscape, however. CBS News analyst Khaled Wassef says ISIS has "stopped relying entirely on websites and online portals as a platform to spread propaganda, and turned to more private cloud-based applications such as Telegram (messaging app) to communicate with followers and diffuse communications."
Put simply, extremist content is easy to take down, but new social media accounts are easy to create to spread it, so as long as new content is being generated, going after the entities that create it is vital.
Another Europol commissioner, Julian King, said in the Friday news release that the law enforcement agencies involved in last week's cyber operation, "expect that the data retrieved as a result of the takedown will help to identify the administrators behind IS media outlets and potentially radicalised individuals on European soil and beyond."
Going after those media outlets and the people who operate them -- not online, but "on European soil and beyond" -- is likely to be the most effective way to stem the flow of online jihadism. The fact that cybersecurity operations like the one announced by Europol can reveal real human operators on the ground may help to explain why the frustrating game of whack-a-mole, futile as it may seem, is important.
As Hollevoet told CBS News on Wednesday, Europol and its partner agencies know they will have to continue such operations, "over and over and over again."
Thanks for reading CBS NEWS.
Create your free account or log in
for more features.