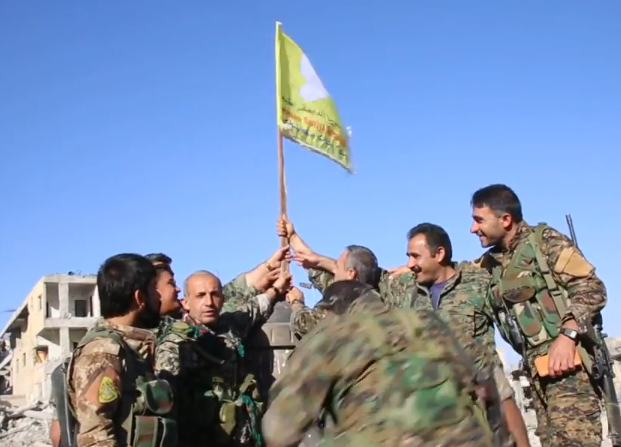 U.S.-backed forces say Raqqa liberated from ISIS
RAQQA, Syria -- U.S.-backed Syrian forces said Tuesday that Islamic State of Iraq and Syria (ISIS) fighters had been completely defeated in the city of Raqqa, which the Islamic extremist group had held and ruled over brutally as a de-facto capital for more than three years.
Earlier on Tuesday the ISIS holdouts had been corralled into the city's sports stadium after losing their only other position in Raqqa, the hospital.
CBS News' Holly Williams, one of the few foreign television correspondents to make it into the former ISIS stronghold with the militia known as the Syrian Democratic Forces (SDF), said Tuesday that there were still thought to be ISIS fighters holed up in buildings and tunnels in the sprawling city.
A spokesman for the U.S.-led military coalition battling ISIS said later Tuesday that were were an estimated 100 members of the militant group still in Raqqa. In addition to the holdouts, Williams notes, it could take months before Raqqa is finally cleared of all the explosives laid by the militants.
Then, Syrians will somehow have to find a way to rebuild the shattered city, where there is hardly a building left unscathed.
Williams reported Tuesday morning from al-Naim Circle, in the very heart of Raqqa. It used to be an ordinary traffic circle, but ISIS turned it into a place notorious for public executions, and then posted evidence of those horrific killings on the internet as propaganda.
Al-Naim Circle was taken back by the SDF forces on Monday night, and Williams watched them on the streets of Raqqa celebrating; they were in a victorious mood after a brutal four-month battle for the city.
Williams said it was a bizarre feeling to stand in al-Naim, as during the three-plus years that ISIS held Raqqa, she would almost certainly have been taken captive and killed.
Some buildings have been pulverized by the fighting, others flattened by U.S. airstrikes. Nearly all citizens of Raqqa, perhaps all of them, have fled the city.
It is a terribly irony, notes Williams, that in order to retake Raqqa from ISIS, it had to be all but destroyed.
Thanks for reading CBS NEWS.
Create your free account or log in
for more features.