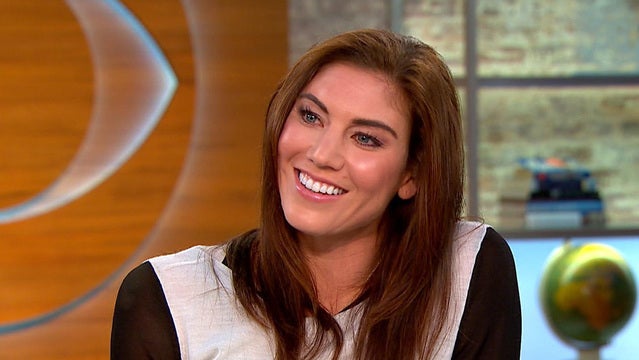 Hope Solo on Rio games, Zika scare and FIFA pay gap
After capturing a World Cup victory last summer, the U.S. Women's soccer team is chasing another title in the 2016 Rio Summer Olympic Games.
The team officially sealed a spot in the games this month after beating their competitors with five straight shutouts. But along with the excitement for a shot at their fifth gold medal are also concerns over the Zika virus outbreak in Brazil.
"If things stood as they are right now, I probably would not go," goalkeeper Hope Solo told "CBS This Morning" Friday. "At some point I do want to start a family and I don't want to be worried. I don't want those anxieties, I don't want the constant tests, I don't want to risk the safety of a child, the health of a child."
But the two-time Olympian medalist said there were still too many "unknowns" and expressed relief that she did not have to "make any decisions right now."
Speaking on behalf of her teammates, Solo also said the team's primary focus was on winning the Olympics.
"It's never been done before after winning a World Cup, so first and foremost, we want to be back-to-back champions," Solo said.
Rio would mark Solo's third consecutive appearance in the summer Olympic Games. Solo joined Team USA in 2000 and has been the starting netminder for more than a decade. She rose to celebrity status after helping guide the team to back-to-back Olympic gold medals, and is acclaimed as one of the best goalkeepers in the history of the women's national team. Still, the star athlete said she has not mastered the sport.
"Goalkeeping is a very difficult position - you're kind of the hero or the goat," Solo said. "There's so many details and intricacies and angles and it's a mental game more than anything else. That's why I never want to walk away because there's always something new to learn and there's always a challenge."
Solo had her eyes set on becoming a professional soccer player at 12 years old, even before the position existed for women.
"I had this gigantic dream that wasn't even in the realm of possibilities at the time, and by God, it happens," Solo said.
Just as Solo accomplished her dream, she has optimism for women's equality in sports.
"It's going to be a long road," Solo acknowledged. "We had a great summer you know - we crushed the ratings, we had an incredible following worldwide - but it wasn't enough to make people say things need to change."
After their World Cup victory, the women's team was awarded $2 million, strikingly less than the $35 million the German men's team earned in 2014 after winning the World Cup in Brazil.
"It opened people's eyes up but now, we as a team, we have to take every single step along the way, whether it's for CBA negotiations, whether it's standing strong as a team," Solo said. "So I'm proud of my team, I'm proud of all of us coming together and saying ... 'This is the time that we need to push for equality and we need to push for what's right' and people are paying attention."
Solo does not appear to have any plans of leaving the soccer field any time soon.
"I've put my life, my passion into goalkeeping, into this team," Solo said. "I've been on this team for 16 years. It's scary though - life after soccer is scary."
Thanks for reading CBS NEWS.
Create your free account or log in
for more features.