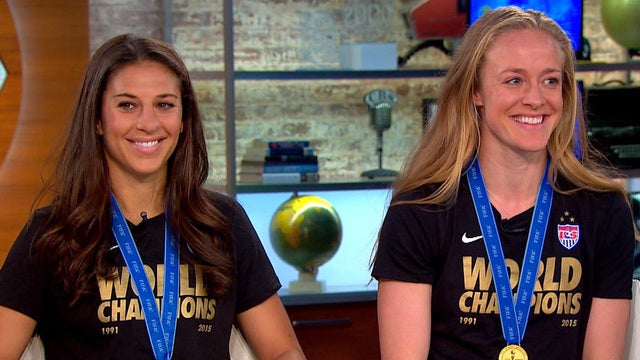 World Cup champions celebrate win, but question inequality
Team USA returned from the Women's World Cup victorious for the first time since 1999, but one part of their win is more sour than sweet.
The U.S. Women's National Team will receive about $33 million dollars less than 2014's Men's World Cup-winning German team.
U.S. midfielder Carli Lloyd and defender Becky Sauerbrunn said they will keep fighting to equalize that disparity.
"That's a big, big gap. I think they could push that up a lot more," Lloyd said Friday on "CBS This Morning." "I mean, we work just as hard as men, and we push ourselves to the limit, and you know, I think that we've got to keep going and keep pushing on so that we can kind of close that gap a little bit."
Sauerbrunn pointed to the number of people who tuned into this year's World Cup as reason FIFA should make a change.
"I think when you look at the viewership, obviously people are interested," she said.
The 2015 women's champions will split $2 million while the 2014 German men received $35 million.
FIFA, world soccer's governing body, said the prize is based on revenue.
This year's figures are yet to be released, but in 2011, the Women's World Cup brought in almost $73 million compared to the 2010 Men's World Cup, which made almost $4 billion, reports CBS News correspondent Elaine Quijano. That winning men's team received $348 million, or 9 percent of the total. Japan, the winning women's team in 2011, received a higher percentage - 13 percent - but the payout was still much less, at $1 million.
MLSsoccer.com analyst Charles Boehm said it will be interesting to see if anything changes now.
"Will the momentum of this World Cup win send fans to the gates? Traditionally, that hasn't happened. But we haven't seen a World Cup audience this big so maybe things will change going forward," Boehm said Friday on "CBSN."
But that's not stopping this year's squad from celebrating. Friday, the American women hit the streets of New York City in a ticker tape parade down the "Canyon of Heroes."
The last female athlete honored was Olympic figure skating gold medalist Carol Heiss Jenkins in 1960. The UWNT are the first all-female team to receive the honor.
"I think we're gonna look back 10, 20 years from now, and that's when it's fully going to soak in," Lloyd said. "I think we don't realize how high up we are right now, but you know we're etched in history, we just created history, we're part of it."
History-making only begins to describe the women's victorious road to the championship. The U.S. women broke an eye-popping number of records including the fastest hat trick in a men's or women's World Cup game and the largest number of viewers, nearly 27 million, to watch a Women's World Cup final.
"We really had no idea. We kept hearing that the numbers were creeping up each game, but that final game when we heard that number, we were just like, that's amazing, that's unbelievable," Sauerbrunn said. "I mean, we love women's soccer, but to know that the country loves women's soccer too. It's great."
Following the 5-2 revenge victory against Japan, Team USA now holds the record for most goals scored ever - 112 - in Women's World Cup play, as well as the most Women's World Cup wins, with three championships.
Sauerbrunn, who played a key goal role defending with goalkeeper Hope Solo said her favorite moment was Lloyd's 60-yard goal from midfield.
"In my wildest memory, just imagining dreams, I never thought we would score that many goals, and then when Carli chipped the keeper I was like, I have got to wake up, this dream is getting ridiculous," Sauerbrunn said.
For World Cup MVP Lloyd, it's all "a dream come true."
"I've had people reach out to me that say 'I hate watching women's soccer, but I was glued to the TV for this whole month watching you girls' -- ladies, not girls. And you know, that says a lot, because it's not people that are just soccer fans watching," Lloyd said. "People are so inspired by us. We did something really epic and amazing."
Thanks for reading CBS NEWS.
Create your free account or log in
for more features.