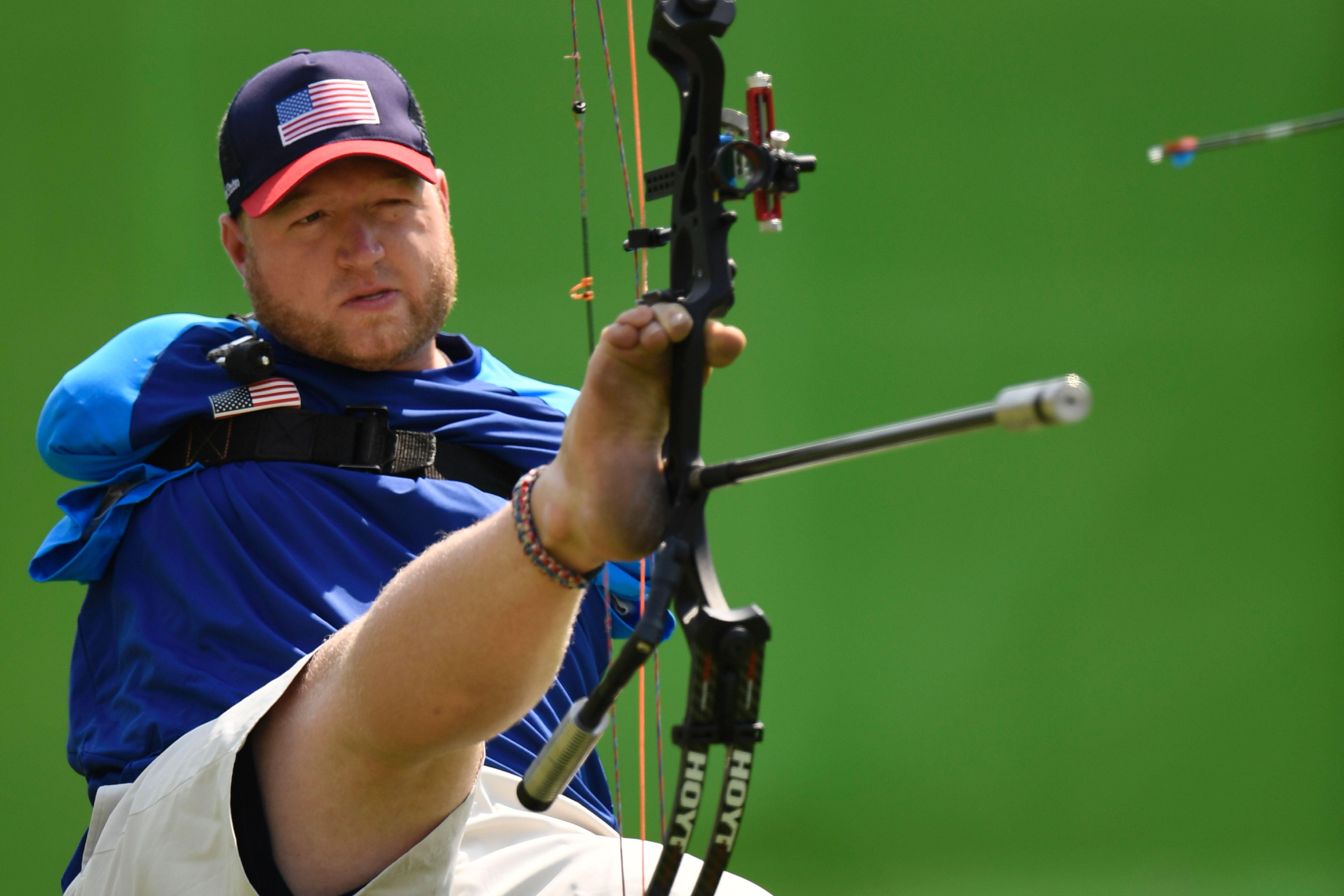 Armless archer: "You have to follow your dreams"
RIO DE JANEIRO Matt Stutzman was born with no arms - just stumps at the shoulders - but he says there's almost nothing he can't do.
He holds a world record for the most accurate distance shot in archery, which includes able-bodied archers.
He drives a car without modifications - right foot on the steering wheel - plays basketball, and can write with both feet, both shoulders, and his mouth.
He shaves and feeds himself with his feet, and his house in southeastern Iowa has no modifications of any kind.
"I tell my wife Amber there's only one thing I can't do," he said Wednesday. "I can't change dirty diapers."
Stutzman - known widely as the "Armless Archer" - has gone from being a depressed, unemployed stay-at-home father in 2009, to being famous and well-off.
He won a silver medal in the 2012 Paralympics in London, and is a favorite to win a medal in Rio. Along the way he's accumulated sponsors like British Petroleum, Nike and many others.
"I now travel full time and work, and my wife is a stay-at-home mom," caring for their sons Carter, Cameron and Alex, he said. "I'm not saying I'm like LeBron- (James) rich, but I'm comfortable enough that I'm OK. It's not stressful anymore."
Stutzman turned to archery in 2009 to feed his family, not to compete. The idea was to "harvest an animal and put it in the freezer to have food."
"One day I had a brilliant idea to grab a bow, and I felt like I could put food on the table. It worked out pretty good," he said. "When you are desperate to provide for your family, you're willing to try whatever."
Along with plenty of determination, Stutzman also has a keen sense of humor.
He likes to recount awkward moments about shaking hands - with a man who has no arms.
At the Pan American Games a year ago in Toronto, the medal presenter reached to grab Stutzman's shoulder to congratulate him. Stutzman often greets people this way.
As he did, Stutzman, instead, offered his foot.
"So I went like this," Stutzman said, motioning to his leg and foot to demonstrate. "He didn't know what to do."
Or the time in 2009 when he searched on Google for tips about archery.
"I actually googled: "How to teach a guy without arms to shoot a bow."
Stutzman laughed.
"And there was nothing on Google, so I had to sit down and figure it out."
Stutzman was adopted at 13 months by Leon and Jean Stutzman. He said his parents would always let him try things first, never jumping in immediately to help.
"I had to learn how to adapt to the world, instead of the world adapting to me," he said, recounting hours when he and his father would toss around an imaginary baseball.
"I don't remember when I first began to learn how to eat," he said. "I just remember one day like: 'Wow, I'm using my foot.'"
Stutzman holds the bow with his right foot, extends his leg and braces the blunt end of the arrow against his shoulder. He triggers the shot with jaw and back muscles.
He recalled walking into a sporting goods store to buy a bow, and the clerk asked: "How are you going to shoot it?"
Stutzman replied: "I don't know. Just give it to me and leave the room."
That's his general attitude. Just find a way, and get out of my way.
"If I can take a bow and compete in a sport that people think you have to have hands for, and I can do it well, then what excuse do others have about sitting around, or not getting a job or making their lives better?"
Stutzman, who lives in the small town of Fairfield, Iowa, has developed a cult following. Fans screamed his name on Wednesday during his competition at Rio's famous Sambadrome, many clamoring for a photo with him.
Americans Joe Lin and Kiratiana Freelon called him over for selfies. Lin worked as an Olympic volunteer and Freelon works for the Rio organizing committee.
"He's the Armless Archer," Lin said. "He's been getting lots of attention like in advertisements. I've seen him in commercials."
Stutzman still can't believe the following that fame has given him.
"It's amazing for me if I can influence somebody in a positive way," he said. "You have to do it. You have to follow your dreams. You've got to go after it."
Thanks for reading CBS NEWS.
Create your free account or log in
for more features.