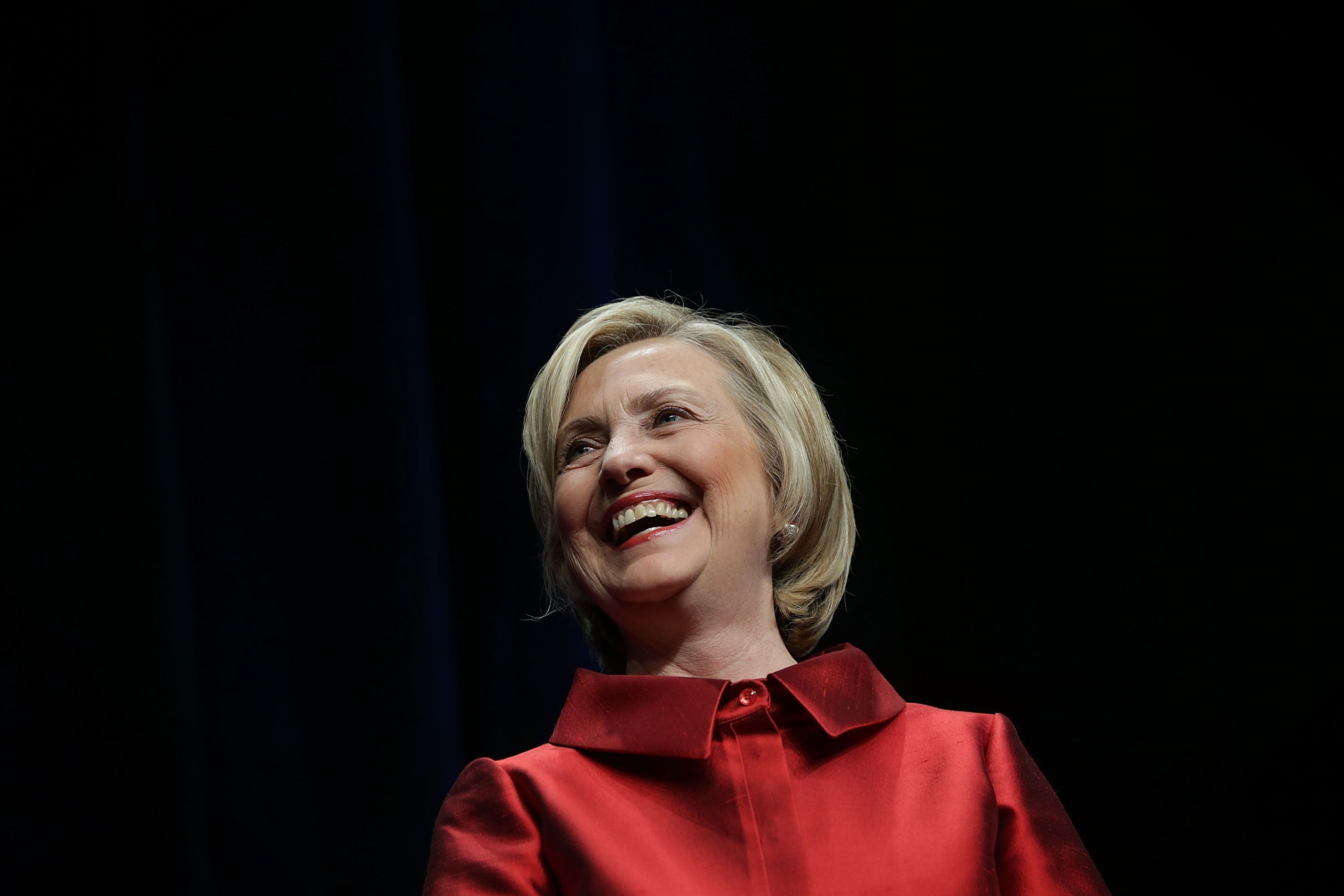 Hillary Clinton celebrates Supreme Court ruling on same-sex marriage
Hillary Clinton celebrated the Supreme Court's ruling on same-sex marriage Friday evening at a Virginia Democratic Party fundraiser that may as well have been a Clinton campaign rally.
"This morning love triumphed in the highest court in our land," she said, before quoting from the majority decision passed down earlier Friday, and allowed same-sex couples to marry. "They ask for equal dignity in the eyes of the law and the Constitution grants them that right."
Clinton took aim at her Republican opponents, chiding them for their objections to the Supreme Court's rulings on both same-sex marriage and, earlier in the week, the Affordable Care Act.
Many of the Republican candidates "seemed determined to lead us right back into the past," she said. Without naming him, Clinton called out Wisconsin Gov. Scott Walker, who has yet to announce his bid for the Oval Office, for his suggestion of a constitutional amendment to reinstate the power of the states to define marriage.
"Instead of trying to turn back the clock," Clinton said to applause, "they should be joining us in saying loudly and clearly no, no to discrimination once and for all."
Her message for Republican candidates on Obamacare: "move on."
Clinton has emerged as a vocal candidate on the Democratic side for LGBT rights. She regularly mentions it on the campaign trail and, ahead of the ruling this week, her campaign released an emotional video showing the weddings and engagements of same-sex couples.
Her staff was quick to change the header image on her Twitter account to a rainbow-striped "history," featuring her logo's signature letter, following the ruling.
She told the donors that Americans still needed to follow through on ensuring equal treatment for the LGBT community.
"The Supreme Court has done its work," she said, and "now we have to do ours."
The crowd of 1,800 gathered at George Mason University's Patriot Center in Fairfax, Va., divided into half-capacity by a dark curtain, was fired up long before Clinton took the stage. More than an hour earlier, Rep. Gerry Connolly (D-Va.), had to yell over applause and cheers as he praised the Supreme Court's decision.
"We are all Americans," he said. "We all have the same rights!"
As Clinton's appearance drew closer, John Legend's version of "Wake Up Everybody" reverberated through the arena. It was hard to tell whether it was the same-sex marriage news or the candidate that was exciting the crowd. Clinton was introduced by her longtime friend Virginia Gov. Terry McAuliffe.
"After 226 years," he said, with Clinton standing by his side, "It is time for a woman president of the United States!"
Thanks for reading CBS NEWS.
Create your free account or log in
for more features.