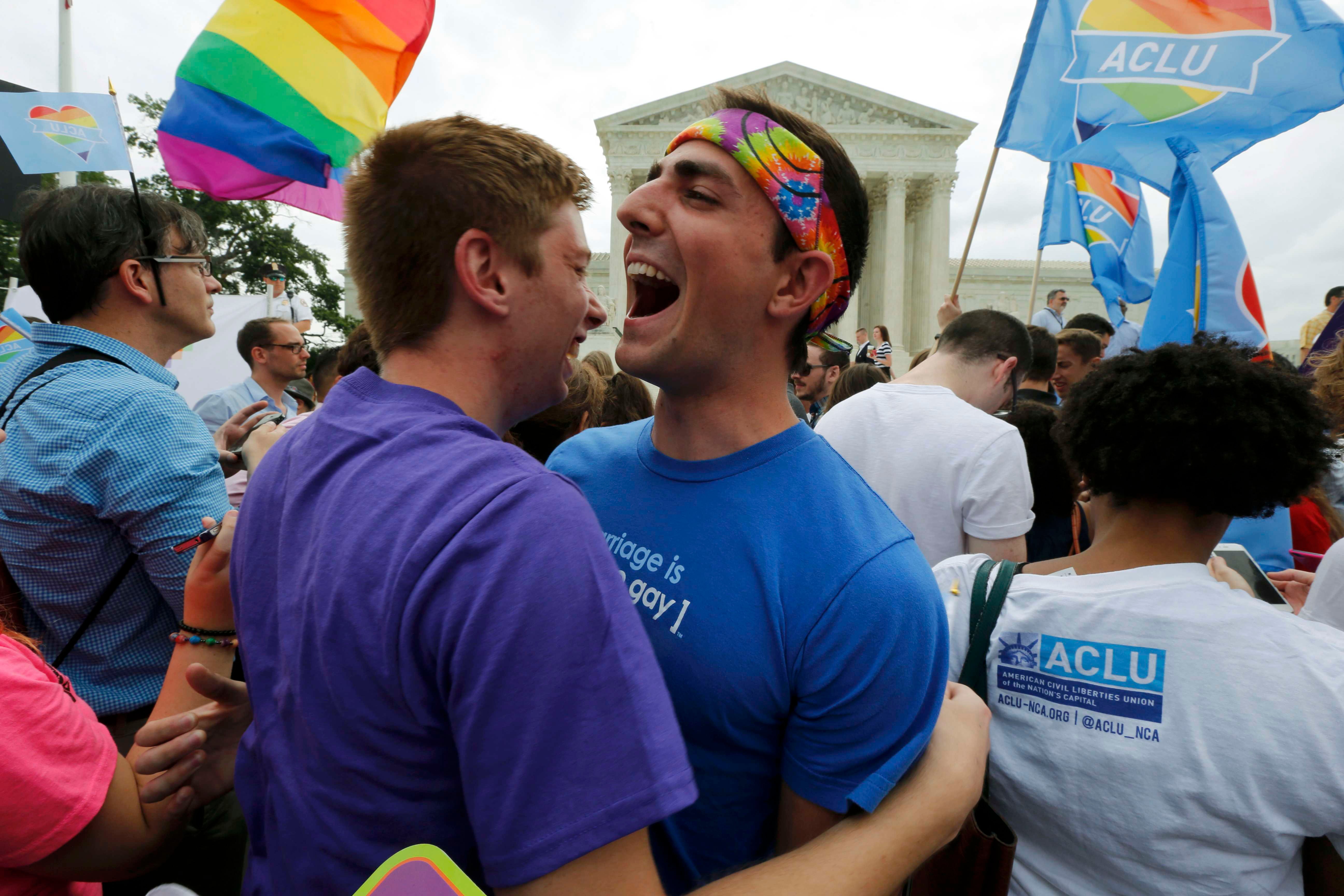 Supreme Court: Marriage is a fundamental right for gay couples
In a historic development for gay rights and the institution of marriage, the Supreme Court has ruled that same-sex couples have the constitutional right to marry.
Specifically, the 5-4 ruling in Obergefell v. Hodges declares that the 14th Amendment requires all states to perform same-sex marriages and recognize same-sex marriages performed in other states.
"No union is more profound than marriage, for it embodies the highest ideals of love, fidelity, devotion, sacrifice, and family," Justice Anthony Kennedy wrote for the majority.
"In forming a marital union, two people become something greater than once they were. As some of the petitioners in these cases demonstrate, marriage embodies a love that may endure even past death," the ruling continues. "It would misunderstand these men and women to say they disrespect the idea of marriage. Their plea is that they do respect it, respect it so deeply that they seek to find its fulfillment for themselves. Their hope is not to be condemned to live in loneliness, excluded from one of civilization's oldest institutions. They ask for equal dignity in the eyes of the law. The Constitution grants them that right."
The ruling extends marriage rights to gay couples in the 14 remaining states where same-sex marriage was previously prohibited. It also validates lower-court rulings in 20 states where marriage bans were struck down by federal judges.
The recent series of court rulings striking down marriage bans, culminating with this Supreme Court ruling, reflects a growing national acceptance of same-sex marriage. A February CBS News poll showed that 60 percent of Americans said it should be legal for same-sex couples to marry. More than half, 56 percent, said same-sex marriage should be left up to the states, though support for that position dropped eight points from a year earlier.
By protecting same-sex marriage nationally, the court is ensuring that same-sex couples are entitled to same state benefits that all married couples receive, in every state. In the Obergefell v. Hodges case, plaintiff Jim Obergefell was specifically seeking the right to be listed on his husband's death certificate. Obergefell and his longtime partner John Arthur were legally married in Maryland in 2013, when Arthur was terminally ill. However, since their home state of Ohio did not recognize same-sex marriages, the state refused Obergefell's request to be listed on Arthur's death certificate.
When CBS News' Jan Crawford asked Obergefell earlier this year what Arthur would think of the ongoing legal battle, Obergefell said, "I think -- I know -- he's proud. I know he would thank me for living up to my promises to him, for living up to my marriage vows to fight for him, to love him, to honor him and to protect him."
Each of the four justices in the minority -- Chief Justice John Roberts and Justices Antonin Scalia, Clarence Thomas and Samuel Alito -- wrote their own dissenting opinion.
"The fundamental right to marry does not include a right to make a State change its definition of marriage," Roberts wrote in his dissent. "And a State's decision to maintain the meaning of marriage that has persisted in every culture throughout human history can hardly be called irrational."
The chief justice ended his dissent by telling those in support of same-sex marriage, "by all means celebrate today's decision. Celebrate the achievement of a desired goal. Celebrate the opportunity for a new expression of commitment to a partner. Celebrate the availability of new benefits. But do not celebrate the Constitution. It had nothing to do with it."
Thanks for reading CBS NEWS.
Create your free account or log in
for more features.