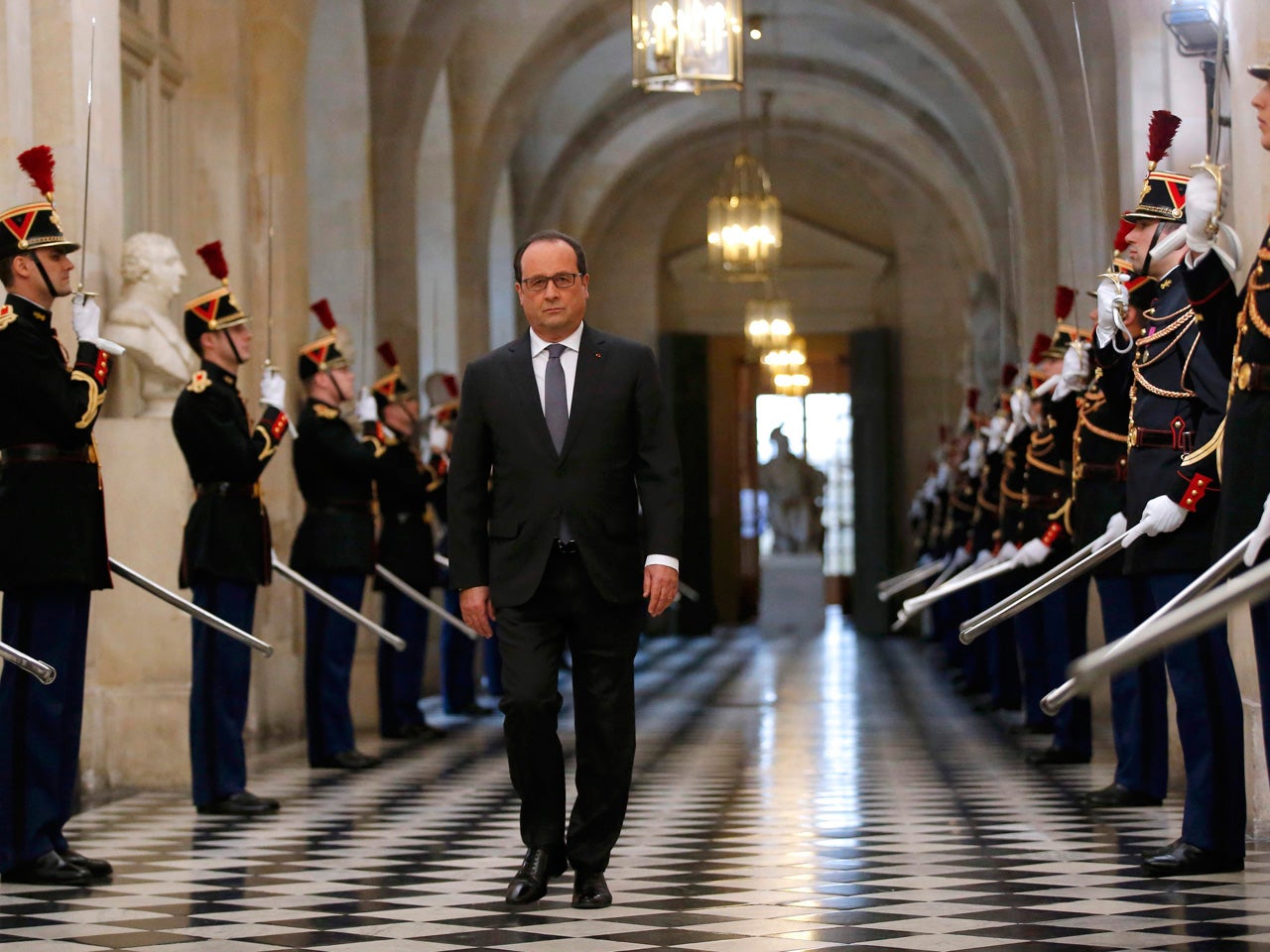 Hollande calls on Obama, Putin to "unify our strength"
PARIS - French President Francois Hollande said Monday he will meet with U.S. and Russian leaders to discuss pooling their efforts to destroy the Islamic State of Iraq and Syria (ISIS.)
Hollande, speaking at a special joint meeting of the upper and lower houses of parliament in response to the Paris attacks in the Palace of Versailles, said he had requested meetings with Presidents Barack Obama and Vladimir Putin.
Hollande said he wanted the talks "to unify our strength and achieve a result that has been too long in coming." Hollande called for "a union of all who can fight this terrorist army in a single coalition."
He didn't specify if he'd meet Mr. Obama and Putin together or separately.
Presidents Obama and Putin were in Turkey on Monday at a meeting of world leaders.
Every one of the world's richest economies who attended the G-20 summit vowed Monday to boost intelligence-sharing, cut off terrorist funding and strengthen border security in Europe, as they sought to show resolve and unity following as the investigation into the deadly terror attacks in Paris unfolds.
"We agreed that the challenge can't just be tackled with military mean, but only a multitude of measures," German Chancellor Angela Merkel said.
British Prime Minister David Cameron also announced plans to host a donor conference early next year to raise "significant new funding" to tackle the flood of refugees spilling out of Syria.
"None of this is a substitute for the next urgent need of all: to find a political solution that brings peace to Syria and enables the millions of refugees to return home," Cameron said.
The leaders of the Group of 20 rich and developing nations were wrapping up their two-day summit in Turkey against the backdrop of heavy French bombardment of ISIS' stronghold in Syria. The U.S. was expanding its intelligence sharing with the French and helping them identify targets, according to American officials.
President Obama was to huddle with European leaders from France, Britain, Germany and Italy. French President Francois Hollande skipped the summit to stay home and deal with the aftermath of the attacks, but Foreign Minister Laurent Fabius planned to attend the meeting with the U.S. president.
Russian President Vladimir Putin, a key player in ending the conflict in Syria that created a vacuum for the Islamic State, met separately with Italian Prime Minister Matteo Renzi and British Prime Minister David Cameron.
Presidents Obama and Putin had a private chat on Sunday on the sidelines of the summit.
Putin and Cameron both emphasized the need for joint action against terrorism in the wake of Paris terror attack.
"The latest tragic events in Paris show that we have to unite our efforts in fighting this evil, something we should have done long time ago," Putin said.
Putin launched an air campaign in Syria a month-and-half ago with ISIS as the top declared target. The U.S. and its allies, however, have accused Moscow of focusing on other rebel groups in a bid to shore up Syria's leader Bashar Assad, whom the West sees as the main cause of the Syrian conflict and the chief obstacle to peace.
Nearly five years of clashes between Assad's forces and opposition groups have left more than 250,000 people dead, created a vacuum for ISIS and other extremists groups to thrive, and spurred a massive refugee crisis in Europe.
Ahead of the G-20, foreign ministers met in Vienna to discuss a new diplomatic plan to end the Syrian war. The plan appears to be based largely on a Russian proposal that envisions negotiations between Assad's government and opposition groups starting by Jan. 1.
Still, sharp differences over Assad's future and disagreements about what militant groups in Syria should be considered terrorists have dampened hopes for a breakthrough.
Thanks for reading CBS NEWS.
Create your free account or log in
for more features.