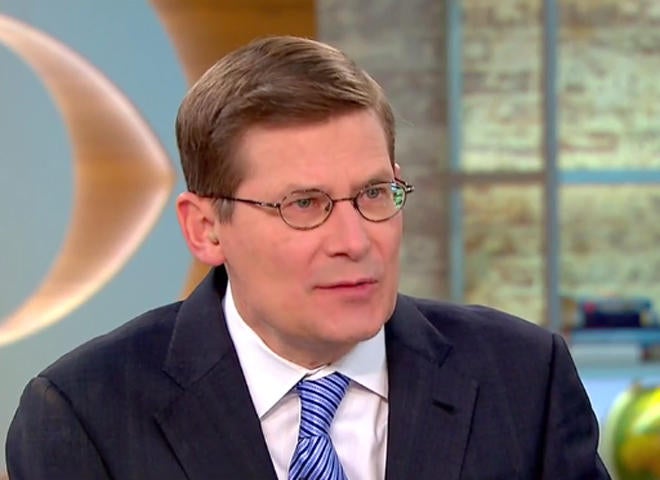 Former intel official: Trump immigration ban makes Americans less safe
A former intelligence official said President Trump's executive order temporarily banning refugees and also blocking travelers from seven Muslim-majority countries will actually make Americans less safe at home and abroad by serving as a recruitment boon for ISIS, and he warned that the Trump administration needs to "start making policy like adults."
Michael Morell, a former deputy director and acting director of the CIA, told "CBS This Morning" that, contrary to making America safer, the Trump executive order "is going to make the threat worse. It is going to make us less safe."
Morell said the policy misses its mark. "First of all, the biggest problem we face is homegrown terrorism. Of the roughly 100 people who have been indicted by the FBI for ISIS-related crimes over the last three years, 85 percent were American citizens. This doesn't get at that at all," he said.
Morell also noted that none of the attacks in the U.S. since and including 9/11 would have been affected by this travel ban. None of the 9/11 terrorists came from countries on this list, and the gunmen in more recent attacks in San Bernardino, Orlando and Fort Hood were all born in the United States.
What is more, he said, the Trump immigration order will make Americans less safe both at home and abroad by serving as a recruitment tool and an enhancement to ISIS propaganda, Morell said.
"It's playing right into the ISIS narrative. ISIS has not said anything about this yet, but people around ISIS who amplify its message are talking about it, and they are saying, 'See? We told you, this is a war against Islam.' So this is going to be a recruitment boon for ISIS."
On "Face the Nation" yesterday, White House Chief of Staff Reince Priebus defended the travel ban, saying that the seven Muslim-majority countries on the list — Iran, Iraq, Libya, Somalia, Sudan, Syria and Yemen — had been identified by the Obama administration as "sources of terror."
"The Trump administration keeps on pointing to the seven countries saying these countries are on Obama's list, right?" Morell said. "This was actually part of a program to enhance the security of the visa waiver program for people traveling from European countries. So they enhanced it. They already enhanced it. There was no evidence that there's any weakness to it."
Morell was also asked about a new development within the president's National Security Council. On Saturday, Steve Bannon, Mr. Trump's chief political strategist and the former head of Breitbart News, was named to the group, while both the Chairman of the Joint Chiefs of Staff and the Director of National Intelligence were removed from the council's Principals Committee. In memo issued over the weekend, Mr. Trump said they would only be invited when "issues pertaining to their responsibilities and expertise are to be discussed."
Morell described the move as "unprecedented, both putting a political adviser on, and unprecedented taking off the Chairman of the Joint Chiefs and the DNI. I have never been to a principals' meeting where the views of the DNI and the views of the Chairman are not relevant.
"Every principals' meeting starts with an intelligence briefing by the DNI. And having somebody like Bannon in the room brings politics into a room where there should be no politics."
President George W. Bush, noted co-anchor Norah O'Donnell, was specific at the White House in saying that his chief political adviser Karl Rove would not be included in these meetings for the very reason that he didn't want these policy decisions to become, or be seen as, politically motivated.
Morell points out Bannon's inclusion also creates another power center on the Council. "[National Security Adviser] Mike Flynn should be the person in charge in that room talking to the president," Morell said. "This is now going to create competition for Mike for the president's ear. That's not a good thing if there are two voices talking to the president like there."
Co-anchor Charlie Rose asked, "If they wanted to be there — the Director of National Intelligence and the [Chairman] of the Joint Chiefs — could they be there [even when] it's not a subject of their primary interest?"
"I would hope so," Morell replied, "but I think the signal to them is somehow you are less important to them."
Beginning Saturday, thousands protested at airports across the U.S. against the detention of refugees and holders of visas and green cards. Protests continued on Sunday in numerous cities and airports.
After four federal judges puts stays on parts of the executive order, demanding that refuges in transit be released and not returned to their countries of origin, lawyers representing detained travelers claimed that Customs and Border Patrol officials were defying the court order by not releasing people or information about them.
Co-anchor Gayle King asked Morell, "The White House says that this is a bona fide success. You look at the headlines, chaos in the streets. What needs to happen now? Depending on your point of view, it's either very troubling, or Trump is doing exactly what he said he was going to do on the campaign."
"He is doing exactly what he said he was going to do, and it is troubling," Morell replied. "Both things are true.
"I think what has to happen here is they have to start making policy like adults. They have to say to their interagencies, 'Here's what we have to do,' get all of the feedback, get everyone together, have a discussion about the upsides and downsides and make a decision. That didn't happen in this case. Small group of people making a decision."
O'Donnell said, "It was reported that the head of homeland security, General Kelly, who keeps us safe, that he was informed as this executive order was being signed. What troubles you about that?
"That's not how you make effective decisions. You have to get the input of your professionals. You have to get the input of departments that have to implement this stuff and have the knowledge to make the right decision."
Among those denied entry and detained for several hours at JFK on Saturday was Hameed Khalid Darweesh, a former translator for the U.S. military in Iraq.
Morell noted two damaging aspects from the treatment of those who assisted American interests in a war zone: "One is it is angering those countries that need to help us the most in the fight against terrorists; Iraq is a great example of that. Two, it creates a disincentive for people to work closely with the U.S. military."
Thanks for reading CBS NEWS.
Create your free account or log in
for more features.