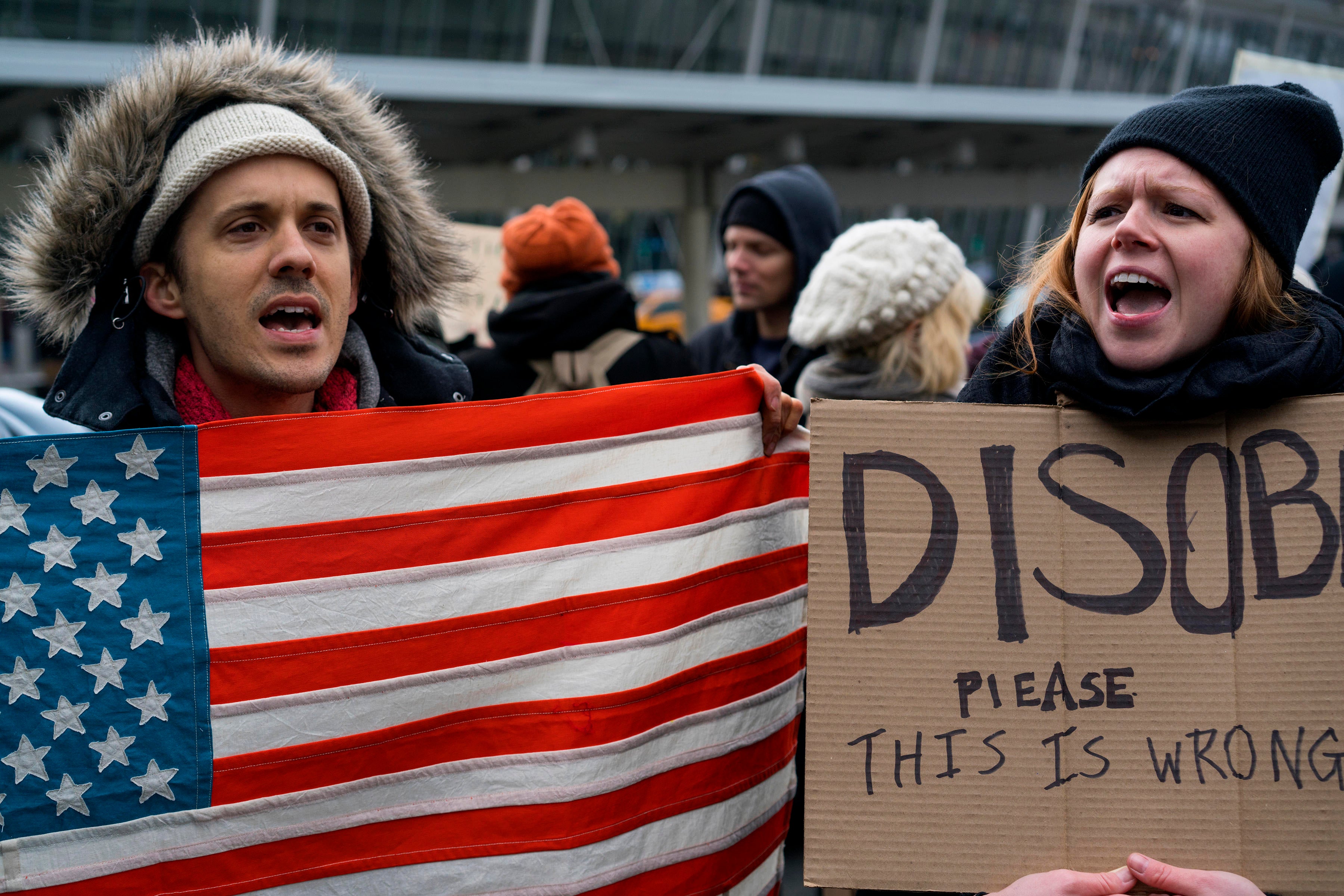 Protests erupt at airports nationwide over immigration action
NEW YORK -- Protesters gathered outside John F. Kennedy International Airport in New York on Saturday demanding the release of refugees blocked from entering the United States. Other protests took place nationwide.
People in the crowd at Kennedy airport chanted, "Let them in." Celebrities including "Sex and the City" actress Cynthia Nixon joined the demonstration.
"We Are All Immigrants," read one sign held by a protester.
"Let Them In," read another.
Others read: "Refugees Welcome," "Disobey" and "Resist."
Later on Saturday, a federal judge in New York temporarily barred the U.S. from deporting travelers covered by President Trump's travel ban, saying travelers who had been detained had a strong argument that their legal rights had been violated.
U.S. District Judge Ann Donnelly in New York issued the emergency order after lawyers for the American Civil Liberties Union filed a court petition on behalf of people from seven predominantly Muslim nations who were detained at airports across the country as the ban took effect.
It was unclear how quickly the order might affect people in detention, or whether it would allow others to resume flying.
The protest at JFK was organized within hours of reports that people were being detained. Congressman Jerry Nadler, D-New York, said 12 people were detained at the New York airport. Hameed Khalid Darweesh, a former translator for the U.S. military in Iraq, was held for hours before being released.
"They treat me as though I break the rules or did something wrong," Darweesh said. "I was surprised."
He also said, "America is the greatest nation, the greatest people in the world."
Darweesh worked as an interpreter for the U.S. Army when it invaded Iraq in 2003. Later he was a contract engineer for the U.S. He was granted permission to relocate to the U.S., but was detained after arriving at Kennedy Airport Friday night. Haider Sameer Abdulkhaleq Alshawi, also an Iraqi with links to the U.S. military, was detained by immigration officials after landing at New York's Kennedy airport Friday night. Both had been released by Saturday night after their lawyers intervened.
The protest at John F. Kennedy Airport swelled to more than 2,000 people. The agency that runs the airport tried to restore order by shutting down the train that runs to airport terminals. Gov. Andrew Cuomo, a Democrat, reversed that decision, saying people had a right to protest.
"The people of New York will have their voices heard," he said in a statement.
The protest took place a day after President Trump signed an executive order that made changes to America's refugee and immigration policies. It placed a temporary hold on any refugees entering the U.S. for 120 days, an indefinite hold on the entry of Syrian refugees fleeing the war in their country and a 90-day hold on entry by citizens of seven Muslim-majority countries: Syria, Iraq, Libya, Iran, Sudan, Somalia and Yemen.
Senior administration officials told CBS News that green card holders from the seven listed countries will be evaluated on a case-by-case basis to determine if they can enter the U.S.
"This really is an extraordinary measure and it requires every ounce of opposition that we can muster," said Albert Cahn, director of Strategic Litigation at the New York chapter of the Council on American-Islamic Relations.
A crowd also gathered on Saturday at Washington Dulles International Airport in Virginia, CBS News transportation correspondent Kris Van Cleave reported.
By early Saturday evening, the crowd continued to grow, as did police presence. A number of lawyers at the airport offered to help families if their loved ones aren't allowed into the U.S.
There were protests at other airports, including at Chicago's O'Hare International Airport, where several people had been detained. The Chicago Sun-Times reported that protesters blocked vehicle traffic to the international terminal for a time. The newspaper said some arriving travelers joined the protest, while others were upset by the demonstrations.
In Oregon, several dozen demonstrated at the airport in Portland, briefly disrupting light rail service while hoisting signs that read "Portland Coffee Is From Yemen" and chanting anti-Trump slogans.
In Newark, New Jersey, more than 120 people clutching signs denouncing the Trump immigration orders gathered at Newark Liberty International Airport. NorthJersey.com reported that they joined lawyers who'd rushed to the airport to defend the rights of refugees and immigrants who were being detained and denied entry.
In Colorado, dozens of people converged on Denver International to show their support for refugees. Standing in the main terminal Saturday, they sang "Refugees are welcome here." Some held signs declaring their identity, such as Jew or Christian, and the phrase "I come in peace." Denver has some direct international flights but it wasn't clear whether anyone has been detained under the president's executive order.
In Texas, protesters who gathered at Dallas/Fort Worth International Airport Saturday evening voiced their displeasure with Trump's executive order. The Dallas Morning News reported that the crowd of a few dozen ballooned into hundreds of demonstrators who frequently chanted "Set them free!" At times, cheers erupted from the crowd as those who were detained got released.
In Seattle, about 1,000 pro-immigration protesters gathered Saturday at Seattle-Tacoma Airport. Aayah Khalaf, a Muslim American, was sitting at home watching the protest on television when she and her friend studying from Egypt decided to join the rally. It was her second time joining a protest. The first one was the Women's March.
"It's not just against Muslims. It against environmental rights and human rights overall. I think everybody has to stand up against this," said Khalaf, 29.
There were protests in Los Angeles, San Francisco and San Diego. About 300 people expressed their displeasure with the travel ban at Los Angeles International Airport Saturday night. Hundreds of protesters blocked the street outside at San Francisco International Airport's international terminal to express their opposition to the barring of some people from Muslim-majority nations. As motorists honked their support, demonstrators outside San Diego International Airport chanted "No hate, no fear, everyone is welcome here."
Thanks for reading CBS NEWS.
Create your free account or log in
for more features.