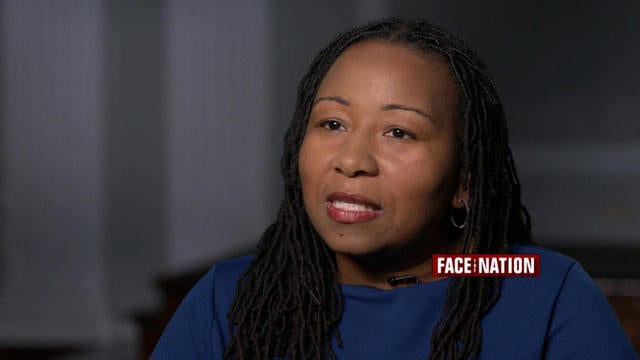 "Face the Nation" looks at race in America one year after Charlottesville violence
One year has passed since a deadly rally by white nationalists in Charlottesville, Virginia. But the city has not recovered.
Charlottesville Mayor Nikuyah Walker was elected after the protests that killed one counter-protester, Heather Heyer, and resulted in the death of two state troopers.
Walker told "Face the Nation" moderator Margaret Brennan that in Charlottesville, the idyllic home of the University of Virginia, many people are unwilling to face the consequences of racism, even after the rally.
"We hear these stories about people who are just shocked at where you know where we are, and in our communities, in regards to racism. But even once the facts are presented, people really don't want to change their actions to help truly heal that," Walker said.
President Donald Trump faced bipartisan criticism last year for his response to the rally, when he said that both the white nationalists holding the event and the counter-protesters shared blame for the violence.
"I think there's blame on both sides, and I have no doubt about it, and you don't have any doubt about it either," he said last August.
Sen. Tim Scott, speaking on "Face The Nation" shortly after Mr. Trump made his comments, said that the president's words were "challenging."
"What the president should do before he says something is to sit down and become better acquainted, have a personal connection to the painful history of racism and bigotry of this country," the senator said.
The events in Charlottesville shocked many, including Brennan, because it occurred in their beloved college town.
"Those hateful images were personally jarring for me, too, because this is the UVA that I knew. I spent countless hours on this lawn with my best friends, I walked across it to graduate, this is where my husband proposed to me," said Brennan on Sunday's episode of "Face The Nation." "So I was shocked, along with many of my fellow alumni to learn that two of the main organizers were also graduates."
But Charlottesville sits on "a fault line" in the south, said Brennan, as citizens reckon with the legacy of racism hidden behind ideas of confederate heritage. "Face The Nation" looks at issues of race in America, as exposed by last year's rally in Charlottesville.
"Face The Nation" airs Sunday at 10:30 a.m. ET and on CBSN at 11 a.m. ET.
Thanks for reading CBS NEWS.
Create your free account or log in
for more features.