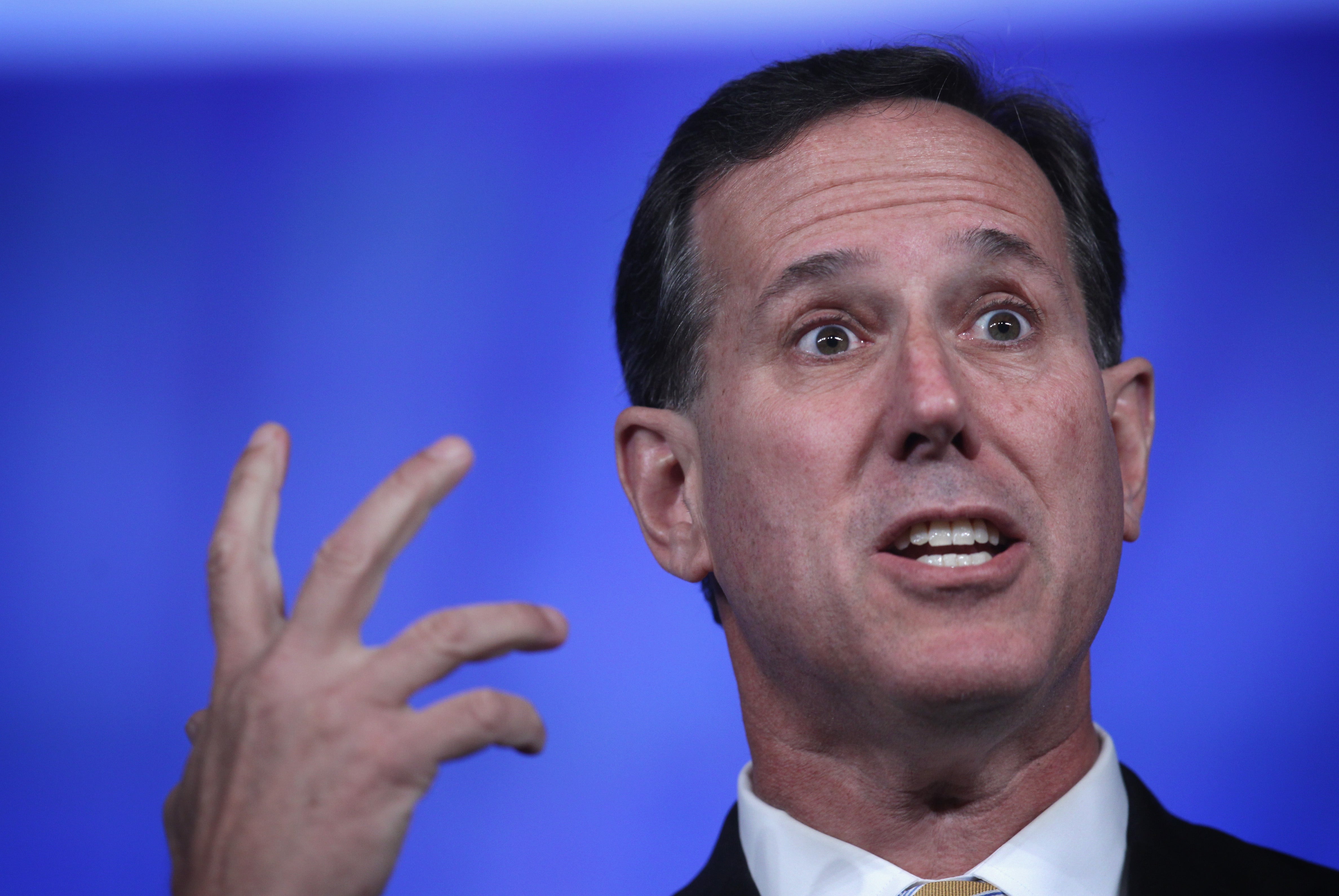 Rick Santorum is not happy about Fox News' GOP debate rules
Rick Santorum is not happy about the rules for the first 2016 Republican primary debate, hosted by Fox News, which will limit the number of candidates onstage based on their standing in the polls.
"I'm probably the best person to comment on this," the former Pennsylvania senator, who ran for president in 2012 and is on the verge of formalizing a 2016 bid, told reporters on Thursday after his speech at the Southern Republican Leadership Conference in Oklahoma, according to National Journal. "In January of 2012 I was at four percent in the national polls, and I won the Iowa caucuses. I don't know if I was last in the polls, but I was pretty close to last."
Santorum, who carried 10 more states in 2012 after his surprise win in Iowa, name-dropped some other former candidates whose early national polling strength turned out to be meaningless.
"The idea that a national poll has any relationship to the viability of a candidate--ask Rudy Giuliani that. Ask Phil Gramm that," he said. "You can go on down the list of folks who were doing real well in national polls and didn't win a single state and were not a viable candidate."
"If you're a United States senator, if you're a governor, if you're a woman who ran a Fortune 500 company, and you're running a legitimate campaign for president, then you should have a right to be on stage with everybody else," he added. "So the idea that we're going to arbitrarily--and it's arbitrary, someone at 1.15 is in, someone at 1.14 is out--that to me is not a rational way."
Fox News announced Thursday that the debate competitors would be determined by an average of the last five major national polls of the GOP race. The top 10 competitors will be allowed to debate, and the field could potentially expand to 11 if there's a tie for 10th. The network emphasized that candidates who don't make the cut will be provided with airtime on August 6, 2015, the day the debate is held.
Santorum suggested he hopes they reconsider the criteria.
"I'm hopeful that people will listen to the comments--I mean, I'm sure they put this out there to get comments," he said. "And I'm not criticizing or condemning them. I'm really not. Hopefully they put it out there and they're going to listen to what the comments are, and factor those in, and determine what is the right way."
Republicans could field as many as 16 or 17 presidential candidates in the 2016 cycle. And given the importance of debates in elevating a candidate's media profile, there's plenty of incentive for the competitors to fight for a spot onstage.
Santorum is currently near the bottom of the field in polls, along with other declared or potential contenders like former HP CEO Carly Fiorina, Louisiana Gov. Bobby Jindal, South Carolina Sen. Lindsey Graham, and Ohio Gov. John Kasich.
The second debate, which will be hosted by CNN on September 16, 2015 at the Ronald Reagan Presidential Library in California, will be divided into two parts, CNN announced Wednesday. One part will feature only the top 10 candidates "according to public polling," according to a release from CNN and the library. The other will allow any candidate who exceeds one percent in polls to participate.
Santorum is expected to announce his plans for 2016 on May 27 during a speech in his hometown of Butler, Pennsylvania.
Thanks for reading CBS NEWS.
Create your free account or log in
for more features.