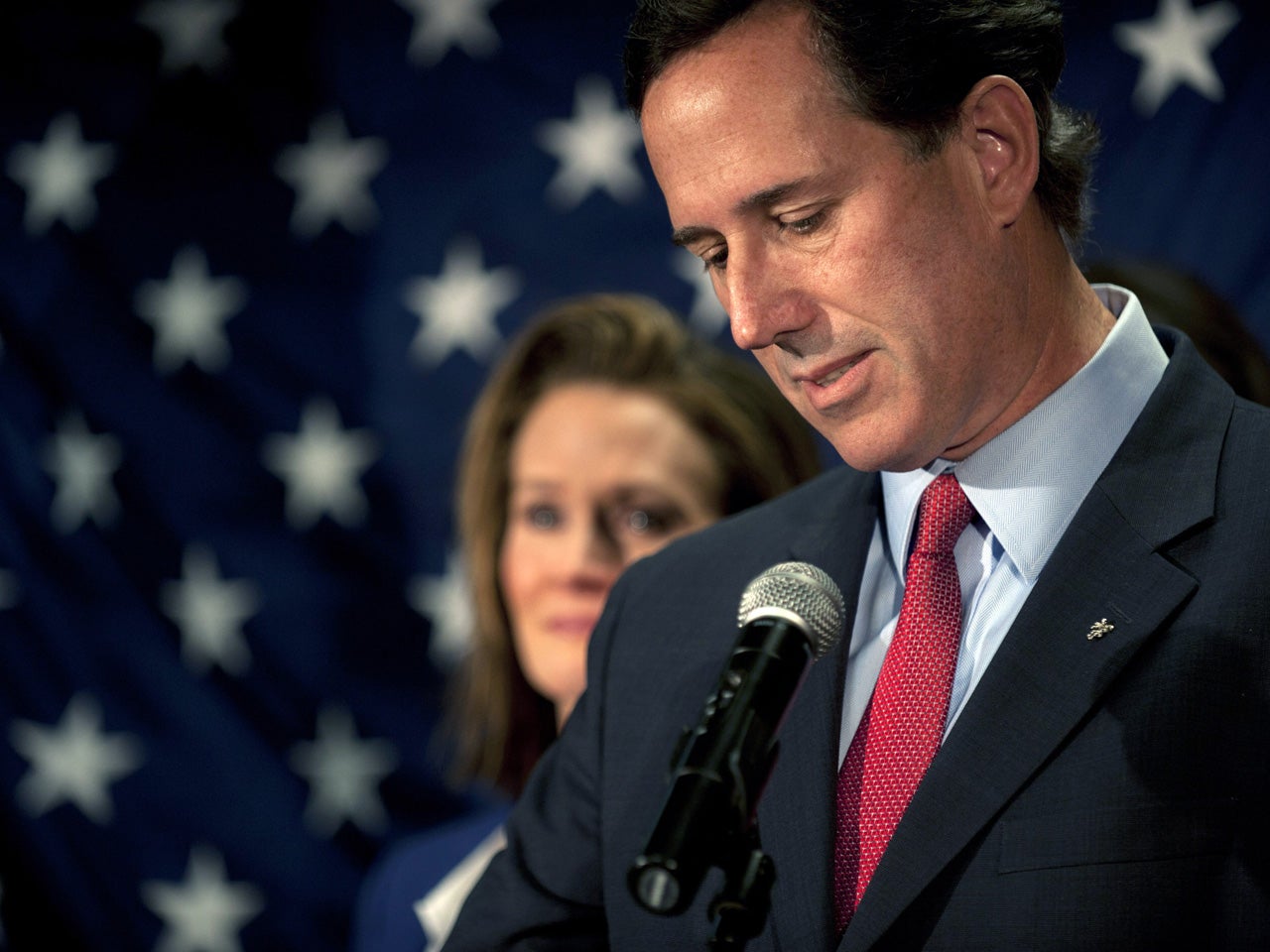 Rick Santorum ends bid for GOP nomination
Updated 3:28 p.m. Eastern Time
(CBS News) Rick Santorum suspended his bid for the presidency on Tuesday, removing the last significant obstacle in Mitt Romney's now all-but-certain march to the Republican presidential nomination.
"We made a decision over the weekend that while this presidential race for us is over for me, and we will suspend our campaign effective today, we are not done fighting," Santorum said at a press conference in Gettysburg, Pennsylvania Tuesday afternoon.
Santorum did not endorse Romney in making his announcement Tuesday, though he did vow to fight to defeat President Obama and help Republicans win the Senate in the fall.

In a statement, Romney called Santorum "an able and worthy competitor" and congratulated his often-bitter rival for his campaign.
"He has proven himself to be an important voice in our party and in the nation," said Romney. "We both recognize that what is most important is putting the failures of the last three years behind us and setting America back on the path to prosperity."
John Brabender, a senior Santorum strategist, said Santorum has spoken to Romney about leaving the race and that Romney has requested a meeting in the "near future."
Analysis: Santorum lasted longer than anyone predicted
What's next for Rick Santorum?
Santorum's campaign had insisted earlier in the day that the former Pennsylvania senator was not leaving the race despite a last-minute decision to cancel his Tuesday morning campaign events. Early Tuesday morning, the campaign announced that Santorum's three-year-old daughter Bella, who suffers from a genetic condition called Trisomy 18, had been released from the hospital after falling ill over the weekend. The campaign said that the morning events had been cancelled so Santorum could help his family "settle in at home."

Santorum said Tuesday afternoon that Bella had recovered after a "difficult weekend," but that the situation "did cause us to think in the role that we have as parents in her life." He said that "this was a time for prayer and thought over this past weekend," and that the decision to suspend the campaign had been made during that period.
On his Facebook page just hours before the announcement, Santorum had posted a message that he was "back on the campaign trail" in his home state. He had been set to participate in a "Faith, Family, and American Values forum" at Lancaster Bible College Tuesday evening.

Santorum Press Secretary Alice Stewart says Santorum held an all-call conference call with his staff at 1:45pm today to alert them to his decision.
An unapologetic social and fiscal conservative, Santorum spent much of the 2012 campaign cycle as an also-ran, toiling in relative obscurity while a succession of contenders - Donald Trump, Michele Bachmann, Rick Perry, Herman Cain and Newt Gingrich among them - rose to the top of the Republican presidential polls before falling back to earth.
He finally began gaining traction in Iowa shortly before the January 3 caucuses, when social conservatives eager for a candidate to call their own started to coalesce around him. Santorum effectively tied Romney in Iowa before going on to win another ten states and claim the mantle of conservative alternative to the frontrunner.
Yet Romney was able to leverage his organizational and financial advantage over Santorum to build up a delegate lead and keep his rival from victories in states like Ohio and Michigan that would have signaled that Santorum held appeal outside the conservative base. And Santorum was never able to shake the perception that he could not beat President Obama in the fall, with GOP primary voters overwhelmingly citing Romney as the most electable candidate in exit poll after exit poll.

IN DEPTH: After Rick Santorum's exit, will social conservatives rally around Romney?
Santorum's better-than-anyone-expected finish amounts to a political resurrection for the two-term senator following his crushing loss in his bid for a third term in 2006, and sets him up as a major figure in the Republican Party representing its sizable social conservative wing. It also reflects lingering distrust of Romney on the part of the GOP's most conservative voters, who have pointed to Romney's relatively-moderate record as Massachusetts governor to suggest Romney does not truly represent them.
At left, CBS News video: Santorum ends White House bid; What's next in GOP race?
"This race was as improbable as any race as you will ever see for president," Santorum said Tuesday, describing his run as a "miracle" that reflected the hopes and dreams of his supporters. He also called on his audience to remember "the values that make us Americans."

"We are going to continue to fight for those voices and we are going to continue to fight for the Americans who stood up and gave us that air under our wings that allowed us to accomplish things that no political expert would have ever expected," he added.

There had been widespread speculation that Santorum would leave the race before Pennsylvania's April 24 primary in order to avoid a possible loss in his home state, which he had deemed must-win. Recent polls in the Keystone state have shown a tight race between Santorum and Romney, with Romney having significantly narrowed what in early March was a double-digit Santorum lead.
At left, Brian Montopoli discusses the state of the race in the wake of Santorum's departure.
Santorum's departure from the race leaves Romney with just two remaining challengers: Gingrich, who has won just two contests thus far, and Ron Paul, who has won none. Gingrich acknowledged that Romney "far and away the most likely" nominee over the weekend in an interview in which he seemed to be reflecting on a failed campaign, while Paul has largely gone quiet on the campaign trail.
Gingrich said in a statement following the announcement that he is "committed to staying in this race all the way to Tampa so that the conservative movement has a real choice." Appearing on Mike Huckabee's radio show, he said he now had the one-on-one fight he had long sought against Romney and challenged Romney to a series of one-on-one debates.
Paul, meanwhile, released a statement saying he "is now the last - and real - conservative alternative to Mitt Romney."
"We plan to continue running hard, secure delegates, and press the fight for limited, constitutional government in Tampa," he said.

CBS News estimates show Romney with 645 of the 1,144 delegates he needs to win the GOP nomination before the nominating convention in Tampa in late August. Santorum is in second with 252 delegates, followed by Gingrich with 128 delegates and Paul with 45 delegates. Santorum's decision to leave the race significantly improves Romney's odds of reaching 1,144 delegates by the time voting wraps up in June, thus avoiding a contested convention. Santorum and Gingrich have said that their last, best hope for the nomination was in keeping Romney below that threshold and then triumphing at the convention. Even before Santorum's announcement, Romney had expected to expand his delegate lead in the four other states holding primaries on April 24 - Connecticut, New York, Delaware, and Rhode Island.
Santorum's decision to "suspend" his campaign, rather than formally end it, allows him to continue raising money to cover campaign debt and to keep his delegates. Under Republican National Committee rules, many of Santorum's bound delegates will remain with the candidate unless they are formally released by the campaign. Santorum sent an email to supporters soliciting donations immediately following his announcement Tuesday, saying "our campaign has debt, and I cannot be free to focus on helping defeat [President Obama] with this burden." He will also likely look to Romney to help him retire his campaign debt.
"I walked out after the Iowa caucus victory and said game on," Santorum said in leaving the campaign trial Tuesday. "I know a lot of folks are going to write, maybe those even at the White House, game over. But this game is a long long long way from over. We are going to continue to go out there and fight to make sure that we defeat President Barack Obama."
With reporting by Caroline Horn, John Dickerson and Rebecca Kaplan.
MORE:
ANALYSIS: Santorum lasted longer in the GOP race than anyone predicted
Obama's not-so-secret weapon: Newt Gingrich
Thanks for reading CBS NEWS.
Create your free account or log in
for more features.