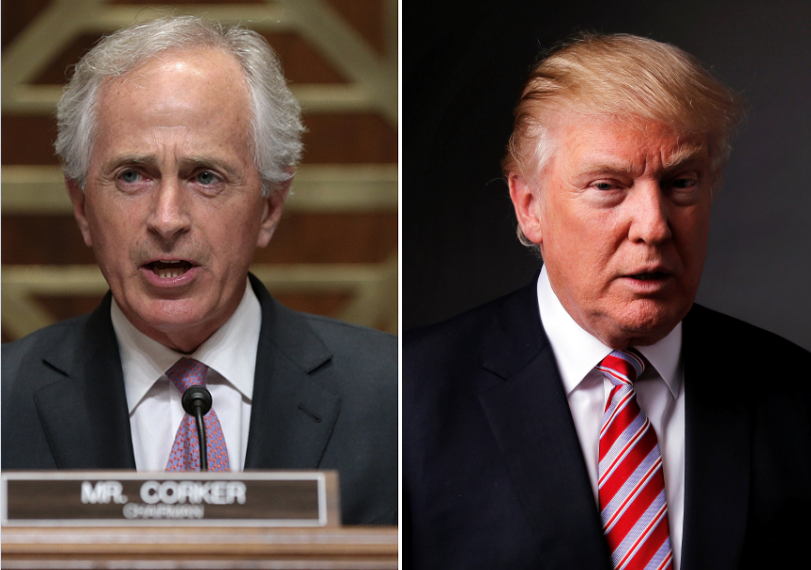 Sen. Bob Corker meets with Donald Trump
Sen. Bob Corker continued to shrug off speculation that he might be Donald Trump's vice presidential pick on Monday, saying that he has no reason to believe that he is being considered as a possible running mate.
The chairman of the Senate Foreign Relations committee met with Trump for an hour and a half at Trump Tower. He's the highest-ranking elected official to make a trip to visit the presumptive Republican nominee on his home turf.
"I have no reason whatsoever to believe I am being considered for a position I could say that until I'm blue in my face again, this was a meeting between two people who didn't know each other," Corker told reporters on his way out of the building. "To even offer conjecture about something that I have no reason to believe is even being considered is not even a responsible thing to do."
Corker said the two had never met before, though they've spoken on the phone about foreign affairs. The Tennessee senator called the meeting "enjoyable," said the two talked "bigger picture," touching on domestic issues and foreign policy - and he mentioned China and Russia specifically.
"I will say that the fact that he's challenging some of the status quo," Corker said. "It is causing these countries to think a little bit differently about U.S. And I can say that in a positive way."
While Corker praised Trump's foreign policy speech last month, the Tennessee Senator has spoken out against Trump's call to ban all Muslims from entering the country. Corker said that the issue was not a topic of discussion during their meeting Monday. "We did not talk about it," Corker told reporters.
Trump has maintained that he's likely to pick a political insider to be his running mate, and Corker is well-liked by his colleagues in the Senate, both Republicans and Democrats.
Although the meeting took place at lunch hour, Corker confirmed to reporters that he did not try the Trump Tower Grill taco bowl.
Thanks for reading CBS NEWS.
Create your free account or log in
for more features.