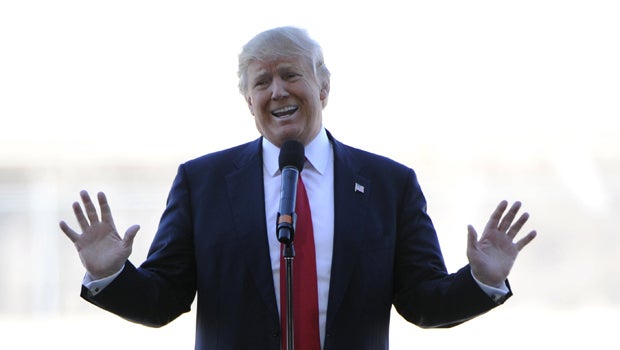 Donald Trump scolded for remarks about Trump University lawsuit judge
NEW YORK - Donald Trump implied Saturday that a lawsuit over the now-defunct Trump University filed against him by New York Attorney General Eric Schneiderman may have been a conspiracy involving President Barack Obama.
CBS New York reported the Republican front-runner railed against the California judge presiding over the civil suit, calling him hostile and noting his Hispanic ethnicity.
"I believe he happens to be Spanish, which is fine. He's Hispanic -- which is fine," Trump said during a rally in Arkansas, suggesting that he might request the judge to remove himself from the case.
Trump called the litigation "a small deal, very small" and told supporters he could have settled, but is continuing to fight on principle.
The candidate claims to be popular with Latinos, but he has the worst favorability rating in the GOP presidential field among Hispanic voters, according to a Washington Post-Univision News poll released Thursday.
Trump got his campaign off to a controversial start last June, claiming in his announcement speech that Mexico was "not sending their best...they're sending people that have lots of problems...they're bringing drugs, they're bringing crime. They're rapists. And some, I assume, are good people."
Trump University has been a point of interest in the presidential debates, with Sen. Marco Rubio calling it a "fake school" during Thursday night's 10th GOP debate.
"There are people who borrowed $36,000 to go to Trump University, and they're suing now," Rubio said. "You know what they got? They got to take a picture with a cardboard cutout of Donald Trump. That's what they got for $36,000."
The lawsuit, filed in 2013, is one of two class-action suits that claim Trump and his school defrauded students. Last year, CBS News conducted a three-month investigation of Trump University, reaching out to dozens of former students and reviewing hundreds of comments about the program.
While a number of students said they were satisfied with the value of their investment, 150 filed affidavits with Scheiderman, who called Trump's remarks Saturday "racial demagoguery."
"There is no place in this process for racial demagoguery directed at respected members of the judiciary," Schneiderman said in a statement. "The State Supreme Court has already ruled that Trump University operated illegally in New York as an unlicensed educational institution, and we look forward to prevailing on the rest of our claims as the legal process moves forward."
A spokesperson for Trump did not respond regarding on what grounds Trump would seek the judge to recuse himself.
Trump University began in 2004. In 2007, it started offering live events around the country.
"I didn't want to put my name on anything having to do with education unless it was going to be the best," Trump could be seen saying in the university's promotional video.
"If you don't learn from the people that we're going to be putting forward, and these are all people who are handpicked by me," Trump said in the commercial.
In 2010, former New York City Transit worker Gary Smith was unemployed and said he was desperate to make money. He saw an ad for Trump University and turned to a known brand.
"Particularly what I was really looking for was guidance in how to finance real estate transactions," Smith told CBS News.
Trump was "definitely" a draw for him, Smith said, because he thought the real estate mogul was a "top-notch guru of sorts."
Smith spent more than $35,000 on Trump University. He contacted Schniederman after he heard about New York's $40 million lawsuit against Trump, claiming the billionaire "scammed" students and made an estimated $5 million.
While thousands attended the three-day, $1,500 seminar around the country, the company's main revenue source was an extended $35,000 mentorship called the Trump "Gold Elite" package.
Smith and other former students told CBS News that instructors urged them to increase the credit limit on their credit cards for investing and to fund their training.
One former student's affidavit reads: "When people said that they didn't have enough money to pay for the Trump Elite programs, Mr. Harris suggested using the newly increased credit card limit."
"It certainly wasn't something that was encouraged or something that was implemented across the board," Trump's attorney Alan Garten told CBS News last fall."Unfortunately, I think with any business you're going to get some students who aren't satisfied."
Smith said he was told he would get support from real estate mentors but said they didn't deliver. Smith concedes he gave positive reviews to two mentors, and even writing: "I'm very optimistic that I will be a very successful real estate investor in the near future."
"I didn't get any financial gain; it's been a big time net loss at this point," Smith said.
"People have to take responsibility for themselves, and you use the tools and move forward. As far as just simply, 'Oh, Mr. Trump is rich and should just refund everyone money'... Trump University was not a charitable institution," Garten said.
An internal 2010 memo shows Trump employees acknowledged the mentorship program was too difficult for the company to "fulfill" and "expectations are not always realistically set or consistently met." The school stopped accepting students and began winding down in the summer of 2010.
Thanks for reading CBS NEWS.
Create your free account or log in
for more features.