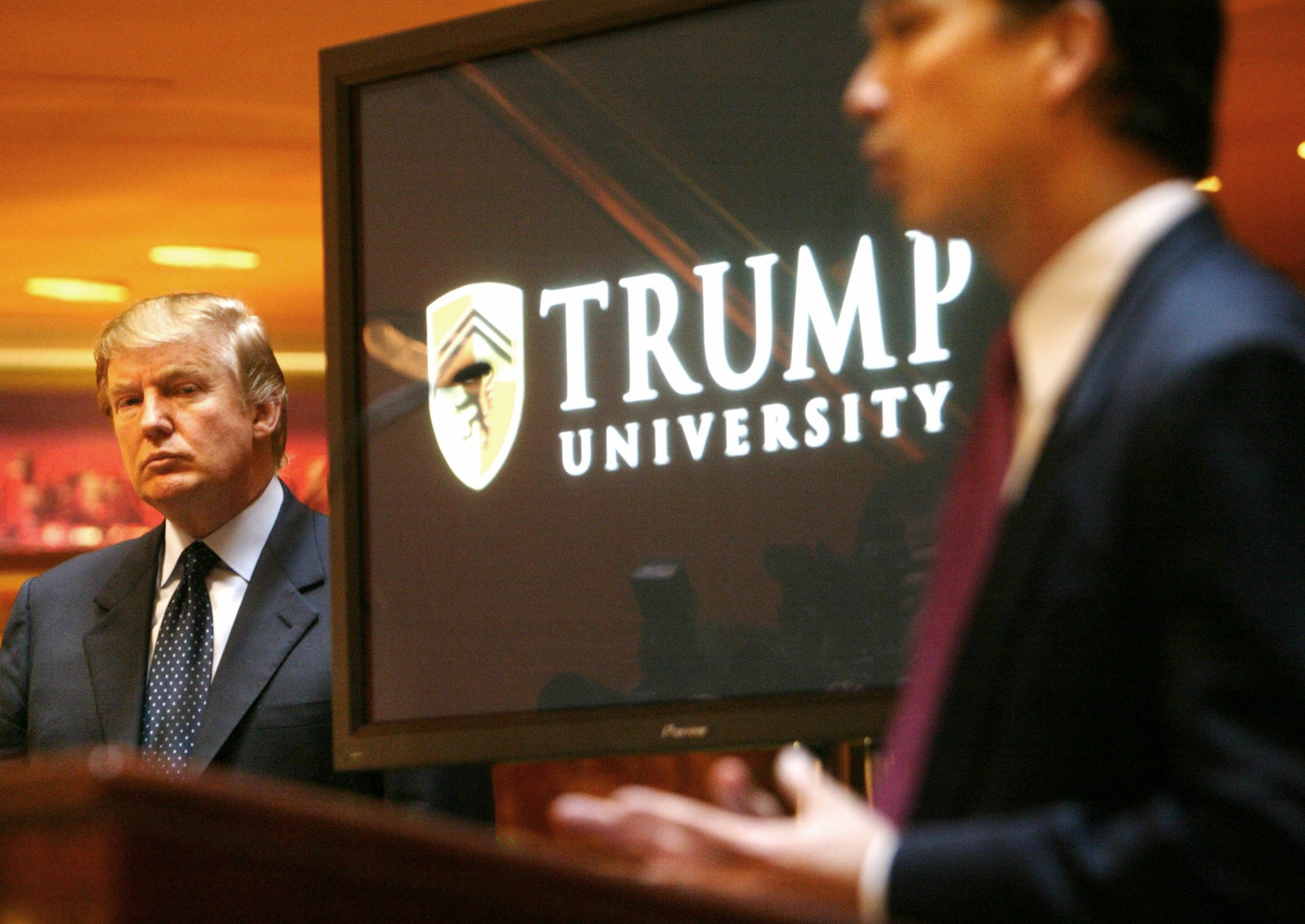 For some, "big time net loss" after attending Trump University
At a speech in South Carolina Wednesday, Republican presidential candidate Donald Trump brought up one of his former ventures: Trump University.
It's been the subject of increased scrutiny ever since New York's attorney general sued Trump in 2013, saying the school was a scam.
While a number of students said they were satisfied with the value of their Trump University investment, 150 filed affidavits with an attorney general, and two class-action lawsuits were filed by students demanding their money back. The lawsuits are still ongoing and just last week, a judge decertified part of one class-action suit relating to Trump University, handing Trump a partial victory.
During a three-month investigation, CBS News reached out to dozens of former students and reviewed hundreds of comments about the program.
Trump has become the Republican frontrunner in part because of his reputation as a top businessman who gets things done, reports CBS News correspondent Julianna Goldman. But that's also brought unresolved lawsuits, several related to Trump University, which even his own lawyer acknowledges would likely extend into a potential Trump administration.
In 2010, former New York City Transit worker Gary Smith was unemployed and said he was desperate to make money. He saw an ad for Trump University and turned to a known brand.
"Particularly what I was really looking for was guidance in how to finance real estate transactions," Smith said.
Trump was "definitely" a draw for him, Smith said, because he thought the real estate mogul was a "top-notch guru of sorts."
Smith spent more than $35,000 on Trump University. He contacted the attorney general of New York after he heard about its $40 million lawsuit against Trump claiming the billionaire defrauded students and made an estimated $5 million.
"I didn't want to put my name on anything having to do with education unless it was going to be the best," Trump could be seen saying in the university's promotional video.
Trump University began in 2004. In 2007 it started offering live events around the country.
"If you don't learn from the people that we're going to be putting forward, and these are all people who are handpicked by me," Trump said in the commercial.
CBS News found three of those instructors had previously filed for bankruptcy. Others like Smith's instructor, James Harris, were motivational speakers paid on commission to sell additional Trump training.
CBS News verified at least 17 affidavits specifically mention Harris, who was hired in 2008.
While thousands attended the three-day, $1,500 seminar around the country, the company's main revenue source was an extended $35,000 mentorship called the Trump "Gold Elite" package.
Smith and other former students told CBS News that instructors urged them to increase the credit limit on their credit cards for investing and to fund their training.
One former student's affidavit reads: "When people said that they didn't have enough money to pay for the Trump Elite programs, Mr. Harris suggested using the newly increased credit card limit."
"It certainly wasn't something that was encouraged or something that was implemented across the board," Trump's attorney Alan Garten said."Unfortunately, I think with any business you're going to get some students who aren't satisfied."
Smith said he was told he would get support from real estate mentors but said they didn't deliver. Smith concedes he gave positive reviews to two mentors, and even writing: "I'm very optimistic that I will be a very successful real estate investor in the near future."
"I didn't get any financial gain; it's been a big time net loss at this point," Smith said.
"People have to take responsibility for themselves, and you use the tools and move forward. As far as just simply, 'oh, Mr. Trump is rich and should just refund everyone money'... Trump University was not a charitable institution," Garten said.
An internal 2010 memo shows Trump employees acknowledged the mentorship program was too difficult for the company to "fulfill" and "expectations are not always realistically set or consistently met." The school stopped accepting students and began winding down in the summer of 2010.
Garten cites surveys showing a 98 percent satisfaction rate. But court documents indicate that of the 6,698 students who signed up for the three-day seminar or more, 2,539 of them -- almost 40 percent -- received a refund. Garten said that number is in "no way" indicative of student satisfaction. He said it "demonstrates Trump University's generous refund policy."
"We provided students with valuable resources, with online instructions, with in-person training. Mentoring, seminars. Substantive curriculum. And the vast majority of students, almost all the students, got their money's worth and were satisfied," Garten said.
Smith said the pitch that drew him to Trump University isn't so different from the Republican frontrunner's presidential campaign.
"Behind that veneer is to me somebody that could care less for the average person and you know people that you know he's dealing with in general, I think it's all about him," Smith said.
In Wednesday's speech, Trump said that he had intended to give the profits from Trump University to charity.
A few students CBS News spoke with said the program was worthwhile. One man in New Jersey, who did not want to be named, said the $35,000 he paid got him the hands-on knowledge he needed to start his own real estate business.
Thanks for reading CBS NEWS.
Create your free account or log in
for more features.