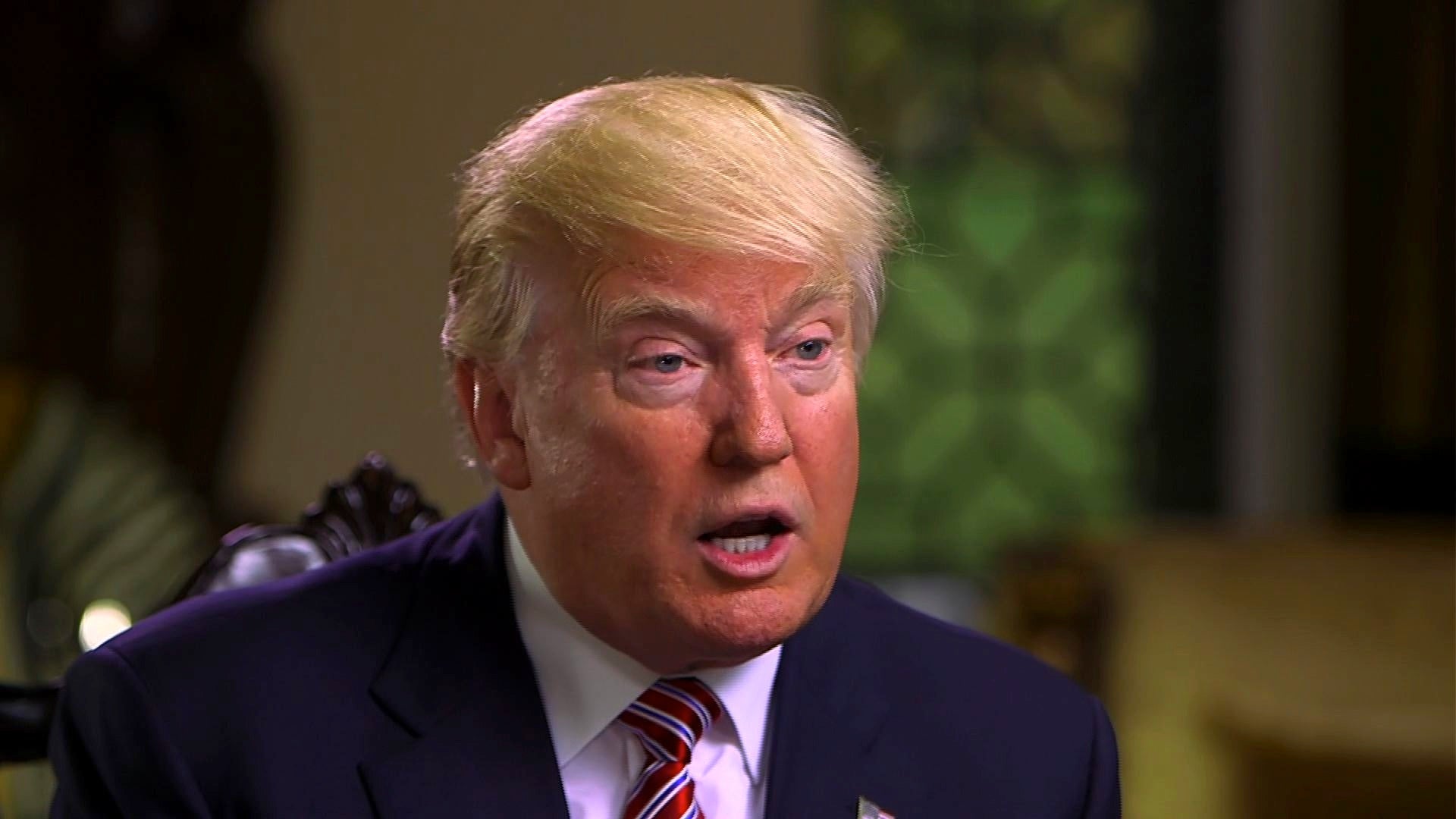 Trump: "It's possible" a Muslim judge would be unfair
Donald Trump is standing by comments he made against U.S. District Court Judge Gonzalo Curiel, the judge presiding over a Trump University lawsuit, telling CBS' "Face the Nation" that Curiel's Mexican heritage prevents him from acting fairly on the bench.
"He is a member of a club or society, very strongly pro-Mexican, which is all fine," Trump told "Face the Nation" host John Dickerson in an interview that will air Sunday. "But I say he's got bias. I want to build a wall. I'm going to build a wall. I'm doing very well with the Latinos, with the Hispanics, with the Mexicans, I'm doing very well with them in my opinion."
Later, when asked if he believed a Muslim judge would treat him unfairly because of another controversial proposal to temporarily bar Muslims from entering the U.S., Trump replied: "It's possible, yes. Yeah. That would be possible, absolutely."
"Isn't there sort of a tradition though in America that we don't judge people by who their parents were and where they came from?" Dickerson asked.
"I'm not talking about tradition," Trump replied. "I'm talking about common sense, okay? He's somebody, he's proud of his heritage. And I think that's great that he's proud of his heritage."
When questioned on whether he would instruct his lawyers to ask that Judge Curiel get thrown out of the Trump University case, Trump said: "Well, I may do that now--We're finding things out now that we didn't know before."
"Because of his Mexican heritage though?" Dickerson pressed.
"No, but because of other things," Trump responded. "I mean because of other things."
"You know, we have to stop being so politically correct in this country," he added later. "And we need a little more common sense, John. And I'm not blaming. I'm proud of my heritage, we're all proud of our heritage. But I want to build a wall. Now, the Hispanics, many of them like what I'm saying. They're here legally. They don't want people coming and taking their jobs and taking their house and everything else. They don't want that."
Later, the billionaire pointed to the positive student reviews of his real estate education venture to defend Trump University.
"The thing that we did very well is we had evaluation reports done by all of the students," Trump said. "I mean, without that, it would be, you know, my word against their word, I guess, or somebody's word against their word. We have evaluation reports where we have thousands of them, thousands of them."
"And these reports, I mean, they're very detailed reports," he continued. "What did you think of the instructions, what did you think of this, what did you think of the -- you know, one to five, mostly a five, five being excellent, right? It's from one to five, five being the best. And people circle. I'm being sued by people that have given this tremendous report."
He added: "Nobody forced them to sign a report."
In the wide-ranging interview, Trump also addressed the news this week of House Speaker Paul Ryan's endorsement.
Asked which of Ryan's policy ideas he found most appealing, Trump pointed instead to Ryan himself.
"He's most appealing," he said. "He's a good man. He wants good things for the country. We will agree on many things. We're not going to agree on all things. But we're going to agree on many things."
When pressed for an example, Trump offered up Ryan's focus on poverty.
"He wants to take people out of poverty. So do I. And we're going to come up with a plan," the billionaire said.
Admitting that the two "have some differences," the presidential candidate assured that "it's going to be a compromise" when it comes to implementing Ryan's agenda. He said that the two had only "spoken about it very briefly."
Trump said that, for his own policies, he would not be "backing down" from unpopular proposals like banning Muslims and deporting the 11 million undocumented immigrants in the U.S., despite his views diverging from another prominent Republican legislator, Senate Majority Leader Mitch McConnell.

The former reality television star also addressed previous comments calling for Democratic front-runner Hillary Clinton to face jail time over her email server, saying what she did "is a criminal situation."
"I would certainly have my, very fair, but I would have my attorney general look at it," Trump said. "Yes, I would. Because everyone knows that she's guilty. Now, I would say this: she's guilty, but I would let my attorney general make that determination. Maybe they would disagree."
Asked what he believed Clinton to be guilty of, Trump said that, coupled with endangering confidential information, the former secretary of state also showed poor judgment.
"She's guilty of the server, she's guilty of - you look at confidential information, I mean, all of the information that probably has gotten out all over the world," he said. "And then you know what else she's also guilty of? Stupidity and bad judgment."
After Clinton delivered a national security address last week aiming almost entirely at Trump, the presumptive Republican nominee decried her "ridiculous" claims about him.
"It was supposed to be foreign policy and it was really Trump policy," Trump said. "And she got it all wrong."
"I mean first of all, you know, she talked about that I want to nuke all of these countries," he explained. "It's ridiculous. No, I want these countries to pay for protection. We are protecting them."
"She made many statements that she knows were wrong," Trump said.
Thanks for reading CBS NEWS.
Create your free account or log in
for more features.