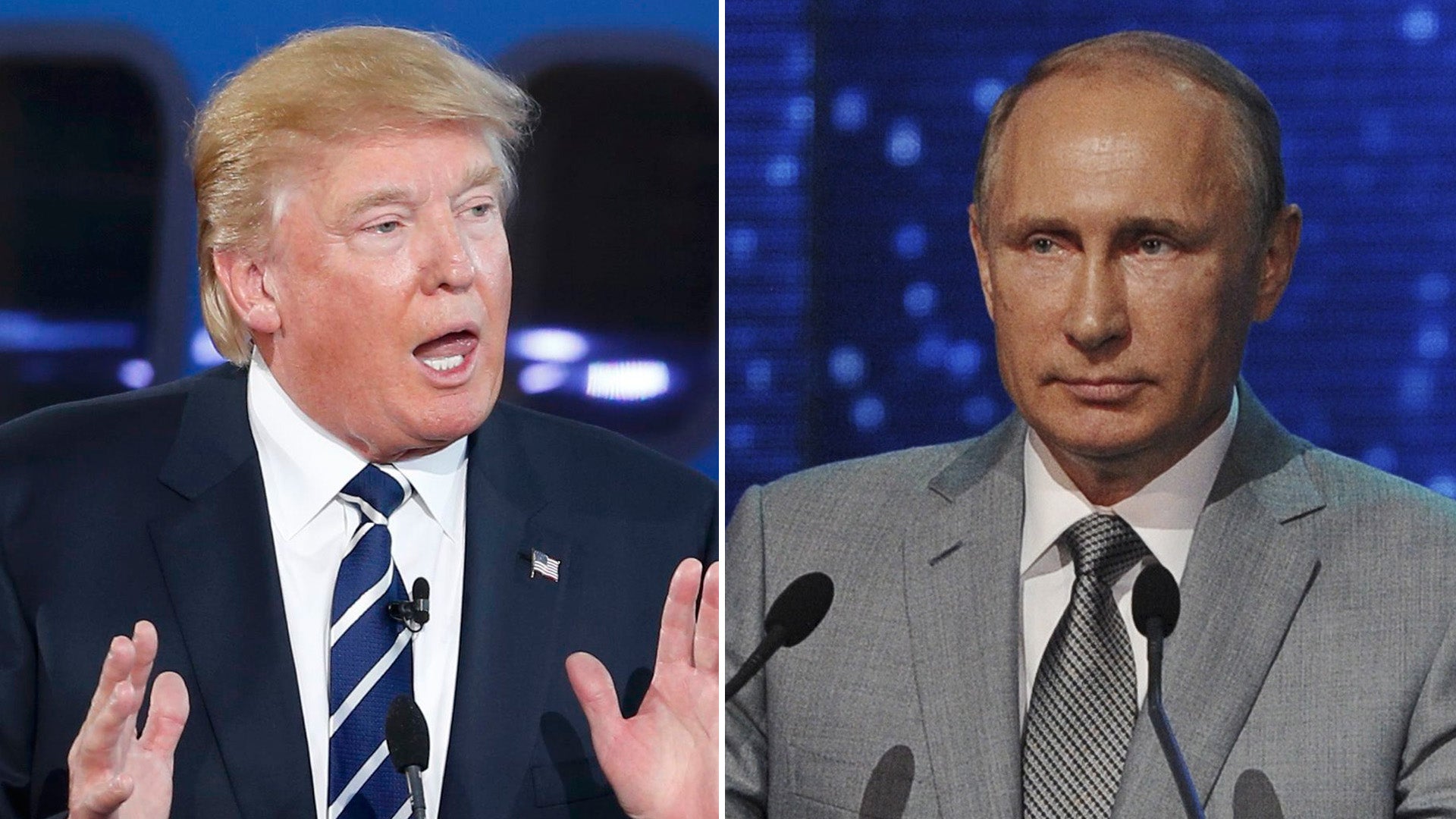 Donald Trump: I'd "enjoy" meeting with Putin
Republican presidential candidate Donald Trump could meet with Vladimir Putin next week -- and if it was arranged, Trump says he'd "enjoy doing it."
"Well, I had heard that he wanted to meet with me," Trump told NBC News on Saturday. "And certainly I am open to it. I would love to do that if he wants to do that."
Putin is scheduled to attend the United Nations' 70th General Assembly in New York City next Sunday. And the Trump Organization's vice president, Michael Cohen, has hinted at a possible meeting of the minds while the Russian leader is in town.
"There's a better than likely chance Trump may even meet with Putin when he comes here for the United Nations," Cohen said Thursday on conservative talk show host Sean Hannity's radio program.
The GOP frontrunner doesn't know for certain whether the two would actually get together but, he told NBC, "people have been talking."
"We'll see what happens," Trump said. "Certainly, if he wanted to meet, I mean, I'd enjoy doing it."
The billionaire businessman has said before that he believed he could work well with the Russian president, who has frustrated the Obama administration on several occasions. And Putin's backing of Syrian President Bashar al-Assad in Syria's bloody civil war has only increased tensions between the U.S. and Russia.
During Wednesday's Republican debate, Trump said again that he thought he could get along with other global power players.
"I would talk to [Putin], I would get along with him," he said on the debate stage. "I believe -- and I may be wrong, in which case I'd probably have to take a different path -- but I would get along with a lot of the world leaders that this country is not getting along with."
But some in the GOP field aren't taking kindly to Trump's chummy attitude towards Putin.
In an ABC News interview Sunday, Republican presidential hopeful and Florida Sen. Marco Rubio slammed Trump on the issue, equating his rival's willingness to meet with Putin to a "reset with Russia."
"It sounds like he thinks if we just have someone who gets along with Putin personally, things are going to work out better," Rubio, a prominent defense hawk on the Senate's Foreign Relations committee, said. "It sounds a lot like the reset with Russia that the president tried to do. I guess he's advocate for a reset with Putin."
But Trump believes having a relationship with others is an important aspect of deal-making.
"If President Obama got along with Putin, that would be a fabulous thing. But they do not get along," Trump added Sunday. "Putin does not respect our president. And I'm sure that our president does not like him very much."
Thanks for reading CBS NEWS.
Create your free account or log in
for more features.