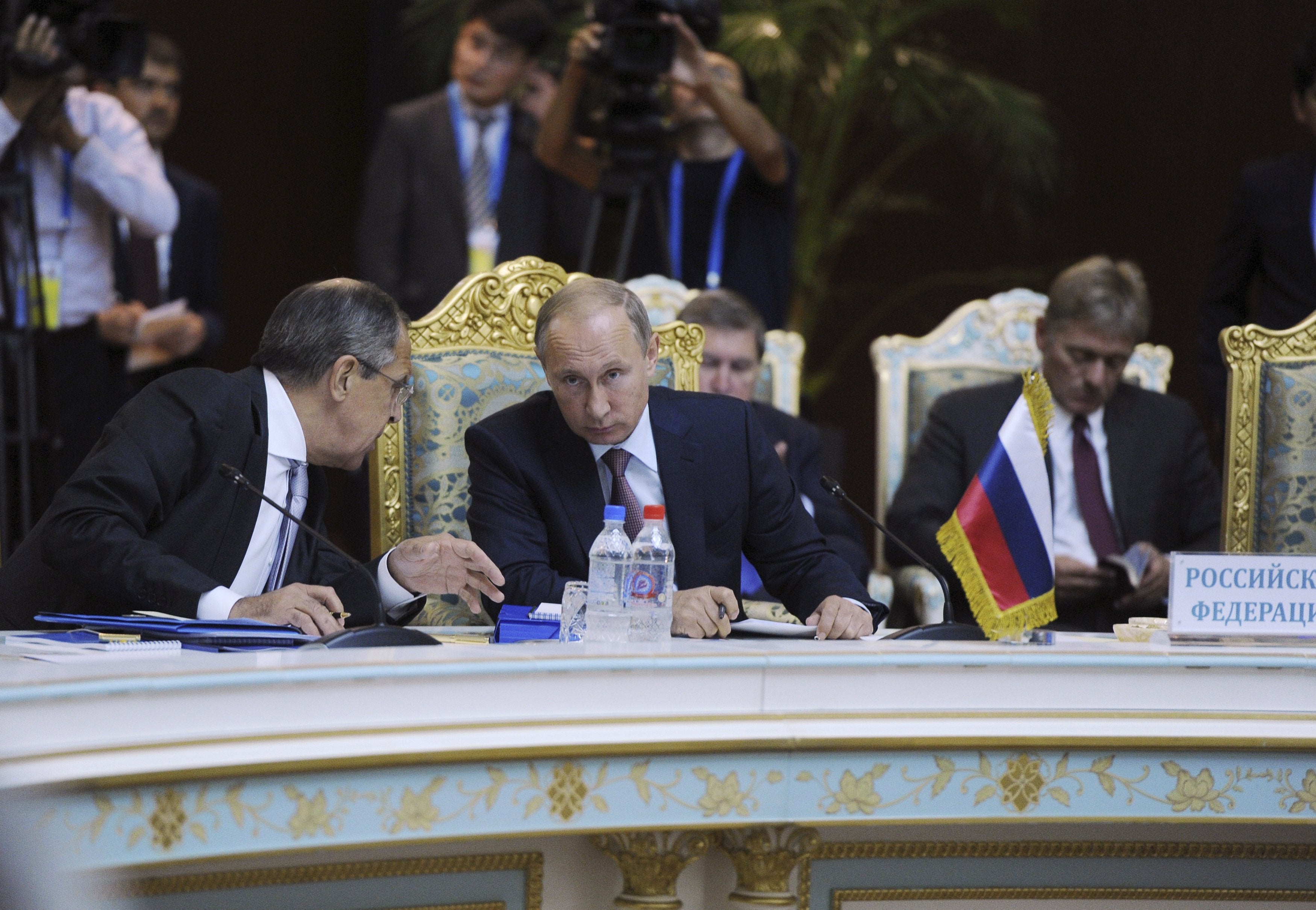 Putin defends Russia's military aid to Syria's Assad
MOSCOW -- Russian President Vladimir Putin on Tuesday strongly defended Moscow's military assistance to the Syrian government, saying it's impossible to defeat the Islamic State of Iraq and Syria (ISIS) without cooperating with Damascus.
Putin's statement comes amid the signs of an ongoing Russian military buildup in Syria, which the U.S. says signals Moscow's intention to set up an air base there.
Speaking at a meeting of heads of states at a Moscow-dominated security alliance of ex-Soviet nations in Tajikistan, Putin urged other nations to follow Russia's example and offer military support to Syrian President Bashar Assad's government.
"We are supporting the government of Syria in the fight against a terrorist aggression, are offering and will continue to offer it necessary military-technical assistance," Putin said in televised remarks. "Without an active participation of the Syrian authorities and the military, it would be impossible to expel the terrorists from that country and the region as a whole, and to protect the multi-ethnic and multi-confessional Syrian people from destruction."
He said that Assad was ready to conduct political transformations and engage a "healthy part of the opposition," but added that "pooling forces in the fight against terror takes the priority now."
Russia has staunchly backed up Assad throughout Syria's devastating civil war that has killed about 250,000 people and turned millions into refugees, shielding him from United Nations sanctions and continuing to provide him with weapons despite Western criticism.
Russia's U.N. Ambassador Vitaly Churkin told CBS News' Pam Falk that "everybody's responsible" for the situation in Syria.
"It is easy for me to point the finger but I think simply the situation was misjudged from the outset and then it was allowed to degenerate and how far it will go, I don't know," Churkin said.
Meanwhile, Putin shrugged off allegations that Moscow's support for Assad has sparked a flow of refugees, saying that without Russia's support for Assad's regime the number of Syrian refugees heading to Europe would have been even bigger.
"People are fleeing Syria primarily to escape fighting that has been fueled from the outside with supplies of weapons and hardware, they are fleeing to escape terrorist atrocities," he said. "Without Russia's support for Syria, the situation in the country would have been worse than in Libya, and the flow of refugees would have been even bigger."
The Pentagon says that Russia is in the midst of a steady military buildup at an airport in Syria's coastal province of Latakia, indicating Moscow intends to create a forward air operations base there, although no fighter jets or helicopters have arrived yet.
CBS News correspondent David Martin reported that Moscow is believed to have already positioned a half-dozen T-90 tanks, three dozen armored personnel carriers, and 15 artillery pieces at their growing military base near the city of Latakia.
President Barack Obama cast the buildup as an effort to prop up the embattled leader, warning Moscow against doubling down on Assad.
Asked earlier this month if Russian troops could join the fight against ISIS, Putin seemed to keep the door open for that, saying that "we are looking at various options."
The Russian leader is set to address the Syrian crisis when he speaks to the U.N. General Assembly later this month, and observers in Moscow believe he wants a Russian military force on the ground to be ready by that time.
Thanks for reading CBS NEWS.
Create your free account or log in
for more features.