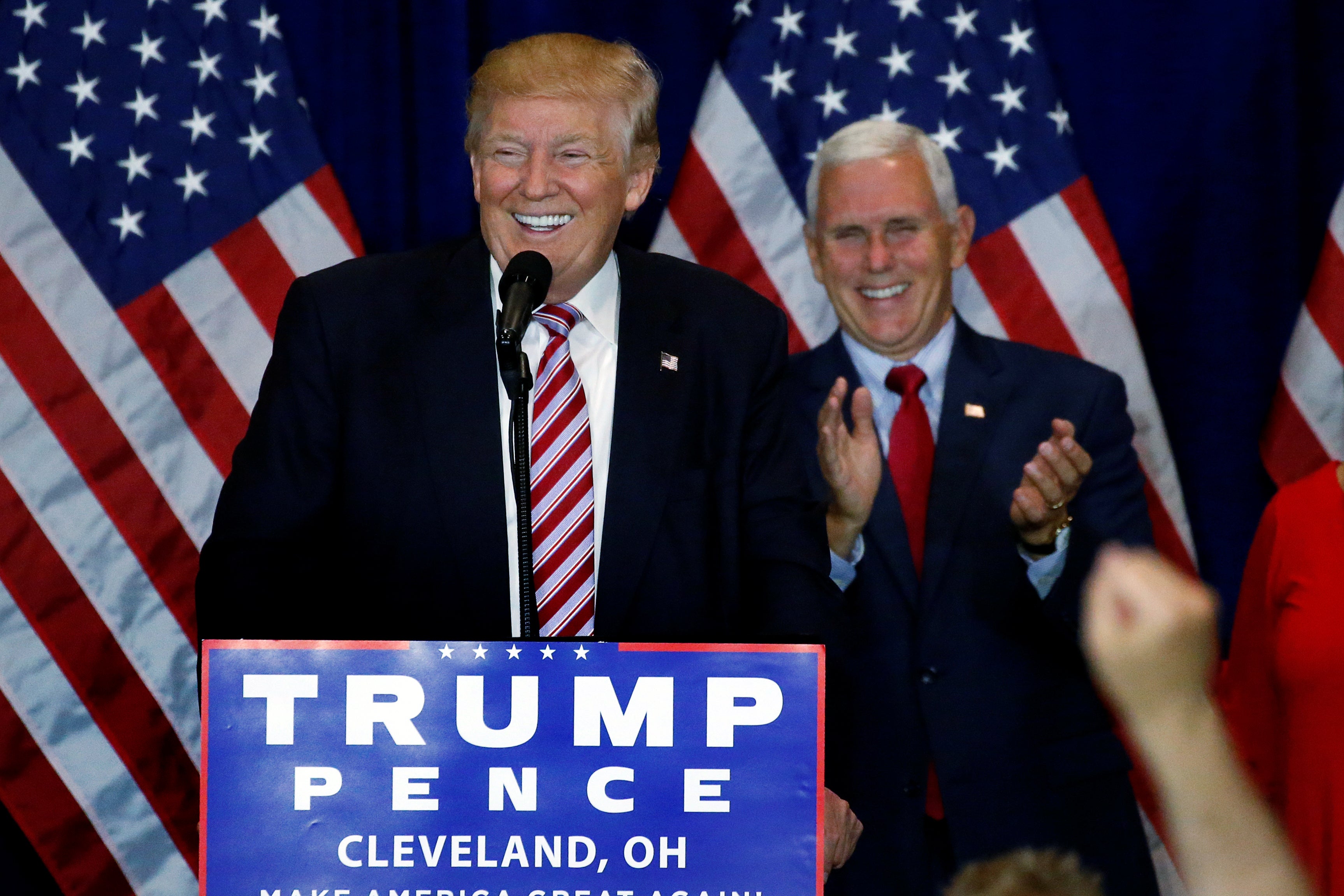 Donald Trump defends linking Ted Cruz's father to Lee Harvey Oswald
Donald Trump's restraint on the topic of Ted Cruz Thursday gave way to more expansive remarks Friday that ranged from his own comments earlier this year linking Cruz's father to Lee Harvey Oswald to Cruz's failure to endorse him.
Trump responded to Cruz's rationale for denying him an endorsement at the convention -- specifically that he had said during the primary campaign that Cruz's father, Rafael Cruz, had associated with Lee Harvey Oswald before President John F. Kennedy's assassination.
"There was a picture on the front page of the National Enquirer, which does have credibility," Trump said to a room of volunteers and staffers in Cleveland, adding that the tabloid "should be very respected."
In May, Trump had said to Fox News, "You know, his father was with Lee Harvey Oswald prior to Oswald's being -- you know, shot....Right prior to his [Kennedy's] being shot, and nobody even brings it up. I mean, they don't even talk about that. That was reported and nobody talks about it."
The story Trump referenced had appeared in the National Enquirer and was immediately debunked. The Washington Post said Trump had made "a ridiculous claim." Politifact concurred, saying that the photograph was "too degraded to offer much confidence," and experts it consulted "consider Trump's claim implausible at best and ridiculous at worst."
Trump also said Friday that Ted Cruz never verified that that the photo didn't depict his father.
"Ted never denied that it was his father," Trump told the room, which CBS News' Sopan Deb reports was largely silent while Trump went on. The GOP nominee added, "This had nothing to do with me. Except I might have pointed it out. But it had nothing to do with me. I have no control over anything. I might have pointed it out. But they never denied -- did anybody ever deny that it was the father [of Ted Cruz]? They're not saying, 'Oh, that wasn't really my father.'"
After Trump originally made the accusation, Cruz did respond. "Let's be clear: This is nuts. This is not a reasonable position. This is just kooky," Cruz said. "And while I'm at it, I guess I should go ahead and admit yes my dad killed JFK, he is secretly Elvis and Jimmy Hoffa is buried in his backyard."
Trump also talked Friday about the endorsement that Cruz denied him Wednesday.
"You know, he'll come and endorse over the next little awhile. He'll come and endorse, it's because he has no choice. But I don't want Ted Cruz's endorsement," he told the small group of volunteers and staffers. "If he gives it, I will not accept it."
"Honestly he may have ruined his political career," Trump said of Cruz. "I feel so badly. I feel so badly." He suggested that endorsing him would only have put Cruz "in better shape for four years from now" and then mused that maybe he'd set up a super PAC to fight Cruz if he were to challenge Trump in 2020. Addressing Mike Pence, who was with him at the event, "Are you allowed to set up a Super PAC, Mike, if you are the president -- to fight somebody?"
Deb says that the event was supposed to just be a simple thank you to staffers and volunteers for their work on the convention. Instead, Trump spoke for perhaps 40 minutes.
CBS News' Sopan Deb and Jack Turman contributed to this report.
Thanks for reading CBS NEWS.
Create your free account or log in
for more features.