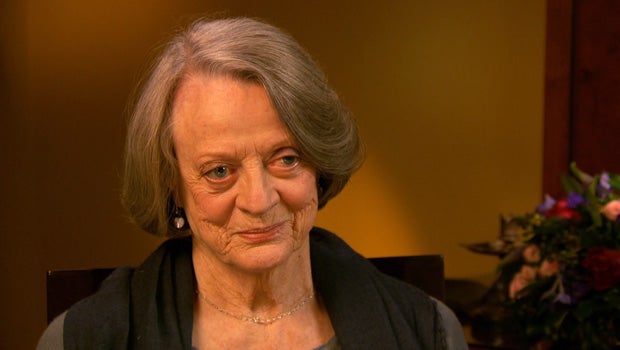 ​Dame Maggie Smith is all through with corsets
Dame Maggie Smith is one of our most venerated performers. These days, she's playing two very different characters. Mo Rocca went to London to talk with her about the challenges that presents:
Rocca informed Dame Maggie Smith that the interview would air the day before her birthday.
"No kidding? I don't want to be reminded of that! That's the last thing I want to be reminded of," she said.
"Well, do you know how you're going to celebrate?"
"I thought you were going to say, 'Do you know how old you are?'"
If you want to know Dame Smith's age, well, we're not going to tell you. All that matters is that this legend of stage and screen is still very much in her prime.
She only recently finished filming the final season of "Downton Abbey," the smash hit television drama in which she steals pretty much every scene as Lady Violet, Dowager Countess. Naturally she's savored this particular success.
"Have you seen any of 'Downtown Abbey' yet?" Rocca asked.
"No," she replied. "But they gave me the boxed set. And I'm going to do all sorts of things now, 'cause I'm free!"
Free enough to talk with "Sunday Morning" on a recent afternoon in London. On this occasion she informed Rocca that she's "all through" with corsets. "In actual fact, I have to say that I did cheat a bit. Because I promised that if I sat up, bolt upright, I made it look as though I were wearing corsets."
"So often on 'Downtown Abbey' you were not wearing a corset?"
"No, but don't tell anybody."
"I came all the way from New York. This is an exclusive!"
"Yeah, but I don't want it to be put around. I was tortured every day."
The final season of "Downton Abbey" premieres in the U.S. next week. Don't worry, no spoilers here!
Rocca asked, "Are you bound by contract not to reveal what happens in the last episode?"
"Yes, I am," said Smith. "But to speak truth, I can't remember. Nobody was allowed to see the script. You had to read it and then eat it, just in case. Do not leave it anywhere!"
"That would be an amazing box set bonus, watching the cast of 'Downtown Abbey' eat their scripts," said Rocca.
"Munching their way through all those scripts!"
Yes, she's had her fill of the Dowager Countess -- which may explain why she's gone the opposite direction for her newest role, in the movie, "The Lady in the Van."
Smith plays Miss Shepherd, a real life woman who spent the last 15 years of her life living in her van parked in the driveway of playwright Alan Bennett's home.
"I cannot begin to imagine how it must have been in reality, of what Alan had to cope with," said Smith.
The film is written by Bennett and directed by Nicholas Hytner, both friends of Dame Maggie.
Hytner said that the character of Miss Shepherd "morphed" into Smith. "And Maggie morphed into Shepherd."
Bennett said, "You can't see Miss Shepherd now without seeing Maggie."
"I think that's what always happens, isn't it?" said Hytner. "Spending 12 hours a day in that van in the rain, in the cold, I think that took you quite a long way towards what she must've been like."
Rocca asked, Bennett, "What do you think Miss Shepherd would think of Maggie's performance?"
"Well, she'd think it only right that she should be portrayed by England's leading actress, really," he laughed. "She had a notion of herself as being a person of great importance."
Indeed, Miss Shepherd is imperious but also sympathetic, with a surprising back story we won't reveal here.
"It is a reminder -- not that one needs one -- that that person on that street corner, who's there day after day, may have quite a story," said Rocca.
"I know," said Smith. "You pass all the time people just on cardboard on the street, she had a van. But you see these people just in doorways and it's just, I mean, what do they do all day?"
American audiences first met Maggie Smith on Broadway, when she was one of the "New Faces of 1956," and sang a comedic ditty about "One Perfect Moment."
What was her impression when she came to New York 60 years ago? "The thing that astonished me more than anything was the food," she replied. "Because we hadn't long stopped food rationing in England. When you ordered anything to eat, I was really a nervous wreck, because it would be mountainous!
"And also it seemed very, very bright. It was like being in the movies, instead of watching them."
She would make plenty of movies, and win two Oscars along the way. But her first love was the stage. At Britain's National Theatre her costars included the great Laurence Olivier and her first husband, the late Robert Stephens.
Rocca asked, "Is it hard to be an actor married to another actor?"
"Hideous. Don't ever do it. You're not thinking of it, are you?"
"No, I'm not. And why is it hideous?"
"Well, I think it's because, when I was married to Robert, we spent our entire life, really, at the National Theatre. There wasn't any other existence. And I think it was just too, too close. But it was great, you know? A lot of it was a great. A lot of it wasn't. But there you are."
The couple divorced. Her second marriage, to playwright Beverly Cross, was much happier. He died in 1998, not long before the Harry Potter movies would introduce her to a new generation of fans.
For "The Lady in the Van," Dame Maggie Smith has been nominated for a Golden Globe. She's already won three of those.
She's just a Grammy win away from being an EGOT. "And I think that's never gonna happen!" she laughed.
No? Smith appeared on "The Carol Burnett Show" back in 1975. ("That's going back so far!") We were only too happy to refresh her memory:
"I don't believe that," she said. "I remember those crazy clothes. That was the guy who dresses Cher [Bob Mackie]. Oh, do stop it."

"Oh, really? Okay. And then it goes into a dance. I never want to make you uncomfortable."
"Different! I look different in that."
"This is where you're dancing," said Rocca.
"Oh my God. Those were the days."
Correction: These are STILL the days of Dame Maggie Smith.

For more info:
Thanks for reading CBS NEWS.
Create your free account or log in
for more features.