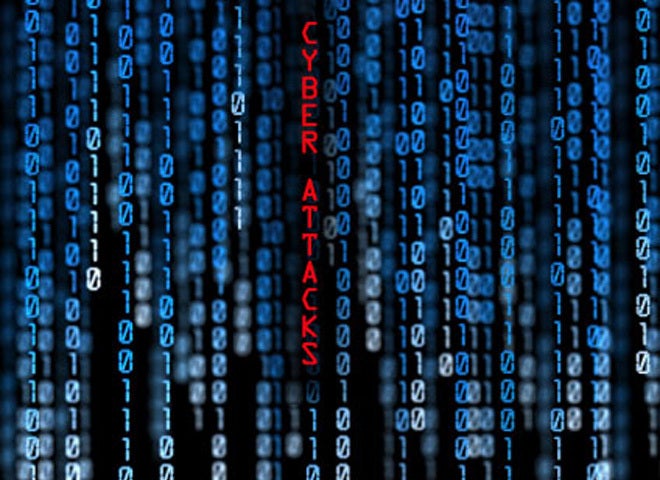 Cyber warfare: The next front in the Israel-Gaza conflict?
House Intelligence Committee Chairman Mike Rogers, R-Mich, is sounding the alarm that that cyber warfare could be the next front in the conflict between Israel and Hamas as nations allied with the Gaza-based militants look for non-military ways to aid their cause.
It's a possibility Rogers says could widen the deep and destructive conflict even further.
On CBS News' "Face the Nation" Sunday, Rogers warned that in addition to rocket attacks from Hamas on Israel, "now we have nation states engaged in the region in cyber conflict that could cause this to escalate in a way that is very, very dangerous for stability."
In a follow-up interview with CBS News, Rogers did not name the specific nation-state he was referring to. But he did say that they have already begun engaging in distributed denial-of-service (DDoS) attacks, which are designed to debilitate Israeli websites. If those attacks escalate, he said, "What consequences that might have are still not known."
"It shows you know that cyber disruption and terrorist type activities are on the rise and they can attack anywhere, any country at any time and it certainly gave real pause and concern for me," he said.
"So far I think Israel has done a great job of defending from these cyber attacks but the sheer volume and intensity as it grows could spread from what is a conflict between Israel and Gaza to some cyber effort to try to shut these operations down and that's always a concern."
Although Rogers won't point the finger at any particular country in the region, the most likely possibility is Iran, which experts say has already begun building its cyber warfare capabilities.
U.S. officials pointed to Iran as the source of a 2012 cyber attack on Saudi Arabian national oil company Aramco that infected as many as 30,000 computers in an effort to shut down its oil and gas production.
Still, Chris Bronk, the director of the Program on Energy and Cybersecurity at Rice University's Baker Institute for Public Policy, said Iran still has a long way to go before it would be able to take on a sophisticated technological powerhouse like Israel. The Israeli government reportedly worked with the U.S. to develop Stuxnet, a virus that targeted Iran's nuclear facilities.
On a scale of one to 10, where the U.S. is a 10 on cyber defenses, Bronk said, "I'd put Iran still around a three or four and Israel around an eight."
"When they try to do hacking against targets in Israel they're attacking a very, very hard target because the Israelis are very good and defense and very good at offense," he said. At this point, "Iran is unable to clear the threshold beyond mass annoyance."
Aramco was a "softer target" at the time, he explained, because they hadn't taken sufficient steps to protect their infrastructure in ways that Israel has with an integrated civil defense program that includes cyber capabilities. He said that the Aramco attack also likely involved a human element, such as someone manually bringing malware into the company's systems with a thumb drive.
Still, Israeli Prime Minister Benjamin Netanyahu has accused Iran of carrying out "non-stop" cyber attacks on Israel's computer systems in the past.
Whether Iran engages in or steps up cyber attacks on Israel will in large part be determined by whether it wants to increase its material support for Hamas beyond what it's already done, said CBS News National Security Analyst Juan Zarate.
"That then raises some serious concerns about escalation," Zarate said. "Then the question for the Israelis might be what an appropriate response would be vis-a-vis Iran, and you could have an escalation between states that might not have been contemplated before."
For now, much of the hacking appears to be taking place on a small scale.
Rogers told CBS News that hackers inside Gaza or pro-Palestinian activists are already hard at work with attacks that range from distributed denial-of-service (DDoS) designed to shut down websites, to misinformation campaigns carried out to create panic.
He cited, as an example, pro-Palestinian activists who were able to hack into the Twitter account of the Israeli Defense Force's spokesman and say that a rocket fired from Gaza hit a nuclear reactor inside Israel, causing a leak (the army later said the report was false).
These actions are "designed to terrify the local population," he said. He said he did not believe Israel's Iron Dome missile defense system, which is credited with preventing all but a few dozen Israeli casualties despite ongoing rocket fire from Hamas, was at risk of being shut down by a cyber attack.
Isaac Ben-Israel, who helped establish Israel's National Cyber Bureau, told Bloomberg News that there have been about 1 million attacks from hackers daily during the conflict, up from a normal 100,000 a day when there is relative peace.
Despite these attacks, Hamas itself does not have the capability to launch a major attack.
"I don't see Hamas making the lights go out in Tel Aviv tomorrow," Bronk said.
Other outside hackers could be more dangerous, like those affiliated with the group Anonymous. The hacking group called on its followers to launch a major attack against Israel last Friday, though Israel's cyber infrastructure did not appear to take a major hit.
That's not to say the group couldn't cause trouble in the future.
"Anonymous every once in a while has a really good day and they can have some good talent," Bronk said. "What I'd be looking for is when those people either in the U.S. or western Europe who have some sympathies with the Palestinians take up action...Those are the guys and gals who can produce your unforeseen event."
Thanks for reading CBS NEWS.
Create your free account or log in
for more features.