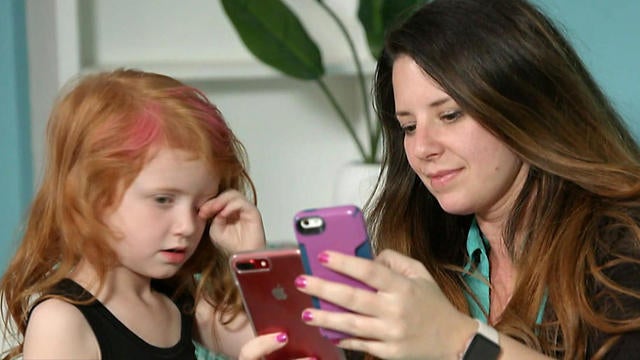 As critics decry Facebook Messenger Kids, what responsibility do parents bear?
More than 100 public health advocates are calling on Facebook to pull the plug on its new messenger app for kids. The group sent a letter Tuesday to Facebook CEO Mark Zuckerberg that says, "A growing body of research demonstrates that excessive use of digital devices and social media is harmful to children and teens."
But Facebook says it created Messenger Kids to give children a safe way to video chat and send messages to their parent-approved friends and family, reports CBS News' Jericka Duncan. It features stickers and face filters geared for kids under 13 years old, an age critics say is simply too young for social media.
Kindergartener Isla Thomason has been using Facebook's Messenger Kids app since it was released in December. The 6-year-old's father, Brett Thomason, signed her up.
"This is the world that they live in. She's coming into this world, she needs to be prepared for how to communicate," he said.
Thomason, a technical coordinator at a charter school in Sarasota, Florida, likes the fact that parents control who their children can message with.
"That even creates a safer environment than traditional text messaging -- that all you need is a phone number and you can send a message to anybody. There's no blocks or anything with that," Thomason said.
Messenger Kids has to be set up through a parent's Facebook account because children under 13 still aren't allowed to have one of their own. The app, which was created with help from child development experts, has no buttons for sharing, commenting or liking posts.
A Facebook spokesperson told "CBS This Morning," "We continue to be focused on making Messenger Kids be the best experience it can be for families."
But critics believe it's not what kids need.
"Really what it's doing is indoctrinating much younger kids onto social media when their friendships should be offline and face-to-face," said Josh Golin, executive director of the Campaign for a Commercial Free Childhood.
He says elementary school age children shouldn't be exposed to the harmful effects of social media, citing studies linking it to increases in depression, suicide rates, and body image issues.
"We wrote this letter because Facebook is the world's largest social media company," Golin said. "And by them going after young children and try to get them on social media, it's going to be a game-changer."
Asked what responsibility parents bear, Golin said, "The parents bear the responsibility, ultimately…. But as a society we have a responsibility to make sure parents' jobs are easier to raise healthier children and to look out for all children."

Golin feels so strongly about keeping children off social media that he took the Wait Until 8th pledge, which encourages parents not to give their kids smartphones until the eighth grade. Golin says he'll probably make his 9-year-old daughter wait even longer than that.
Thanks for reading CBS NEWS.
Create your free account or log in
for more features.