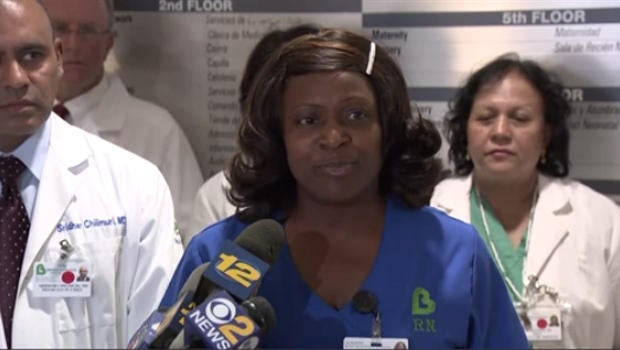 Bronx-Lebanon hospital shooting: Stories of heroism emerge
NEW YORK -- A doctor who was shot in the neck when a gunman opened fire at Bronx-Lebanon Hospital Center last week, wounding six and killing one, is expected to be released on Monday, hospital officials said.
Speaking at a news conference, officials said three of the remaining patients at Bronx-Lebanon are now in stable condition. Chief physician Dr. Zid Sridhar Chilimuri said the doctor who was shot in the neck has "made a remarkable recovery."
Two other victims were being treated at Mount Sinai, including a medical student who suffered a brain injury. The student has woken up, is off a ventilator and is in "good spirits," Chilimuri said. Another victim underwent a successful surgery, is in stable condition and it expected to undergo more surgeries, Chilimuri said.
Bronx-Lebanon Hospital vice president Errol C. Schneer said the victims' improvement is a testament to how "heroically" staff responded to save lives when a physician forced to resign returned with an AM-15 assault rifle tucked under his white lab coat and opened fire in his old department. Dr. Tracy Sin-Yee Tam, 32, was killed. She had been working at the hospital close to a year, and was very "well-liked by the hospital staff," Schneer said.
Dr. Henry Bello then shot himself, and staggered, bleeding, into a hallway where he collapsed and died with the rifle at his side, officials said.
"Timely action is what saved lives that day," Chilimuri said. "Many of our victims had horrendous injuries from assault weapons at a close range, but the team that worked on them kept all of them alive."
People described a chaotic scene as gunfire erupted, spreading terror throughout the medical facility as employees locked themselves inside rooms and patients feared for their lives after hearing an announcement warning of someone in the building with a weapon.
The victims largely suffered gunshot wounds to the head, chest and abdomen. Medical staff at the hospital immediately treated all the patients in its emergency department, despite the danger.
"Many of our staff risked their own lives to save patients," Schneer told reporters.
Hospital staff described staying with their patients and continuing their work even as the violence unfolded and others evacuated.
Nurse Donna LeePeterkin told reporters she was administering an antibiotic IV to a patient on the 16th floor when she heard gunshots. She said her patient was scared, but she told her, "We're all in this together. Just stay calm and let's just be quiet."
She described smelling smoke and putting an oxygen mask on her patient's face. Police then burst into the room and began to evacuate others, but LeePeterkin said she stayed with the woman.
"I couldn't abandon my patient," LeePeterkin said. "I was scared and she was scared, but I had to be brave for her ... because that's what we're called to do."
Another nurse who was in the operating room with a patient when the gunfire erupted described staying with her patient and continuing the surgery as the situation unfolded.
"Hospital staff throughout the crisis were able to able to operate at an optimal level," Schneer said. "Babies were delivered, surgeries continued, and that was made possible because staff stayed and did what they had to do."
Bello resigned from Bronx-Lebanon in 2015 amid sexual harassment allegations, reported CBS New York.
A law enforcement official told The Associated Press that Bello arrived at Bronx-Lebanon Hospital Center in the Bronx on Friday with the weapon, which he had bought in upstate New York about a week earlier, hidden under his lab coat and asked for a doctor he blamed for his having to resign, but the doctor wasn't there at the time. The law enforcement official wasn't authorized to discuss an ongoing investigation and spoke on the condition of anonymity.
Authorities said Bello went to the 16th and 17th floors and started shooting anyway, killing Tam, who, like him, was a family medicine doctor. Hospital officials said that Tam normally worked in one of the hospital's satellite clinics and was covering a shift in the main hospital as a favor to someone else.
"She was always there to help, support, fill in the blanks if you missed something," former co-worker Shailee Udani told CBS New York. "It was a team effort always with her."
Tam had graduated from residency exactly one year before her death, reports CBS New York. Chilimuri described her as a "young, idealistic physician right from medical school" who was passionate about treating underserved populations.
He said her family is devastated.
"Her father asked me this question, 'Why did only my daughter die?'" Chilimuri said. "It's tough to answer that because everyone else survived that day."
He said Tam could not have been an intended target for Bello, because she started working at the hospital after he resigned and they didn't know each other.
"It's so unfortunate she was there at the wrong time," Chilimuri said.
Thanks for reading CBS NEWS.
Create your free account or log in
for more features.