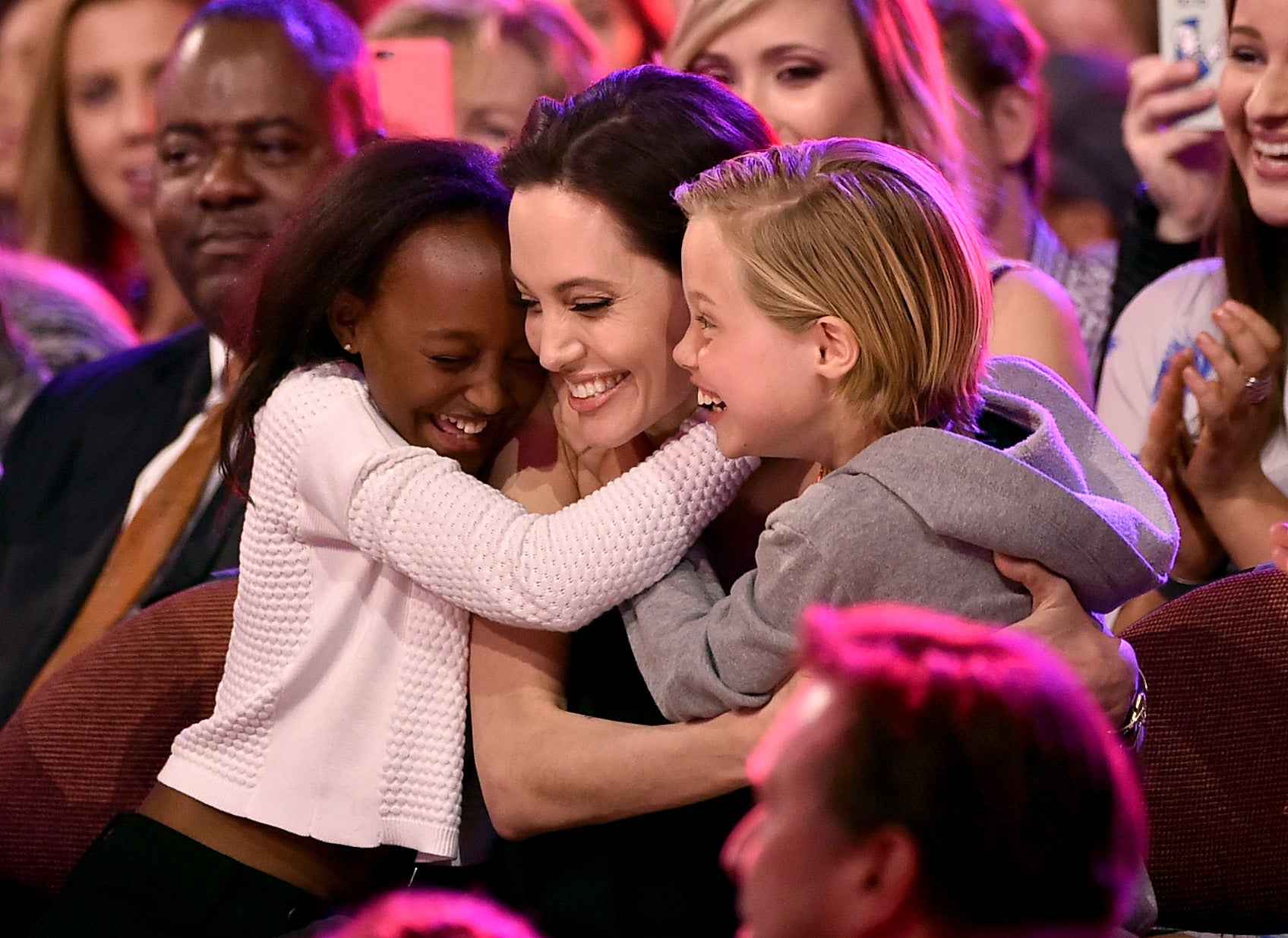 Brangelina split raises questions about how divorce affects kids
In the wake of Angelina Jolie and Brad Pitt's divorce announcement this week, many may be wondering how their six children will weather the split. Divorce experts say children's responses and needs after a marriage ends vary depending on their age and personality. But how parents continue to communicate with each other is the pivotal factor in a child's post-divorce well-being.
Jolie, 41, and Pitt, 52, were married just over two years ago but had been together for more than a decade. ET Online has quoted sources saying the couple struggled with differences in parenting styles for their six kids – Maddox, Shiloh, Pax, Zahara, and twins Vivienne and Knox – who range in age from 8 to 15.
"A child's age doesn't affect how much they react but how they react," divorce mediator Robert Emery, a professor of psychology and director of the Center for Children, Families, and the Law at the University of Virginia, told CBS News.
Emery's new book, "Two Homes, One Childhood: A Parenting Plan to Last a Lifetime" (August 2016), looks at how divorce affects kids at different ages, from infants to young adults, and how to give them a well-adjusted, healthy upbringing after parents part ways.
As a mediator, he helps parents work out their legal agreement and care plan for raising their children outside of court, "in a more cooperative way," he explained.
The unifying message he tries to get across throughout his book and in his work with parents, Emery said, is: "What kids need most of all from their parents is for parents to act like parents. They can have disagreements, but kids don't want to be in the middle of it."
Infants and toddlers
"For babies and toddlers, they won't know much about what's going on. They'll react to the parenting they get​," said Emery, a clinical psychologist by training.
What's important for kids in the earliest years and beyond is stability and routine, said Kathy Melman, clinical director of outpatient psychiatry and behavioral medicine at Seattle Children's Hospital.
"Parents need to give a child stability through the process. If they're struggling and more focused on their own adjustment, then the child can have a double loss," Melman told CBS News.
Keep routines the same at whichever house the kids are staying in. Eat meals together in the evenings, spend Thanksgiving at grandma and grandpa's, make pancakes every Sunday morning, walk the dog together at the same time every day – whatever the pre-divorce routine was, keep it up.
If a mom or dad – especially the parent in the home where kids will spend most of the time – is struggling with the separation and is not functioning in a way that enables them to be present for their children, then they need to get help, Melmen said.
If they have depression, for example, seek treatment. "Continue to parent in a way that is warm and supportive," said Melman.
Preschoolers
Preschool-aged children will be confused and may blame themselves, Emery said.
Melman added, "For younger kids there is less understanding about the divorce and about what's happening. The younger ones might think it's their fault."
How you communicate with kids about it becomes very important, she said.
"Kids don't necessarily need to go through therapy when a family divorces. They do need parents to keep conflict to a minimum and to be loving and supportive – to have as few changes as possible when they go through this. If it's possible, they need to not change homes or the day-to-day activities all at once," Melman said.
Dr. Matthew Lorber, director of the child and adolescent psychiatry department at Lenox Hill Hospital in New York City, told CBS News that children this age are very dependent on parents and family.
"The majority of a child's social life revolves around their parents. After parents get divorced, you frequently see children become more dependent on their parents because there is this fear that young children have, that mommy and daddy don't love each other and now they don't love me," said Lorber.
They may regress – refuse to sleep alone, become more clingy, even start bedwetting.
"They latch on to parents in an even more intense way," said Lorber. "Younger children also tend to believe divorce isn't final and have this fantasy that parents are going to get back together. It can be counterproductive if parents get together at Christmas, for example."
School-age children
"School-age kids want to fix it, help everybody to get along," said Emery.
It's important to talk to them about the divorce without blaming the other parent. Letting kids know before the actual separation occurs is best, so they're not blindsided, said Melman. Some children may already be aware, from witnessing conflict for months or years, that the parents aren't happy, and the divorce may actually come as a relief.
"Let them know, ideally with both parents together, about the divorce – that it has to do with both parents, that parents can get divorced from each other but will always be the parent of their child, and they will never divorce from the child," Melman said.
Details of the marital conflict are not for children. "Sometimes angry parents might share more with a child in a way that puts a child in the middle. That's really uncomfortable and distressing," she added.
Let children know it's understandable to have feelings and questions. If a mom or dad is struggling to explain things at a child's level, reach out to a family therapist, or ask a children's librarian for recommendations for books about divorce that might help.
"It's so easy to be preoccupied with your own experience when you're going through something so hard, but what we do know is being empathic about the child's experience and remembering to keep the child center stage is so important. And that's how you get to better parenting," said Melman.
Lorber said reassurance is vital. Kids need to know that both parents still love them and will always be there for them.
"Children have a very difficult time dealing with fear and pain and loss and unpredictability and with, 'Will I ever see dad again and who's going to take care of me?'" he said, stressing that as with younger children, keeping routines and rituals intact as much as possible can help.
Preteens
"By ages 10, 11 and 12, kids are more likely to judge their parents, and may be more inclined to see right and wrong," said Emery. "They may want to blame one parent or the other."
Sometimes children may take sides – girls may want to be with moms, and boys with dads.
If a bigger issue played a role in the separation, you can be truthful and realistic with kids this age, but remain age-appropriate, said Lorber.
"You do want to be as honest as possible. But it's not age appropriate to say dad is having problems with alcohol or an affair, but that dad loves you and is taking care of a few things," said Lorber.
Offer constant reassurance. "I'm always going to be there for you" gives an adolescent the solid ground they crave even if they're acting out, he explained.
Teens and young adults
Teens may not want to be around their parents during a divorce and in the aftermath, Emery said. They may feel embarrassed by the family breakup, especially if they live in a community where divorce is less common.
"They may want to spend time with other kids. Some teens adopt another family. It can exaggerate some of the things they might otherwise do as a teen," said Emery.
Lorber explained, "They usually rebel and put space between their parents. In a teenager's mind, there is this trust that this is going to be the family setting and that we're going to be together forever, and that's an unspoken reality, so the teen may feel this trust is broken."
Now more than ever, he said strict boundaries need to be drawn by parents, especially in the house where a teen lives most of the time, because teens may become more defiant – challenge rules more or stop following rules. They may try to pit one parent against another.
"Monitor teens activities closer now. These are times you'll see teen pregnancy​ go up," said Lorber.
Authoritative parenting and confident, loving focus on the teen's well-being will guide them through the rough first years of divorce.
The take-home message
Kids want to have relationships with both of their parents​, said Emery.
"They can worry about a parent and get angry or frustrated about a parent who is not functioning well. Kids need at least one parent who can love and guide them. If they at least have that, it can guide them through," he said.
Parents can be overwhelmed themselves, and may have less time to parent​ if they've had to take on more work to make ends meet, but Lorber said focusing on a child's well-being needs to remain paramount.
Lorber reassures divorced parents: "It used to be thought that divorce is going to guarantee major problems in the teens and later years. But research shows divorce is not as risky for children and teens as marital conflict – yelling and screaming every day, domestic violence, and parents that are unhappy."
"For a healthy divorce​, the best predictors of kids and teens who are going to do well are parents who have healthy post-divorce relationships. That means not bad-mouthing each other to the teen, not blaming each other to the teen, acting civil to each other when the teen is listening."
Splitting parents can help kids by "doing things that parents do​" the experts said: help with homework, attend kids' sporting events and school meetings, eat meals together, and listen to their emotional needs and life experiences.
"Don't fight around your kids. Keep a united front for your kids. Family can be defined in a new way," Emery said.
Thanks for reading CBS NEWS.
Create your free account or log in
for more features.