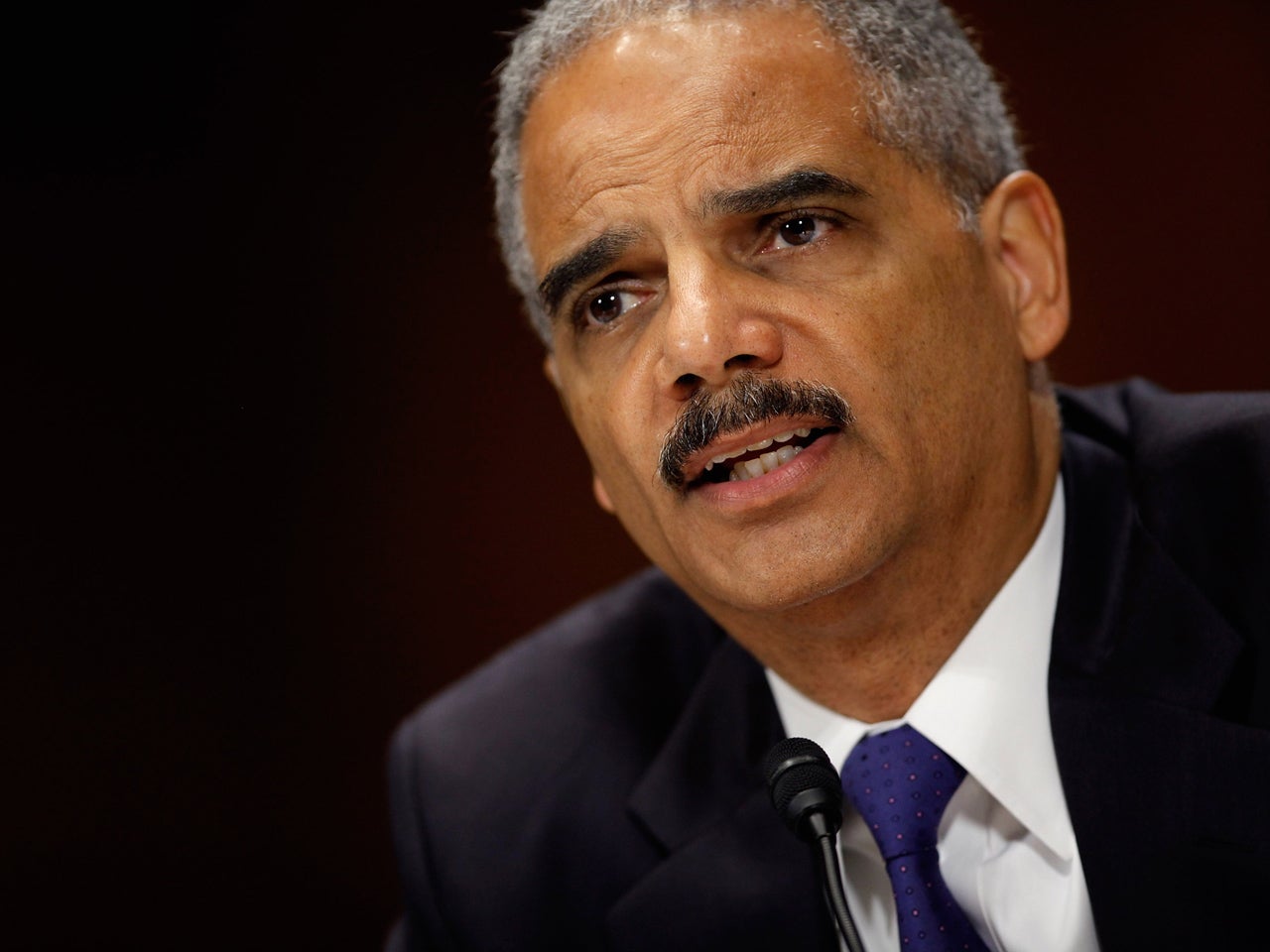 AG Holder cleared in Justice gunwalking probe
Updated at 5:36 p.m. ET
(CBS/AP) The Justice Department's inspector general cleared Attorney General Eric Holder Wednesday of knowing about the gun-walking operation known as Fast and Furious that allowed thousands of weapons to cross into Mexico.
But Inspector General Michael Horowitz concluded that there were "serious failures" at both the Justice Department and its Bureau of Alcohol, Tobacco, Firearms and Explosives going back more than six years, CBS Radio News reporter Stephanie Lambidakis reports.
Horowitz found that no one running the operations -- not agents, nor prosecutors, nor managers -- questioned the wisdom of letting guns vanish across the border with Mexico, where they ended up in the hands of drug traffickers.
Two of the 2,000 weapons thought to have been acquired by illicit buyers in the Fast and Furious investigation were recovered at the scene of a 2010 shootout with drug traffickers that claimed the life of U.S. border agent Brian Terry. About 1,400 of the total have yet to be recovered.
In his 471-page report, Horowitz referred more than a dozen people for possible department disciplinary action for their roles in Fast and Furious and a separate, earlier probe known as Wide Receiver, undertaken during the George W. Bush administration.
Second arrest in "Fast and Furious" killing
Exclusive: Fast and Furious report slams Phoenix ATF
GOP-led panel files suit against AG Eric Holder
Gun-walking was an experimental tactic, barred under long-standing department policy. ATF agents in Arizona allowed suspected "straw purchasers," in these cases believed to be working for Mexican drug gangs, to leave Phoenix-area gun stores with weapons in order to track them and bring charges against gun-smuggling kingpins who long had eluded prosecution.
Lambidakis reports that between November 2009 and mid-April 2010, straw buyers purchased approximately 1,300 firearms for more than a million dollars, "yet agents made no arrests and just a single seizure," the report states.
Because of thin ATF staffing and weak penalties, the traditional strategy of arresting suspected straw buyers as soon as possible had failed to stop the flow of tens of thousands of guns to Mexico — more than 68,000 in the past five years. The operation was a response to criticisms of the agency's anti-smuggling efforts.
The inspector general found fault with the work of the senior ATF leadership, the ATF staff and U.S. attorney's office in Phoenix and senior officials of Justice's criminal division in Washington. He also said that poor internal information-gathering and drafting at Justice and ATF caused the department to initially misinform Congress about Fast and Furious.
Fast and Furious has produced charges against 20 gun traffickers, 14 of whom have pleaded guilty so far.
Two senior officials left the department, one by resignation and one by retirement, with the report's release.
While Horowitz heaped most of the blame for Fast and Furious on investigators in Phoenix, one senior official, Deputy Assistant Attorney General Jason Weinstein, is blamed for not acting to stop the tactics.
"Weinstein was the most senior person in the department in April and May 2010 who was in a position to identify the similarity between the inappropriate tactics used in Operations Wide Receiver and Fast and Furious," the report said. ATF agents in Arizona conducted Wide Receiver in 2006 and 2007 and began Fast and Furious in October 2009.
Weinstein resigned Tuesday night, CBS Radio News reports. Weinstein's lawyer, Michael Bromwich, called the report's criticism "profoundly wrong" and "deeply flawed."
In a statement released Wednesday, Holder said: "Jason has dedicated much of his career to fighting violent crime and has led highly successful efforts around the country in this effort. The American people are safer because of his work."
One of those criticized in the report, former ATF acting director Kenneth Melson, who headed that office during the Fast and Furious investigation, retired upon release of the report.
"Melson made too many assumptions about the case," the report stated. "Melson should have asked basic questions about the investigation, including how public safety was being protected."
Melson responded in a written statement: "While I firmly disagree with many of the speculative assumptions, conclusions and characterizations in the inspector general's report, as the acting director of the agency I was ultimately responsible for the actions of each employee."
The report did not criticize Holder, but said lower-level officials should have briefed him about the investigation much earlier. The inspector general also said he found no evidence that former Attorney General Michael Mukasey, who took office late in the Bush administration after Wide Receiver was ended, was ever informed that it used gun-walking.
Holder, who the Republican-led House of Representatives cited for contempt in a dispute over Fast and Furious documents earlier this year, said that the report was "consistent" with what he's said about the botched operation.
"It is unfortunate that some were so quick to make baseless accusations before they possessed the facts about these operations - accusations that turned out to be without foundation and that have caused a great deal of unnecessary harm and confusion," Holder said. "I hope today's report acts as a reminder of the dangers of adopting as fact unsubstantiated conclusions before an investigation of the circumstances is completed."
The report found no evidence that Holder was informed about the Fast and Furious operation before Jan. 31, 2011, or that the attorney general was told about the much-disputed gun-walking tactic.On Capitol Hill, House Oversight Committee Chairman Darrell Issa, R-Calif., said the report confirms his panel's findings of a "near total disregard for public safety," CBS Radio News correspondent Bob Fuss reports. Senate Judiciary Committee Chairman Patrick Leahy, D-Vt., points out the report also confirms what the attorney general has said from the start, that as soon as he learned about the operation, he stopped it.
Horowitz is scheduled to testify before Issa's committee Thursday morning.
Among others the report singled out for criticism were former acting Deputy Attorney General Gary Grindler; Assistant Attorney General Lanny Breuer who heads the criminal division; Arizona U.S. Attorney Dennis Burke; and Holder's own former deputy chief of staff, Monty Wilkinson.
The report said:
Wilkinson should have promptly informed Holder of the fact that two guns found at the scene of Terry's slaying were among the 2,000 illicitly acquired weapons in Operation Fast and Furious.
Grindler relied on the FBI to investigate the Terry killing. That reliance was misplaced, given that the bureau did not have the responsibility to determine whether errors in ATF's investigation led to the weapons ending up at the murder scene.
Breuer should have promptly informed Deputy Attorney General James Cole or Holder about the gun-walking problems in the earlier gun probe, Operation Wide Receiver.
Once allegations of gun-walking surfaced, the Justice Department waited 10 months before withdrawing an incorrect letter to Iowa Sen. Chuck Grassley in early 2011 denying that gun-walking had taken place. Grassley is the ranking Republican on the Senate Judiciary Committee.
A May 2011 Justice Department letter to Grassley said that "it remains our understanding that ATF's Operation Fast and Furious did not knowingly permit straw buyers to take guns into Mexico."
The inspector general said that by May, senior department officials knew or should have known that ATF had in many instances allowed straw purchasers to buy firearms knowing that someone else would transport them to Mexico. The report also found that the department should not have provided testimony in June 2011 before Issa's committee that created ambiguity over whether the department was still defending its Feb. 4 and May 2 letters.
Speaking to reporters at ATF headquarters, acting director B. Todd Jones said the agency is already implementing some of the report's recommendations and there are no gun-walking operations going on.
"We are recalibrating how we do business at ATF," Jones said. "Everyone in the current crew knows that that is not an acceptable investigative technique unless I know about it, and I don't know about any."
Thanks for reading CBS NEWS.
Create your free account or log in
for more features.