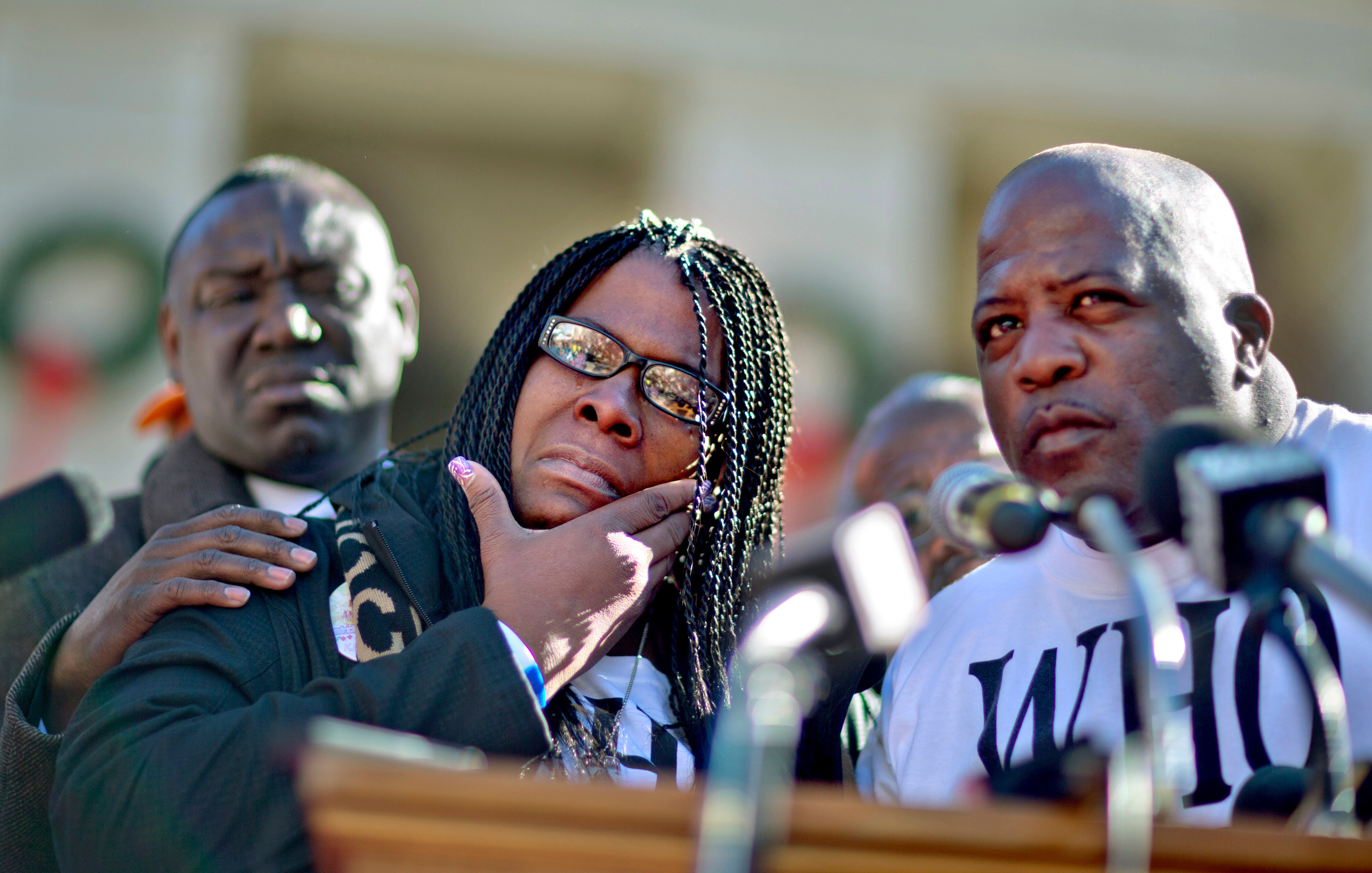 After 18 months, no answers from feds in Ga. gym mat death
SAVANNAH, Ga. - Long after Kendrick Johnson was found dead inside a rolled-up gym mat at his high school in south Georgia, those closest to the case remain deeply divided over how the teenager died.
Sheriff's investigators concluded the 17-year-old Johnson died in a freak accident that left him stuck upside down and unable to breathe. Yet Johnson's family in Valdosta insist he was killed by classmates, fellow teenagers who are accused by name in a $100 million wrongful death lawsuit Johnson's parents filed earlier this year.
Federal authorities also launched their own investigation into Johnson's strange death. Almost year and a half later, they have yet to announce any findings. Michael Moore, the U.S. attorney for the Middle District of Georgia, promised to do "everything in my power to answer the questions that exist in this case." That was on Oct. 31, 2013. Moore's chief assistant prosecutor, Pete Peterman, said in an email Thursday the investigation is still ongoing but gave no other details.
Now a local civil rights leader says federal authorities need to close the book on a case that continues to fuel conspiracy theories on social media and has led to threats against people who have not been charged with any crimes.
"It's just time for the government to shut it down," said the Rev. Floyd Rose, president of the Lowndes County chapter of the Southern Christian Leadership Conference, who has long said he sees no evidence of foul play in the teenager's death. "If they have something, they should say so. If they don't, they should say so. It's cost taxpayers too much money and the families too much grief and caused the community too much confusion."
Students at Lowndes High School found Johnson's body in the center of an upright mat Jan. 11, 2013. An autopsy found he died from positional asphyxia, meaning his body was stuck in a position that prevented him from breathing. Sheriff's investigators concluded Johnson went headfirst into the mat trying to retrieve a gym shoe.
At the end of April, the federal investigation will conclude its 18th month. Meanwhile, rumors about Johnson's death have boiled over into dueling lawsuits in civil court.
In January, Kenneth and Jacquelyn Johnson filed a wrongful death lawsuit accusing classmates of killing their son in an ambush. They also blamed criminal investigators and school officials for covering up the deed. Their suit named 38 defendants including the local school superintendent, sheriff's deputies and the medical examiner who performed the autopsy. Johnson's parents say he was attacked by two brothers "seeking revenge" after one of them had a fight with Johnson a year earlier.
The accused brothers and their parents filed a counter suit, saying Johnson's parents defamed them by falsely accusing them of murder. The Associated Press is not naming the brothers or their parents because they have not been charged with any crimes.
Brice Ladson, an attorney for the accused brothers, said the accusations have had painful consequences, despite being false. He said the case caused a large university recently to withdraw a football scholarship it had offered one of the brothers. An assistant athletics director for the Division I school declined to comment.
"This criminal matter needs to be over and done with so the family can move forward," Ladson said. "Leaving everyone's lives in limbo certainly doesn't serve the cause of justice."
Leigh Touchton, a former Valdosta-area NAACP president working with Rose at SCLC, said the accused family has received an estimated 200 death threats via social media.
Chevene King, the Johnson family's attorney, did not return phone messages seeking comment.
Other recent federal investigations into controversial deaths have varied in how long they took. The Justice Department concluded within seven months it would bring no federal charges against the Ferguson, Missouri, police officer who shot and killed an unarmed Michael Brown last August. But federal authorities spent nearly three years reaching the same conclusion in the 2012 killing of Trayvon Martin by Florida neighborhood watch volunteer George Zimmerman.
Donnie Dixon, a former U.S. attorney now in private practice in Savannah, said prosecutors are often extra cautious in emotionally charged cases such as Johnson's death because "you're going to have no thanks and a lot of criticism from one side or the other."
"Sometimes you get into the thick of an investigation and you get a question answered that breeds three more questions," Dixon said. "Especially in a high-profile matter like this, where there are a lot of strong feelings on both sides, once you've started down this road sometimes it can drag out."
Lowndes County sheriff's records indicate a federal prosecutor from Washington, D.C. was taking a fresh look at Johnson's death last fall. Assistant U.S. Attorney Deborah Sines visited the sheriff's office Nov. 19. She left with the gym mat in which Johnson was found dead, as well as recordings of 911 calls and surveillance video from the school.
Sines works as a prosecutor in the U.S. Attorney's Office for the District of Columbia, where she has focused on homicides and cold cases, a spokesman for that office said. Peterman, the chief assistant prosecutor in Moore's office, confirmed Sines is "actively involved" in the Johnson case.
Thanks for reading CBS NEWS.
Create your free account or log in
for more features.