Investigation Continues Into Christmas Fire At Drake Hotel That Displaced 250+ People In Minneapolis
MINNEAPOLIS (WCCO) -- More than 250 people are without a home after the devastating fire at the Drake Hotel apartments in downtown Minneapolis that burned for about 32 hours.
The Minneapolis Fire Department said it concluded suppression operations at the building just after noon Thursday. It hotel rooms, apartments and an overflow shelter for people transitioning out of homelessness.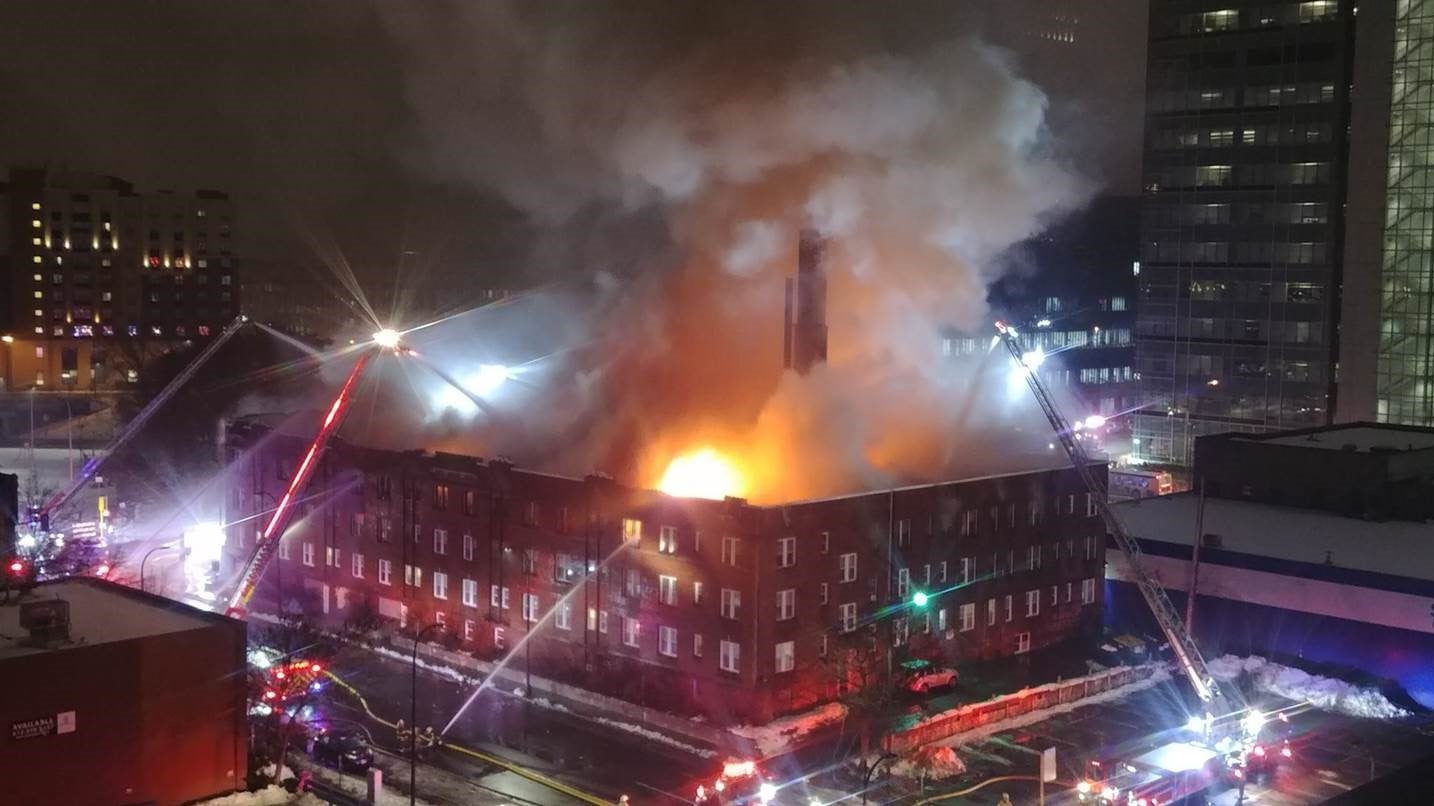 At around 3 a.m. Wednesday, the four-alarm fire started on the second floor and quickly spread to the third floor and attic.
In all, three people were taken to the hospital, but are expected to be OK. Several residents were also treated at the scene for smoke inhalation.
More than 100 people are taking shelter at nearby Bethlehem Baptist Church. Half of the people sleeping on these cots are children, including 2-year-old twins Samantha and Gabriela Christenson. Their parents, Tabetha Mercer and Matthew Christenson, remember the fear they felt when the fire started.
"If it wasn't for the family across the hall from us, we honestly wouldn't have gotten all of our children out of there," Mercer said. "It was insane the way everybody just really banded together as a village to make sure everybody was safe."
Five-year-old Juliana has little understanding of what happened. Her oldest sister, 12-year-old Luciana Showers, has had to step in to help her mom take care of all seven kids.
"I'm just thankful for the fact that most likely they won't remember any of this," Showers said. "I've become more responsible."
Seeing the generosity of strangers has been comforting for the families at this temporary shelter.
"It made me feel like Christmas isn't over because of one little small thing -- people are actually trying to help and get us in a better place than we are right now," Showers said.
Mercer says the generosity has restored her "faith in humanity."
Minneapolis Fire Department Assistant Chief Bryan Tyner says he's thankful all residents were able to escape the building with their lives.
"Especially given the time of the morning it occurred, and the amount of people that were in the building," Tyner said.
Once billed as the city's finest property in the 1930s, just a shell of the Drake now remains. The roof, third floor, and gallons upon gallons of water now sit atop the second floor.
"That's a lot of load to be sitting on a floor, inside the building that was not designed for it, and it's a lot of water with nowhere to go," said David Frank, Minneapolis director of community planning and economic development.
A contractor will demolish the east portion of the building over the next two days. Engineers will then be able to determine if any of the structure can be saved. As demolition and clean-up gets underway, questions over how this major loss could have been prevented remain.
State law only mandates buildings be up to the code that was in place the year it was built. That means sprinklers are not required in older buildings.
"In light of some very recent and visible tragedies, we are having conversations about whether incentives are a good idea or if it should be combined with a legislative change," Frank said.
Hennepin County District 4 Commissioner Angela Conley says the county already has a housing shortage. A county shelter team spent the day meeting with families to figure out immediate needs, and to try to find where they can go.
"There are conversations happening right now between the city and the county and the Red Cross, all in coordination to make sure these families are taken care of," Conley said. "And to coordinate things like people who lost their IDs their birth certificates and their cards to access benefits all these things."
Some of the people who came through to help were children who had just unwrapped their Christmas gifts, and immediately gave it as a Christmas donation.
The cause of the fire remains under investigation.
How You Can Help
The Red Cross says 111 people sheltered with them on Wednesday night, and they will continue to help over the coming days. For the next few nights, they will stay at the nearby Bethlehem Baptist Church. Donations can be made to the Minnesota Red Cross.
Additionally, Minneapolis Mayor Jacob Frey says the Minneapolis Foundation has set up a fund specifically for the displaced residents and families. Those who wish to donate can do so here. Also, text "DRAKE FIRE" to 243-725.
The Minneapolis Federation of Teachers Union are collecting gift cards to Target, Aldi and Cub Foods to give to the parents of their students who lived at the Drake Hotel.
"We are over $2,000 at this point in gift cards," said Minneapolis Public Schools teacher and union member Brionna Harder. "We know that a number of our students and a number of our schools have been sheltered at the Drake Hotel. We know that this is our community."
Gift cards are still being accepted at any Minneapolis Public School, or they can be sent to this address:
MFT Building
67 8th Ave. NE
Minneapolis, MN 55413
Thanks for reading CBS NEWS.
Create your free account or log in
for more features.