Pipe Bomb Rendered Safe Outside Elementary School In South Sacramento
SOUTH SACRAMENTO (CBS13) - Deputies have disabled a live pipe bomb just outside of an elementary school in South Sacramento.
Sheriff's department K-9s are searching the area for other possible threats.
Earlier Friday morning, police blocked off the area around Ethel I. Baker in the 5700 block of Laurine Way after a school staff member found a "suspicious device", according to the Sacramento County Sheriff's Department.
Classes at the school have been canceled for the day.
"I'm like, 'Again?'" said Amanda McLain, who works at the school as an instructional aide.
This is the same area where a live pipe bomb and a zip gun were found on March 2. The pipe bomb contained metal shrapnel, clay putty, firecrackers, and gasoline. The zip gun was made of steel pipe and had a spring-loaded cap and was loaded with a 12-gauge shotgun round.
"It does appear that it was very similar to the last one that was here approximately three weeks ago," according to Sacramento County Sheriff's Dept. Sgt. Kionna Rowe.
It's unknown whether or not a suspect was caught in connection with that incident.
In both instances, Though the devices were disabled in both instances and nobody was injured, parents were unnerved.
"I hope they clear it up and find out who did this, what's going on, or have some more security out here," said parent Philip Salas.
And so were neighbors who were asked to shelter in place until bomb-sniffing dogs gave the all-clear.
"It's scary. We need somebody taking care of the schools," said Alejandra Valencia, who lives on the block.
Some were concerned they didn't receive notification of the bomb scare.
"I'd like to know on my phone ahead of time, that way I don't show up and have my kids come out here and find out there's no school," said Salas.
The district is expecting additional patrol units in the area to protect the school and will be providing investigators with security camera footage.
Ethel Baker Elementary is a "Learning Hub site," which offers in-person support for approximately 40 students. It's offered in partnership with the Boys and Girls club.
Sacramento County School District schools are scheduled to reopen for in-person instruction on April 8.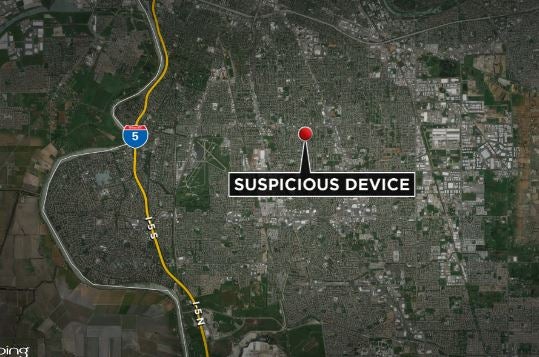 Thanks for reading CBS NEWS.
Create your free account or log in
for more features.