7 People Rescued From Condominium Fire In Delran Township, New Jersey
DELRAN TOWNSHIP, N.J. (CBS) - Firefighters made several rescues as fierce flames erupted at a South Jersey condominium complex overnight. Firefighters say seven people needed to be rescued from the Grande Condominiums on Natalie Road in Delran Township after it went up in flames at around 3:30 a.m. Thursday.
"The flames were just insane and very intense. And very scary. I was just trying to see if everyone was OK," resident Andrea Fowler said.
Andrea Fowler recorded eyewitness video showing just how intense the flames were.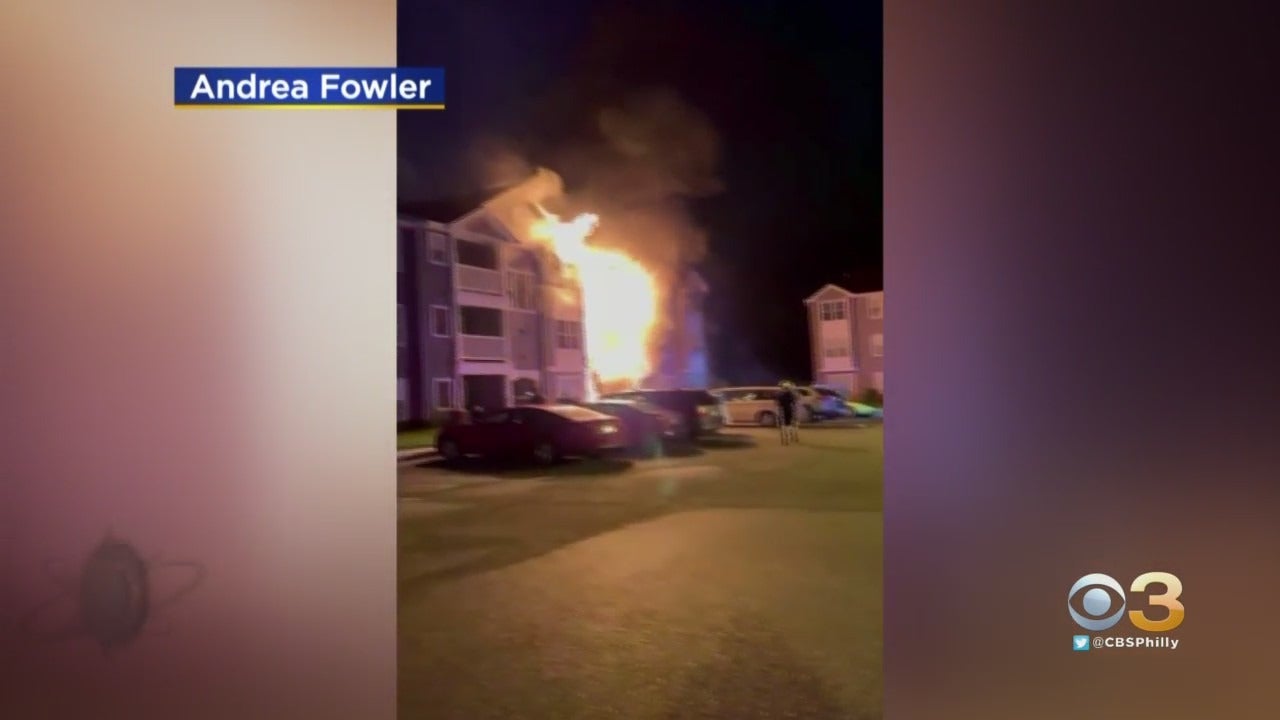 She recalls racing out of her home with her daughter and her dog.
"I went out the back and I kept seeing people look out the window. You gotta get out. There's a fire," Fowler said.
The flames spread quickly and neighbors awoke to chaos.
"Once I heard the screaming, I went to the door I saw all the smoke," resident Susan Allen said.
Resident Devin Allen said, "I couldn't see what was going on. I couldn't breathe, so I had to run down the steps."
Seven people ended up trapped.
When firefighters arrived on scene, a mother and her young child were standing on a third-floor balcony waiting to be rescued. They were taken to the hospital and are expected to be OK.
"I'm just happy that everyone is safe," Fowler said.
But it wasn't easy.
Fire officials say one person jumped from a second-story balcony to escape the flames. That person was also taken to the hospital and is expected to recover.
Five others also needed help getting down from the third floor on the back of the building.
"They saw five people waiting on the back balcony. Immediately the company took a ladder to the back and made a rescue off the back of the building, as well," Delran Fire Department Chief Kevin Peak said.
About 12 units were destroyed and 19 people were displaced.
"No matter how much water they used it just kept burning from the roof all the way up and down," resident Devin Allen said.
No one was seriously injured.
A credit to police, fire crews, and neighbors.
"I commend the residents themselves, as well, because they helped going door to door making sure everyone was out," Peak said.
County and local fire investigators are searching for what caused the fire.
Thanks for reading CBS NEWS.
Create your free account or log in
for more features.