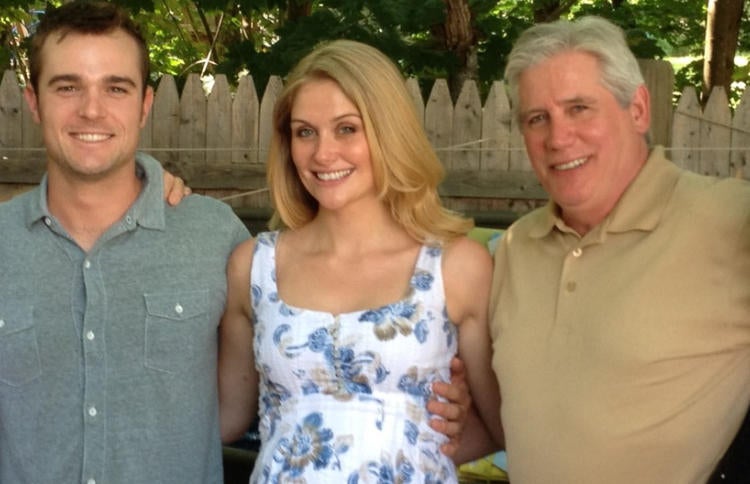 Yankees' David Robertson on the devastating toll of pancreatic cancer
Pancreatic cancer is the world's toughest cancer to treat, with a five-year survival rate of just 9 percent in the United States.
It kills more people every year than breast cancer and is the third leading cause of cancer death in the U.S.
Yet, unless it touches someone close to them, many people know little about it.
The Pancreatic Cancer Action Network (PanCan) is hoping to change that. The organization has launched a campaign entitled "Demand Better. For Patients. For Survival," to mark Pancreatic Cancer Awareness month.
Julie Fleshman, PanCan's CEO, said a main focus of the campaign is to educate the public on risk factors and symptoms of pancreatic cancer.
"Many people lack awareness of the disease," she told CBS News. "The sooner patients can get diagnosed, the better the opportunity there is to have surgery and get treatment."
Symptoms are often vague but include abdominal or mid-back pain, unexplained weight loss, jaundice (yellowing of the eyes), loss of appetite, indigestion, and new-onset diabetes.
"We urge people that if they're experiencing one or more of these symptoms they see their doctor and reference pancreatic cancer," Fleshman said.
New York Yankees relief pitcher David Robertson was involved with PanCan even before the disease affected his family. In 2009, he and his wife Erin became volunteers and frequently spoke about the importance of awareness.
But six years later, Erin's father, Rick Cronin, was diagnosed with pancreatic cancer. He died just nine months later in April 2016.
David and Erin Robertson spoke with CBS News about the impact pancreatic cancer had on their family and what they want others to know about the devastating disease.
Q: Why you were initially drawn to the cause?
David: In 2009, the organization reached out to us asking me to speak at an event for the New York City Marathon.
Erin: At the time we knew nothing about pancreatic cancer, like most of the population. So we looked into it a little and thought what an important to cause to help raise awareness. We got involved right away.
David: I spoke at an event the night before the marathon, where I met with some survivors and families and learned a lot about pancreatic cancer. It's shocking to hear the statistics on it and then unfortunately, a few years later we were personally affected by it.
Q: Tell me a little about Rick. When did he get sick and what was the progression of his disease?
David: He started not feeling well around the spring of 2015. He'd been having abdominal pain and was becoming diabetic. The doctors couldn't really figure out what was going on. They thought he had an infection and then over time it just kept getting worse. Then one trip to the doctor, he got a CT scan and we learned he had stage IV pancreatic cancer and we knew how tough of a diagnosis that was and what the outcome would more than likely be.
For us, it's something you can't really explain – the shock of knowing that he's sick and that time is limited. It was very tough. He fought the good fight while he could but the detection wasn't there in time. Maybe if we would have found out six months ahead of time he might have had the option for surgery.
Q: Do you feel anything could have been done differently to catch it earlier?
Erin: It was so hard because we were really involved with PanCan, but my father had no idea what the symptoms were. He sort of hid the fact that he was in so much pain and didn't let us know what all his symptoms were. But once he was diagnosed and he really revealed how he was feeling, it's sad and makes you want to go back in time to recognize it sooner. He had gone to so many different doctors so many different times and he had every single symptom that shows pancreatic cancer yet it was missed and misdiagnosed. He was on antibiotics for two months to try cure an intestinal infection that they thought he might have had. At one point he was diagnosed with diabetes and told diet changes would be the answer. He ended up getting so sick that he needed to go to the emergency room and that's when they did the CAT scan and found the tumor and that it had spread. It was really frustrating because looking back he had abdominal pain and back pain and was losing weight, the onset of diabetes, jaundice – he literally had every symptom pointing to the diagnosis and who knows, maybe it could have been caught a little earlier.
Q: What happened when he was diagnosed?
David: Once he was diagnosed, it wasn't long before he started chemotherapy. It was a very aggressive form of chemo and it made him sicker. Once he finished that round, he was moving around and was almost back to himself but it didn't take long for the tumors to come back and spread again. The second round of chemo, we really saw him fade. He couldn't eat and had no energy and it just tore him apart.
Q: What was that like for you watching him go through this?
Erin: It was really hard because you want so desperately to do anything you can to make him better. We'd met so many survivors and learned so much about the disease, but to see someone who you love so much experience it, even we didn't quite grasp how difficult it is. It's an incredibly painful disease. My dad was such a strong man so to see something like that take him over it was really hard.
Q: What you would want people to remember about him?
Erin: He was such a good man. He was a great dad. He was the best grandfather. He was a great friend to people. He was the type of person who would really do anything for you. He never said no to anybody. He would give you the shirt off his back. He was there whenever we needed him to be. He was the rock of our family and that's why I think it was so devastating for all of us when he was diagnosed.
David: He always loved to be outdoors and go fishing and golfing and hiking. We got along so well. He was my best friend. We hung out all the time. We would go golfing and enjoy some time on the water fishing. We would have beers at the bar every now and then. He was taken away from us way too soon.
Q: What would you want people reading this to know about pancreatic cancer?
Erin: I'd really want people to be aware of the symptoms and that early detection is so vital to helping people survive such a difficult disease. People also need to realize the impact it has and that it's so deadly. I think – so many think it affects so few people and that it doesn't affect them, until it does. And then when it does affect you, you wish the whole world knew so that no one else has to go through it.
David: Being a professional athlete, you're given a lot of opportunities and you're given so much and I want to use whatever time I can to give back and any chance I get to speak out. Maybe someone will read this article and think to themselves "I've been having that pain" and get it checked out. If one or two people are affected in some way, that's worth it to me.
Thanks for reading CBS NEWS.
Create your free account or log in
for more features.