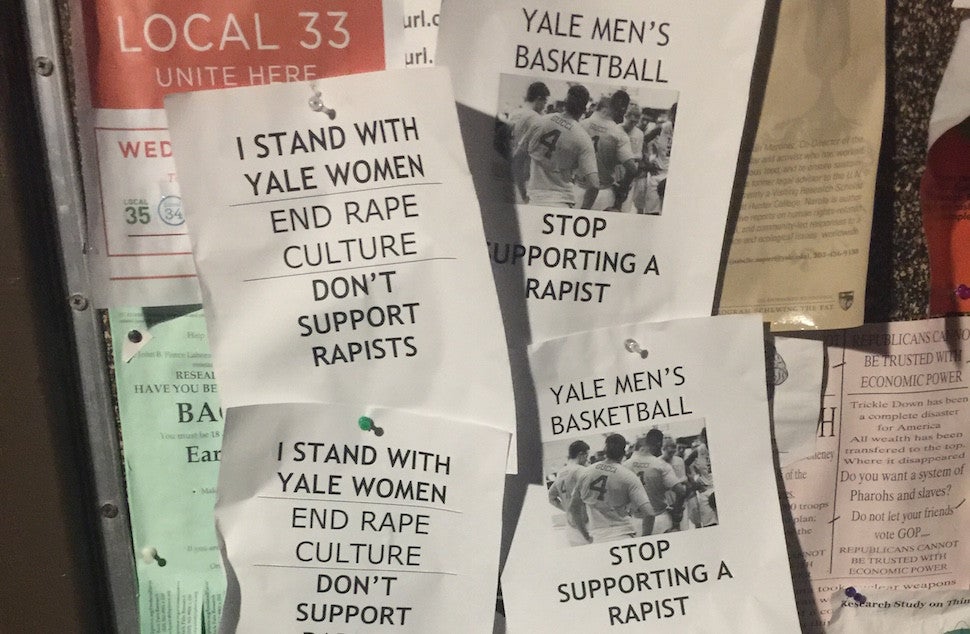 Yale case highlights misconceptions about sex assault victims
NEW HAVEN, Conn. -- At Yale, a university once investigated for its "hostile" treatment of sexual assault victims, the expulsion in February of the basketball team's captain sent shockwaves through the community.
Jack Montague's dismissal for an October 2014 incident catalyzed discussion about sexual misconduct on a campus still battling an old reputation for turning a blind eye to sexual misconduct, according to students and alumni.
"I think people were surprised, because it's quite well known that Yale has historically been notoriously lenient on sexual assault cases," said sophomore Helen Price, co-director of the student group Unite Against Sexual Assault Yale, during a March interview with CBS News.
Montague filed a lawsuit in federal court Thursday, arguing that the school saw Montague as its "ticket to restoring its tarnished reputation."
Yale called the lawsuit "factually inaccurate and legally baseless."
While the case highlights the university's toughened approach to sexual assault, experts say a statement released by Montague's attorney, Max Stern, also reflects widespread misconceptions about victim behavior.
The statement and lawsuit describe Montague's version of events: That he and a sophomore student had four sexual encounters. She said she did not consent to sexual intercourse on the final occasion, he said she did. According to Stern, "Later that same night, she reached out to him to meet up, then returned to his room voluntarily, and spent the rest of the night in his bed with him."
Stern has latched on to that detail, saying it "defies logic and common sense" that a victim would return to the bed of a man who victimized her hours before.
But Jennifer Long, CEO of Aequitas, a non-profit that advises prosecutors on sexual violence victim behavior, said research has shown there are a range of often unexpected ways that victims cope with trauma.
"The bottom line is you can't determine whether or not someone is a victim of sexual assault based on their behavior, even though people would like to do that, especially the defense," Long said. "There's an expectation that a victim will be crying and outwardly nervous, but that's not necessarily the case."
Long's assessment was echoed by Beth Hamilton, Director of Prevention and Programs at the Connecticut Alliance to End Sexual Violence.
"Biological responses to trauma can be hard for investigators on college campuses to understand and even hard for the victims themselves," Hamilton said. She noted that some victims will continue to behave outwardly as if nothing is wrong, going to parties and posting smiling photos on Facebook, even soon after an attack.
"The behavior is not always in line with what we expect," said Hamilton.
Both Hamilton and Long said previous sexual encounters should not be taken into consideration when investigating an alleged assault.
"I think what's interesting about (Stern) putting in their past sexual activity is that the Office of Civil Rights says any sexual history, including with the respondent, cannot be used in the judicial process," Hamilton said.
A year after the incident, the woman who was involved reported it to a Title IX coordinator, an administrator who tracks and monitors sexual misconduct complaints.
According to Montague, the Title IX coordinator, not the woman involved, filed the complaint, a fact that students and experts with knowledge of Yale's system say may be an indication of the seriousness of the allegations against Montague.
Under Yale policy, Title IX coordinators almost always defer to a complainant's wishes when it comes to pursuing a formal complaint with the school's University-Wide Committee on Sexual Misconduct, a panel that hears evidence in such cases. However, in certain, unusual circumstances explained in university policy, a Title IX coordinator can file a complaint instead of the victim.
"Only in extremely rare cases, where there is serious risk to the safety of individuals or the community, will the University take independent action," the school's Deputy Provost for Health Affairs and Academic Integrity, the university's top Title IX official, wrote in a February report on sexual misconduct complaints at the school.
To Celeste Dushime, a sophomore at Yale who is also associated with the student group Unite Against Sexual Assault Yale, the coordinator's involvement speaks volumes. She said that even when a complainant wants an informal resolution -- without disciplinary measures -- the accused person's name is logged, so in future instances coordinators will know if that student has been complained out before.
"When a Title IX coordinator comes with a complaint, it's (often) because a person is already in the system," said Dushime.
Yale does not discuss individual Title IX cases, and wouldn't comment on whether Montague had prior complaints.
In Montague's lawsuit, he says there was one previous incident, which occurred when he was a freshman. In that case, Montague received gender sensitivity training after he was accused of rolling up a paper plate and shoving it down the shirt of a female student.
In lengthy interviews by phone and at his office in New Haven, Yale spokesperson Tom Conroy discussed the University-Wide Committee process with CBS News, while declining to comment on Montague case. He acknowledged that the school's policies are a work in progress and noted that decisions made by the committee can reflect not only past sexual improprieties, but also academic issues.
He said that University-Wide Committee cases are typically contentious.
"In any case, you're going to have an unhappy party. That's the nature of these things," Conroy said. "The committee is either going to find for one side or the other."
Conroy noted that only after the University-Wide Committee substantiates allegations of sexual misconduct, are they made aware of any previous discipline in the accused student's record.
"It could be of the same nature (sexual misconduct) or unrelated, like plagiarism," Conroy said. That information is also considered when the committee recommends a punishment to the student's dean.
A dean considers the committee's recommendation and makes the ultimate decision, and the provost considers any appeal. Montague's appeal was denied, according to Stern.
While the school keeps sexual misconduct complaints confidential, questions about Montague began circulating when he wasn't with the team for its Feb. 12 game against Dartmouth.
After the basketball team arrived at the Ivy League's March 5 championship game wearing T-shirts with Montague's nickname on the back, posters appeared on campus warning the Bulldogs to "stop supporting a rapist."
In a March press release, Stern called the posters and related statements made by students slander.
"(Montague) was never accused of rape and Yale took no steps to correct these actions," Stern wrote.
"Only two persons could have known what happened on that ... night. The panel chose to believe the woman, by a 'preponderance of the evidence,'" Stern said.
Price, of Unite Against Sexual Assault Yale, criticized Stern's take on the case. She said the punishment Montague received was proof of the seriousness of the case against him.
"It's very annoying how people have said there's so much ambiguity about this case. Yale very rarely expels people," Price said.
Yale sent CBS News a three-page summary detailing the school's process for handling sexual misconduct accusations, as well as its policies for confidentiality and sexual misconduct prevention and training. The school said in the document that from the beginning of the 2011 fall semester through the end of 2015, the University-Wide Committee on Sexual Misconduct heard 64 cases.
20 percent of cases (13 total) ended with no finding against the respondent;
19 percent (12 total) ended with a reprimand;
19 percent ended with probation;
31 percent (20 total) ended with suspensions of varying lengths;
11 percent (seven total) ended in expulsion.
To Yale Law student Alexandra Brodsky, the statistics are proof the university's system has shown improvement. Brodsky was among a group of students who filed a federal complaint against the university in 2011, alleging that the school's failure to address incidents of sexual assault and harassment had resulted in a "hostile environment."
"When I was an undergrad, I never knew anyone who was expelled. And I knew people who were reported and never received consequences," Brodsky said.
The University-Wide Committee was formed in 2011 and its policies have been revised each year. Brodsky, Price, and Dushime all said it isn't perfect, but that it represents change for a university once known as particularly inhospitable for sexual assault victims.
"I heard from no people who were happy with the old process. I (now) hear from some who are happy with the new process," Brodsky said.
Weeks after the Yale basketball team appeared in the NCAA tournament without its former captain, the case continued to reverberate on campus.
Sitting in New Haven's Book Trader Café, Price and Dushime told CBS News that their group, Unite Against Sexual Assault Yale, has heard from multiple students seeking advice related to sexual assault they suffered. They also received some perhaps unexpected requests for information.
"We've had a couple of fraternities who actually came to us and asked about having healthier parties and how to have healthier atmospheres while having parties," Dushime said.
Two tables away from Price and Dushime, Susan Israel, an author who graduated from Yale in 1988, confessed to overhearing the interview.
"I can't remember anything quite like this happening before," said Israel, whose recently published novel, "Student Bodies," focuses on a sexual assault at a school.
She recalled that just over four years ago, the university took heat when its star quarterback, Patrick Witt, announced that he would forego a Rhodes Scholarship interview to play in his final game against Harvard.
"Yale will have the services of the most prolific passer in school history when it takes on Harvard in the 128th playing of The Game on Saturday," the school noted in the Nov. 13, 2011 release. The New York Times revealed three months later that Yale released the statement knowing that it was the Rhodes Trust who cancelled the interview, not Witt, after the Trust learned that Witt was the subject of an informal sexual misconduct complaint.
Israel and others pointed to that incident as evidence of how much the school's public response to sexual misconduct allegations have changed.
"When I was a student this just wasn't something people talked about. It doesn't mean it didn't happen, but it wasn't something that was talked about," said Israel.
Thanks for reading CBS NEWS.
Create your free account or log in
for more features.