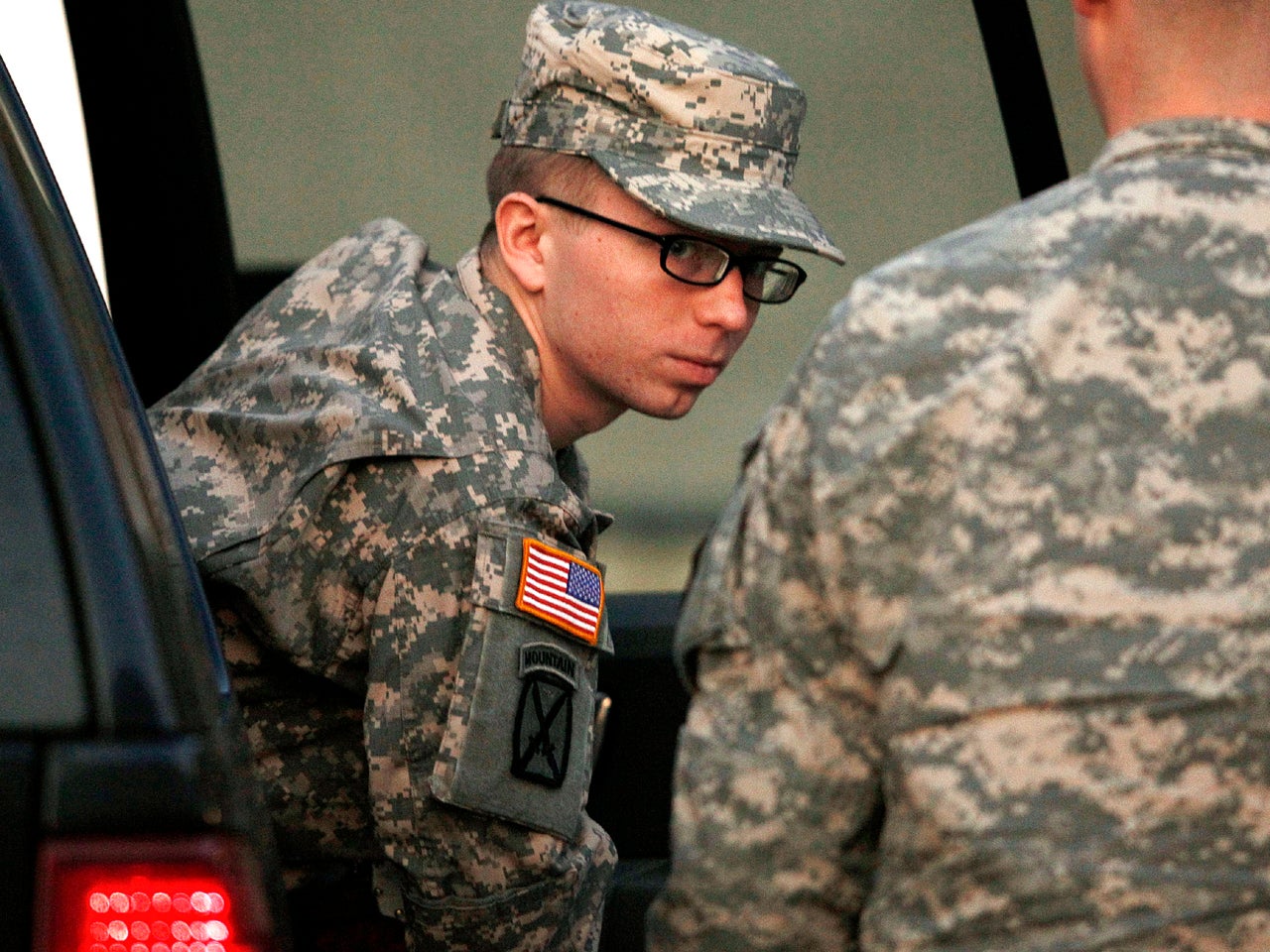 Witness: Manning bragged of changing history
FORT MEADE, Maryland - The Army intelligence analyst blamed for the biggest leak of secrets in U.S. history boastfully declared that he was changing history in a letter accompanying some of the data he allegedly sent to WikiLeaks, according to a witness in the military's case against Army Pfc. Bradley Manning.
"This is possibly one of the more significant documents of our time, removing the fog of war and revealing the true nature of 21st century asymmetric warfare. Have a good day," the file read.
The text, along with almost 500,000 classified battlefield reports, was on a data card that investigators found among Manning's belongings, according to digital-crimes investigator David Shaver.
The letter represented the most forceful piece of evidence yet introduced in a military hearing to determine whether the 24-year-old should be court martialed.
In a back-and-forth on the digital case against Manning, the prosecution said evidence showed that Manning communicated directly with WikiLeaks founder Julian Assange, sent the nearly 500,000 classified battlefield reports to the anti-secrecy website and bragged to someone else about leaking video of a 2007 helicopter attack to WikiLeaks.
Manning hearing focuses on digital footprints
"Emotional distress" key to Manning defense
Testimony on Manning's access to secrets
Investigators said in one May 2010 exchange between Manning and a mathematician named Eric Schmiedl.
"Are you familiar with WikiLeaks?" Manning allegedly asked.
"Yes, I am," Schmiedl wrote.
"I was the source of the July 12, 2007, video from the Apache Weapons Team which killed the two journalists and injured two kids," Manning wrote, according to the prosecution.
Throughout the hearing, Manning's defense lawyers countered that others had access to Manning's workplace computers and pressed Shaver into conceding that some files in a batch of 10,000 State Department cables on Manning's computer didn't match documents published by WikiLeaks. He said another 100,000 cables couldn't be matched to Manning's user profile. But it was unclear if the cross-examination damaged the prosecution's case in any way.
Until Monday, the defense largely focused on painting Manning as an emotionally troubled homosexual serving in the military's "don't ask, don't tell" era, and arguing that the classified material proved harmless in the open anyhow. Manning's lawyers have yet to acknowledge or deny his responsibility for the leak of hundreds of thousands of U.S. war and diplomatic cables, and a classified military video of an American helicopter attack in Iraq that killed 11 men.
In camouflaged Army fatigues and dark rimmed-glasses, Manning seemed to take it all in calmly. During one of several recesses, Manning leaned back and sat casually in his chair, chatting with a soldier from the defense team, gesturing with his hands, nodding his head and occasionally smiling. He sat up when attorneys re-entered the courtroom. And civilian attorney David Coombs put his arm around Manning's shoulder several times as they conferred during the proceedings.
Manning is accused of illegally leaking a trove of secret information that surfaced on WikiLeaks, a breach that rattled U.S. foreign relations and, according to the government, imperiled valuable military and diplomatic sources. Expected to last several more days, the hearing is intended to determine whether Manning should be court-martialed on 22 charges, including aiding the enemy. If convicted, he could face life in prison.
Paul Almanza, the presiding officer, twice removed spectators and reporters from the hearing Monday for sessions dealing with classified information. By ruling that the leaked diplomatic and military information should be protected — even though it has been published by media around the world — Almanza undermined the defense argument that no harm was done and the information might as well be public.
Manning supporters fumed. The defense already has appealed for Almanza to be removed from the case because of his civilian job with the Justice Department, which is conducting a separate investigation of WikiLeaks and Assange.
Almanza "is seeking to prevent journalists and the public from reporting on testimony related to materials that are already in the public domain," said a group called the Bradley Manning Support Network.
Two supporters had run-ins with military police Monday. Pentagon Papers leaker Daniel Ellsberg was escorted out of court when he approached Manning during a recess to introduce himself. He was later allowed to return. But Daniel Choi — a soldier kicked out of the military under the now-repealed policy against gays serving openly — was ejected from the base after allegedly ignoring a warning not to heckle military police, according to defense officials.
Shaver's testimony has illustrated how the government connected the dots in its case against Manning. One computer, Shaver explained, was used to streamline the downloading of cables with the apparent aim of "moving them out." The material was linked to the username "bradley.manning" or Manning's user profile. And the other computer was used to conduct scores of online searches for WikiLeaks and Assange, he said.
Manning's roommate in Baghdad, Spc. Eric S. Baker, also testified Monday. He said Manning told him early in their deployment that he was gay. Under cross-examination, Baker said he had told Manning it would be better, then, if they didn't speak to each other — bolstering the defense's depiction of Manning as emotionally distressed and ostracized or bullied by fellow soldiers.
Manning also is said to have upended furniture in fits of rage and exhibited a pattern of troubled behavior. But a supervisor refused to testify on why he was allowed to keep working with highly sensitive information.
The defense is expected to call at least three witnesses before Almanza makes his recommendation. The Army says it may then take several weeks for Maj. Gen. Michael Linnington as the commander of the Military District of Washington to decide if Manning will be court-martialed.
Linnington may choose other courses of action, including administrative punishment or dismissal of some or all counts. He also could add more charges based on evidence produced at the hearing.
Thanks for reading CBS NEWS.
Create your free account or log in
for more features.