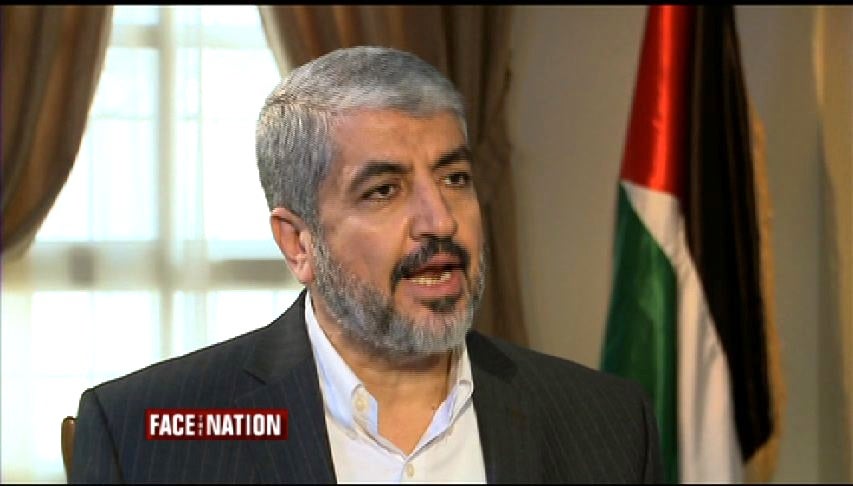 Will Hamas recognize Israel as a Jewish state?
Hamas leader Khaled Meshaal skirted a question of whether his group would ever recognize Israel's right to exist as a Jewish state, saying only that Palestinians would make that decision once they had a state of their own with no Israeli presence.
"When we have a Palestinian state then the Palestinian state will decide on its policies. You cannot actually ask me about the future," Meshaal said through a translator in an exclusive interview with "CBS This Morning" co-host Charlie Rose, which aired on "Face the Nation" Sunday and will appear in full on PBS. Additional excerpts will air on "CBS This Morning" Monday.
Prior to that, Meshaal told Rose that while he is "ready to coexist" with Jews, Christians and Arabs, adding however: "I do not want to live with a state of occupiers."
"We are not fanatics; we are not fundamentalists. We do not actually fight the Jews because they are Jews per se. We do not fight any other races. We fight the occupiers," Meshaal said.
The militant group, which controls the Gaza strip, has demanded that Israel and Egypt lift their blockades in exchange for a truce in the ongoing conflict. Meshaal rejected the idea that it was a precondition for the end of hostilities.
"Life is not a prerequisite. Life is a right for our people in Palestine," he said. "This is a collective punishment; we need to lift the siege. We have to have a port. We have to have an airport. This is the first message. The second message in order to stop the bloodletting we need to look at the underlying causes, we need to look at the occupation, we have to stop the occupation."
He blamed Israeli Prime Minister Benjamin Netanyahu, who also appeared on "Face the Nation" Sunday, for the breakdown in peace talks between the two sides earlier this year that failed to produce any results.
"Netanyahu doesn't take heed of our rights," Meshaal said. "Netanyahu has killed our hope, has killed our dream, and he has killed the American initiative," he added, in reference to Secretary of State John Kerry's role in the peace talks.
Former Secretary of State Madeleine Albright, in a separate interview, said Meshaal's response to questions about whether Hamas could coexist with Israel "sounded like double talk to me."
"But the bottom line is they are seeing each other's problems from a completely negative side and what you need to do in diplomacy is at least try to put yourselves into the other person's shoes and they are definitely not doing that," Albright said. "Hamas is definitely trying to persuade its population that everything is the fault of Israel which I think is unfair."
Thanks for reading CBS NEWS.
Create your free account or log in
for more features.