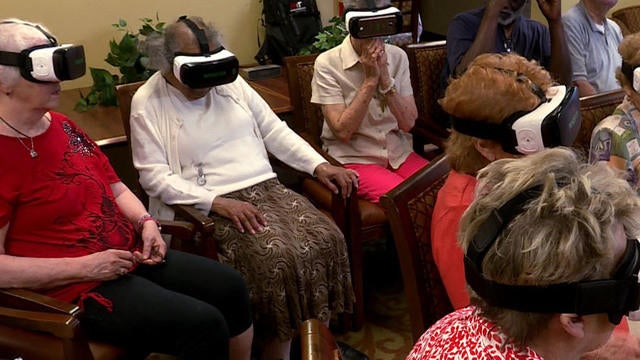 Virtual reality opens world of possibilities for seniors
A startup called Rendever is working towards a future where the physical limitations many seniors face won't prevent them from traveling – virtually.
The men and women at the Brookdale Senior Living Community got to try out the company's technology. They don't need to leave the building to take a trip to the French countryside, soar through Yosemite National Park and explore the depths of the ocean, all thanks to the power of virtual reality.
MIT graduate students Dennis Lally and Reed Hayes are pioneering the use of this technology with seniors, reports CBS News correspondent Michelle Miller.

"I feel for the people living inside these communities, that they don't have enough stimulation," Hayes said. "They need to have a sense of wonder about the world again, they need to be curious, they need to be exploring. And when you're physically not able to do that by yourself, then virtual reality is a wonderful aid to provide that."
Much of the touring is done through Google Maps footage, but they also showcase 360-degree films.
Vanessa Rosenzweig has been living at the community for two years.
"When I tour I ask a hundred questions," Rosenzweig said, just like she does on actual tours in real life.

The experience is even more meaningful for seniors like Marion Keefe, who got the opportunity to return home.
"Do you recognize your house?" Lally asked.
"Yeah. Well, wait a minute," Keefe said, putting her hands to her mouth, getting emotional. "Oh, don't say that. That's the most beautiful area in the world."

How virtual reality can change how you act toward others
"You touched off her emotions. She felt something," Miller said.
"Absolutely. Other people in the room felt it," Hayes said. "And those were extremely powerful moments that 2D picture won't provide. It requires virtual reality, the immersive nature of it, to generate those emotions."
"90 Lupin Way!" Keefe exclaimed. "Who did this?"
In a follow-up interview, we asked Keefe about her experience, but she struggled to take us back to that precise moment.
"What does that tell you is happening?" Miller asked Lally.
"It's a spark. Without us bringing her there, she wouldn't have had those memories, she wouldn't have remembered the neighborhood that she walked in and the fact that her husband worked at the back of her house," Lally said. "Virtual reality allows us to really spark that new memory."
But neurologist Gayatri Devi said that while virtual reality does indeed have the power to stimulate, the brain is a complex organ that benefits from real connection.
"Nothing can ever replace human touch and human interaction," Devi said. "It needs to be able to feel the texture of the place, it needs to be able to smell the place, it needs to be able to taste the place."
Abdus Shakur, a chef, said he's still got many traveling days ahead of him. But he was overjoyed to virtually visit a restaurant he opened in Berlin nearly two decades ago.
"That's seriously addictive, come on!" Shakur said about the virtual reality experience. "I could stay there just, you know, go wherever I want, without going anywhere."

Lally and Hayes plan to start offering their service to senior communities for an upfront fee plus a monthly subscription.
Thanks for reading CBS NEWS.
Create your free account or log in
for more features.