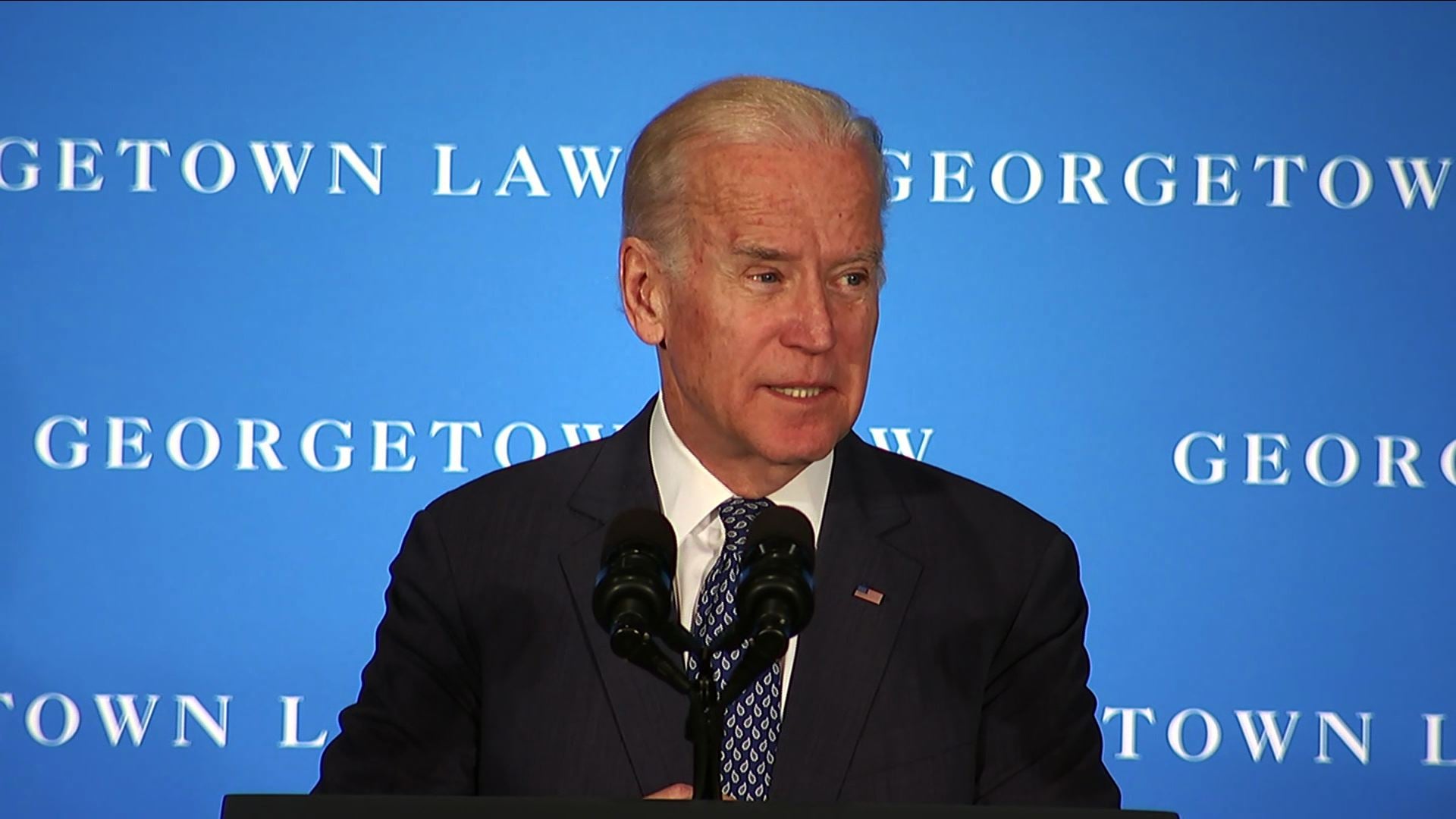 Biden: GOP's opposition to Merrick Garland could lead to "constitutional crisis"
Vice President Joe Biden on Thursday went to bat for Supreme Court nominee Merrick Garland and warned of the dangers that could result from Senate Republicans' decision not to consider his nomination.
"What Republicans senators say they will do, in my view, can lead to a genuine constitutional crisis, born out of the dysfunction of Washington," Biden said at Georgetown University's law school.
With eight justices instead of nine, the nation's highest court could find it's unable to resolve some cases. "...[W]e could end up with a patchwork Constitution inconsistent with equal justice and the rule of law," Biden argued.
When the Supreme Court ties on decisions, which may happen more frequently in a court with eight justices, the lower court's ruling stands. In such cases, "Federal laws--laws that apply to the whole country--will be constitutional in some parts of the country but unconstitutional in others," Biden said.
Biden attempted to set the record straight on a Senate floor speech he delivered in 1992 in which he initially suggested that the Senate should delay consideration of a Supreme Court nominee if a vacancy occurred in an election year. Senate Republicans have been pointing to those comments -- which they've taken to calling "the Biden Rule" -- in an effort to justify their refusal to give Garland a confirmation hearing and vote. Biden said Thursday that Republicans ignore the fact that at the time, he was speaking about the dangers of nominating an extreme candidate without proper Senate consultation.
"I said and I quote, 'If the president consults and cooperates with the Senate or moderates his selections absent consultation, then his nominees may enjoy my support, as did Justices Kennedy and Souter,'" said Biden, who served as chairman and ranking member on the Senate Judiciary Committee. "There is only one rule I ever followed on the Judiciary Committee: that was the Constitution's clear rule of advice and consent."
Biden said that the Senate GOP's decision to withhold consideration of Garland is not only an abdication of their Constitutional duty, but "it's an abdication, quite frankly, that has never occurred before in our history."
Sen. Judiciary Chairman Chuck Grassley, R-Iowa, released a statement critical of Biden's remarks.
"While the Vice President and others have tried to recast his 1992 speech as merely a call for greater cooperation, they neglect to mention that such cooperation, according to Chairmen Biden, was to occur, 'in the next administration,' and only after the Presidential election."
But as Politifact points out, Biden didn't say in his 1992 comments that any nomination wait until "the next administration." Rather, he called upon then-President George H.W. Bush to hold off naming a hypothetical nominee "until after the November election is completed," perhaps leaving open the possibility of naming and confirming a nominee in the two and a half months between the election and inauguration.
His remarks Thursday come just over a week after Mr. Obama nominated Garland to the Supreme Court--an announcement that came more than a month after the late Justice Antonin Scalia died.
Garland, 63, has served as the chief judge on the U.S. Court of Appeals for the District of Columbia for the last three years. He has served on the D.C. appellate court since 1997, when he was nominated to the bench by former President Bill Clinton. He was confirmed by the Senate in a 76-23 votes, which included seven Republicans, who still serve in the Senate, who voted in favor.
Garland graduated magna cum laude from Harvard Law School in 1977. Before that, he earned his undergraduate degree, graduating summa cum laude, from Harvard in 1974. Garland has also taught antitrust law at the university and once served as the school's Board of Overseers president.
So far, Garland has met with several key Democrats on Capitol Hill. While most Senate Republicans are opposed to considering his nomination and meeting with him, some have expressed a willingness to meet with the nominee. Sen. Pat Toomey, R-Pennsylvania, who faces reelection this year, agreed Wednesday to sit down with Garland as a courtesy.
There have been some several recent indicators that show Republicans aren't completely opposed to Garland serving on the high court.
Ohio Gov. John Kasich, who's running for president, initially said on CBS's "Face the Nation" last weekend that he would consider Garland as a Supreme Court pick. He later walked that comment back and said he was only making "an effort to be polite."
In a New York Times op-ed, the chief White House ethics lawyer who served for two years under President George W. Bush between 2005 and 2007, and who helped select Chief Justice John Roberts and Justice Samuel Alito, said Bush would have nominated Garland.
"Judge Garland is exactly the type of person who might have been chosen by the Bush administration if a Supreme Court nomination had been submitted to a Democratic-controlled Senate. Like the Kennedy nomination in 1987, a Garland nomination is a good way for a president to get the job done," Richard W. Painter wrote.
Thanks for reading CBS NEWS.
Create your free account or log in
for more features.