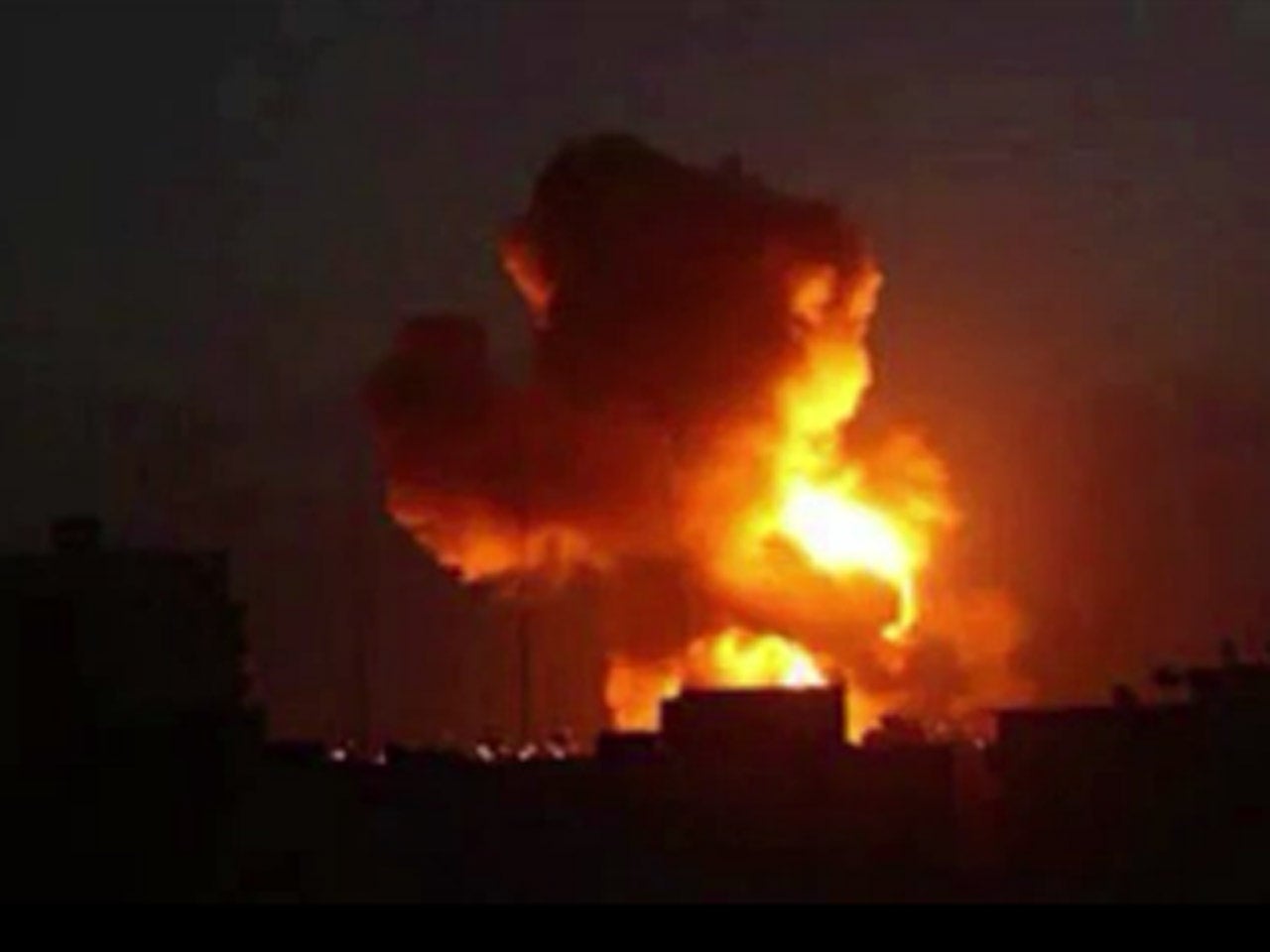 U.S. hits ISIS with airstrikes in Syria
The U.S. military has launched airstrikes against ISIS in Syria. The U.S. military said five Arab nations had roles in the attacks, which focused on ISIS' heartland around the Syrian province of Raqqa.
Pentagon Press Secretary Rear Adm. John Kirby said in a statement Monday evening that fighters, bombers and Tomahawk Land Attack Missiles were used.
"The decision to conduct theses strikes was made earlier today by the U.S. Central Command (CENTCOM) commander under authorization granted him by the Commander in Chief," Kirby said.
The White House said President Barack Obama would speak about the airstrikes before flying to New York on Tuesday morning for the United Nations General Assembly meeting.
The strikes hit targets in and around the city of Raqqa and the province with the same name, activists said. Raqqa is the militant group's self-declared capital; it began referring to itself as simply the "Islamic State" during the summer. Video purporting to show a series of strikes in Raqqa surfaced on YouTube, although its authenticity has not been independently verified.
"The strikes destroyed or damaged multiple ISIL targets in the vicinity of Ar Raqqah, Dayr az Zawr, Al Hasakah, and Abu Kamal and included ISIL fighters, training compounds, headquarters and command and control facilities, storage facilities, a finance center, supply trucks and armed vehicles," CENTCOM said in a statement, using an alternate acronym for the group.
The Reuters news agency quoted a group that tracks the war as saying at least 20 ISIS fighters were killed in the strikes.
Rami Abdulrahman, head of the Syrian Observatory for Human Rights, which gathers information from a network of activists on the ground, told the agency at least 50 strikes were carried out on ISIS targets in the Syrian provinces of Raqqa and Deir el-Zour.
Video released by the U.S. Navy showed the launch of multiple Tomahawk Land Attack Missiles (TLAMs) from the guided-missile cruiser USS Philippine Sea.
USS Philippine Sea launches The statement released by CENTCOM said Bahrain, Jordan, Saudi Arabia, Qatar and the United Arab Emirates "also participated in or supported the airstrikes against ISIL targets."
It was not immediately clear exactly what role each of those nations played, but Jordan confirmed it had carried out strikes with its own fighter jets inside Syria and "destroyed a number of selected targets used by terrorist groups to dispatch their members for terrorist attacks" in Jordan.
America's Arab partners did not, however, participate in U.S. airstrikes against another group in Syria which American intelligence officials say has emerged as a more urgent threat to the U.S. homeland.
"The United States has also taken action to disrupt the imminent attack plotting against the United States and Western interests conducted by a network of seasoned al-Qa'ida veterans -- sometimes referred to as the Khorasan Group," CENTCOM said in its statement.
CBS News' Bob Orr said late last week that Khorasan -- a group of operatives U.S. officials say were dispatched by al Qaeda's central command in Pakistan to try and link up the terror network's bomb-making experts with Western jihadists who have joined the fight in Syria -- was deemed a more imminent threat to the U.S. than even ISIS.
Khorasan is believed to be a subset of al Qaeda's larger affiliated group in Syria, al-Nusra Front, which has battled against both the Assad regime and ISIS for territory in the country's north. Al-Nusra enjoys significant popular support inside Syria, and is believed to be directly supported by some Arab Gulf states, including some listed as partners in the strikes against ISIS.
According to the Syrian Observatory, citing local activists on the ground, at least 50 Nusra fighters were killed in strikes against al-Nusra in the Idlib province. The observatory said eight civilians, including two children, were also killed. It was not immediately clear, however, whether those strikes were carried out by U.S. planes, allied nations, or by the Syrian military.
Unconfirmed reports suggested airstrikes were continuing around Idlib, but it was unclear who might be carrying them out. The U.S. military confirmed only eight strikes against Khorasan "west of Aleppo to include training camps, an explosives and munitions production facility, a communication building and command and control facilities." Idlib city is to the southwest of Aleppo, but the exact location of the U.S. strikes were not given.
An anti-militant media collective entitled "Raqqa is being silently slaughtered" said targets included the government building used by ISIS militants as their headquarters, and the Brigade 93, a Syrian army base the militants recently seized.
The Syrian foreign ministry said Tuesday that the United States informed Damascus' envoy to the United Nations before launching the airstrikes.
The ministry issued a brief statement, carried by Syrian state media, saying, "The American side informed Syria's permanent envoy to the U.N. that strikes will be launched against the Daesh terrorist organization in Raqqa." Daesh is an Arabic name for ISIS.
The ministry's statement was Damascus' first official reaction after the U.S. and five Arab countries launched the airstrikes on ISIS targets in Syria, expanding a military campaign into a country whose three-year civil war has given the brutal militant group a safe haven.
State Department spokesperson Jen Psaki confirmed the advance warning from the U.S. to Syria, telling CBS News, "the Syrian regime was notified of our intent to take direct action, but we did not seek the regime's permission nor coordinate our actions with the Syrian government."
In the past, Syrian officials have insisted that any strikes against ISIS in the country should come only after coordination with Damascus. Without their consent, Syrian officials have said such airstrikes would be an act of aggression against Syria and a breach of the country's sovereignty.
However, U.S. officials ruled out direct coordination with Syrian President Bashar Assad's government.
"In recent days, over 130,000 civilians fled from over 200 villages raided by ISIS in Syria," the head of the U.S.-backed Syrian Opposition Coalition, or the SNC, President Hadi al-Bahra, told CBS News' Pamela Falk. "These airstrikes may help alleviate the crisis in that area by slowing the extremists' advances."
But, al-Bahra stressed that "what happens after the airstrikes is critical. First, there must be a no-fly zone sustained over the areas of these strikes, so that the regime will not attack civilians in order to create chaos and blame the international coalition for civilian casualties. Additionally, working with our partners, we will accelerate plans and efforts to train and equip mainstream opposition forces to carry on the fight on the ground. And finally, we must engage on multiple fronts with the international community to put pressure on the Assad regime to step aside for a full political transition. Moderate, inclusive governance is needed to suffocate the extremists and prevent them from re-emerging."
President Obama spoke with House Speaker John Boehner and House Minority Leader Nancy Pelosi about the strikes Monday evening, officials said. Sen. Dianne Feinstein, who chairs the Senate Committee on Intelligence, was briefed by Vice President Biden earlier in the day.
Since Aug. 8, the U.S. has launched at least 190 strikes against ISIS targets in Iraq. That increased military assistance, including the deployment of more than 1,600 U.S. advisers, has helped Iraqi and Kurdish security forces stem the tide of ISIS' advance, though serious challenges remain.
Over the last several weeks, during which ISIS militants have beheaded two American journalists and a British aid worker, President Obama signaled America's intention to broaden its campaign against the extremist group into Syria. Surveillance flights to gather intelligence on potential targets in Syrian territory were authorized in late August.
Throughout the ongoing operations, Mr. Obama has been steadfast in his insistence that the U.S. would not put boots on the ground in their fight against ISIS. Instead, the U.S. will rely on local forces in Iraq and moderate rebels in Syria to fight the extremists.
Last week, the House and Senate overwhelmingly approved arming and training moderate Syrian rebels to fight ISIS militants, though the go-ahead is good for less than three months.
After gathering strength and territory in Syria, ISIS militants seized Iraq's second-largest city, Mosul, in June and embarked on an aggressive offensive across northern Iraq, forcing hundreds of thousands from their homes and coming dangerously close to heavily populated cities in Iraq's Kurdish region.
In the Sunni-majority territory of Anbar province, the group quickly capitalized on long-standing grievances against the Shiite-led government in Baghdad, earning support from local populations.
Throughout their offensive, ISIS has used a sophisticated propaganda operation, harnessing social media and digital technology to both instill fear in target populations and bolster recruitment of jihadists from the region and the West. According to recent U.S. intelligence estimates, ISIS could currently muster up to roughly 30,000 fighters in Syria and Iraq.
The group, which formally declared itself an Islamic state in June, is led by Abu Bakr al-Baghdadi and is based on a rigid Islamic ideology. Most of its funding comes fromrobbery, extortion and smuggling operations, in addition to outside funding. It also levies taxes on electricity and gasoline in the territories it controls.
Iraqi and Kurdish security forces, backed by U.S. airstrikes, were able to retake the strategic Mosul Dam and several small towns since airstrikes began. However, serious challenges remain, since many of the Islamic State fighters have taken refuge in busy cities with high civilian populations, such as Fallujah and Mosul.
In northern Iraq, Kurdish fighters battling the Sunni militant group have begun receiving training from Western allies, including the United States, as they seek to beef up their capabilities, a top Kurdish security official said Monday.
Helgurd Hikmet, general director of the ministry overseeing Kurdish military forces known as Peshmerga, said that France, Italy and Germany are also among countries providing training to help Kurdish forces use new machine guns, mortars, rockets and demining robots they have received.
"We asked all our allies, when they provided us with new weapons, that these weapons need training," Hikmet told The Associated Press Monday. "So now all the allies that provided us with those weapons are providing us with training."
Last week, the French joined in the aerial campaign. A number of European countries have also committed to arming the Kurds and providing humanitarian support for more than a million people displaced by the onslaught of the militant group.
In addition, key Arab allies of the United States - Saudi Arabia, other Gulf states, Egypt, Iraq, Jordan and Lebanon - have pledged to help in the battle against ISIS militants, promising to stop the flow of fighters and funding to the insurgents and possibly to join military action.
Thanks for reading CBS NEWS.
Create your free account or log in
for more features.