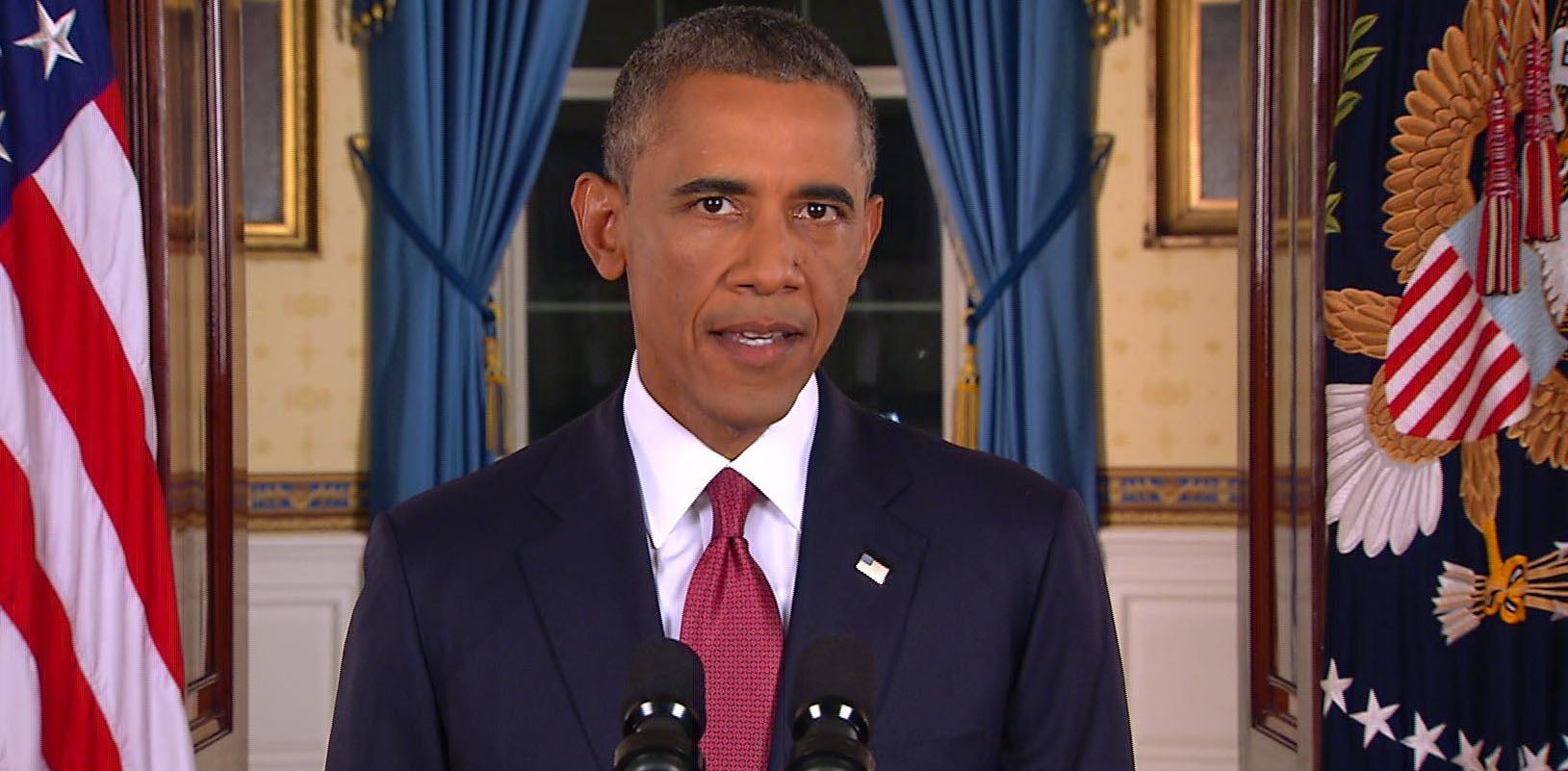 Obama will strike ISIS "wherever they exist," including Syria
President Obama on Wednesday announced a comprehensive strategy to "degrade and ultimately destroy" the Islamic State of Iraq and Syria (ISIS, or ISIL) that will broaden the U.S. military role to include airstrikes in Syria but not put any American combat troops on the ground in the region.
Until now, U.S. airpower was only deployed in Iraq for the sake of protecting U.S. assets and personnel there and helping prevent a humanitarian disaster as the Islamic militants targeted religious minority populations inside the country. In order to systematically degrade the group's capabilities, however, senior administration officials said the U.S. would be lifting those restrictions and hitting ISIS targets inside Syria where necessary.
"Our objective is clear: we will degrade, and ultimately destroy, ISIL through a comprehensive and sustained counter-terrorism strategy," Mr. Obama said. "I will not hesitate to take action against ISIL in Syria, as well as Iraq. This is a core principle of my presidency: if you threaten America, you will find no safe haven."
The president also announced he will be sending an additional 475 troops to Iraq to help train, equip and advise the Iraqi Security Forces - a total of more than 1,600 U.S. troops there - but will not be putting American combat troops on the ground in either country.
Mr. Obama cautioned that the U.S. will not engage in a ground war like the ones waged in Iraq and Afghanistan during the last decade. Instead, the administration plans to model its military tactics after counterterrorism strategies deployed Mr. Obama said the U.S. have been "successfully pursued in Yemen and Somalia for years" to degrade al Qaeda and deny the group a safe haven.
"I want the American people to understand how this effort will be different from the wars in Iraq and Afghanistan," Mr. Obama said. "It will not involve American combat troops fighting on foreign soil. This counter-terrorism campaign will be waged through a steady, relentless effort to take out ISIL wherever they exist using our air power and our support for partner forces on the ground."
The U.S. counterterrorism campaigns in Yemen and Somalia combine airstrikes and direct action against al Qaeda targets with training and support for local security forces. There will similarly be an emphasis on bolstering Iraqi and Kurdish forces inside Iraq, as well as the moderate rebels inside Syria, to engage ISIS on the ground. The administration plans to broaden airstrikes in Iraq as well.
Mr. Obama specifically asked Congress to grant him additional legal authority to train the rebels.
"In the fight against ISIL, we cannot rely on an Assad regime that terrorizes its people; a regime that will never regain the legitimacy it has lost. Instead, we must strengthen the opposition as the best counterweight to extremists like ISIL," he said.
Both Mr. Obama and Secretary of State John Kerry indicated that the formation of a new Iraqi government was a key step the U.S. needed to roll out its complete strategy to defeat the group. In Baghdad today for meetings with the new leaders, Kerry said it was time to move "full speed ahead."
Kerry is tasked with forming a broad coalition of partners to engage in the fight, which the U.S. will lead. He said Wednesday morning that 40 other nations are expected to assist in the effort, and senior administration officials said there has been strong support from regional partners like Saudi Arabia, the United Arab Emirates and Jordan. There are still discussions underway as to who will join the airstrikes.
"American power can make a decisive difference, but we cannot do for Iraqis what they must do for themselves, nor can we take the place of Arab partners in securing their region," Mr. Obama said.
Mr. Obama's speech comes less than two weeks after he came under intense criticism for saying "we don't have a strategy yet" to combat the militants, a jarring comment for a nation that was becoming increasingly aware of the threat after ISIS beheaded two American journalists.
Although senior administration officials say they have not yet detected plots against the U.S. homeland, there will be an emphasis on addressing the flood of European and American fighters who have traveled to the region to fight with ISIS and other jihadists. They pose a threat because of the ease with which they can enter the U.S.
Mr. Obama will convene a meeting to address the threat of foreign fighters when he chairs a meeting of the U.N. Security Council in New York later this month.
So far, U.S. has conducted 154 airstrikes in support of Iraqi troops and Kurdish peshmerga forces battling ISIS since Aug. 8. The Pentagon released a statement Wednesday saying it had damaged or destroyed 212 ISIS "targets" in total. Military officials said they have also conducted two major humanitarian operations and assisted in a major resupply of Kurdish forces.
Mr. Obama said he has the authority to broaden the air campaign against ISIS but will need authorization from Congress to train Syrian rebels inside Saudi Arabia, a last-minute request he hopes to add to an upcoming spending bill.
He personally called House Appropriations Committee Chairman Hal Rogers, R-Kentucky, Tuesday evening to ask him to add the authorization to the spending bill the GOP leadership was planning to put up for a vote Thursday. The vote was rescheduled to give lawmakers time to consider the request.
In a statement following the president's speech, House Speaker John Boehner, R-Ohio, said he supports Mr. Obama's plan to train and equip Iraqi forces and moderate Syrian rebels, but remains "concerned that those measures could take years to fully implement at a time when ISIL's momentum and territorial gains need to be immediately halted and reversed."
"It is also a cause for concern that the president appears to view the effort against ISIL as an isolated counterterrorism campaign, rather than as what it must be: an all-out effort to destroy an enemy that has declared a holy war against America and the principles for which we stand," he added.
Democrats have indicated they support Mr. Obama's request and agree it should be a part of the spending bill Congress is working to pass. House Minority Leader Nancy Pelosi, D-California, said on her way to a classified briefing Wednesday that she hopes the House will include the authorization in the spending bill because it stands the best chance of passing quickly.
Senate Majority Leader Harry Reid, D-Nevada, said on the Senate floor Wednesday morning, "It's clear to me that we need to train and equip Syrian rebels and other groups in the Middle East that need some help."
Reid said that the president was seeking the necessary authority to train the rebels, and "we should give it to him. That's one way of helping to build an international coalition."
"The president knows how to destroy terrorists and their organization; Osama bin Laden is proof of that," he said. "So, let's give the president of the United States time to do this the right way."
Thanks for reading CBS NEWS.
Create your free account or log in
for more features.