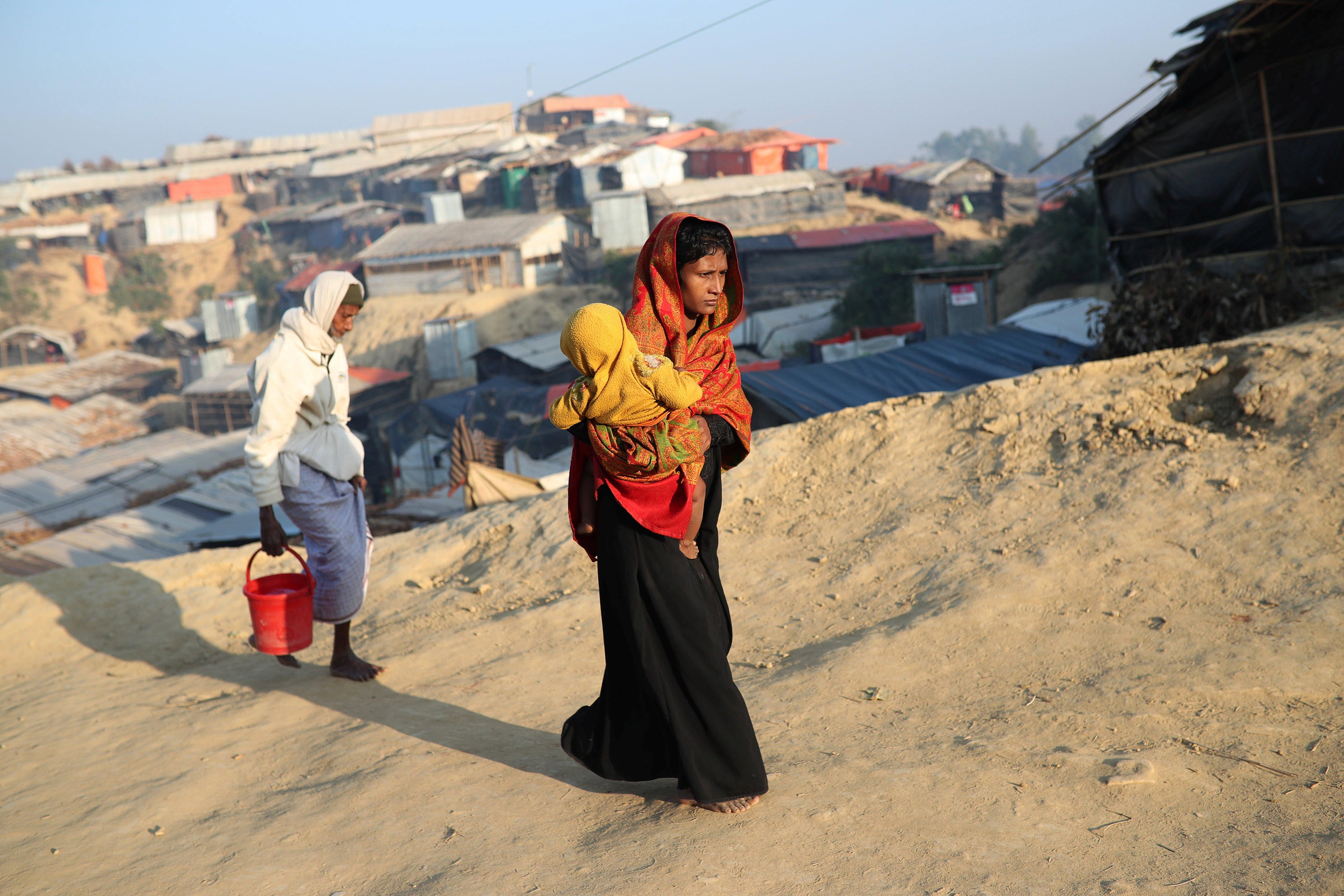 U.N. official warns "major new emergency looms" in Rohingya refugee crisis
UNITED NATIONS -- The U.N. refugee chief warned Tuesday that conditions aren't right for Rohingya Muslims to voluntarily return to Myanmar because its government hasn't addressed their exclusion, denial of rights and lack of citizenship. U.N. High Commissioner for Refugees Filippo Grandi also warned that another "major new emergency looms" with the arrival of the monsoon season in March and more than 100,000 refugees in Bangladesh living in areas prone to flooding or landslides.
Grandi told the Security Council in a video briefing from Geneva that since the crisis began last August, more than 688,000 Rohingyas have fled violence and destruction, including more than 1,500 this month -- and thousands more are expected.
"It is time to bring an end to this repeated devastating cycle of violence, displacement and statelessness -- to invest in tangible, substantial measures that will start to overcome the profound exclusion that the Rohingya community has endured for far too long," Grandi said. He said this is the responsibility of the government of Myanmar, which is sometimes referred to as Burma, "but international engagement and support are key to making it happen."
The U.N. is trying to grapple with several issues at once, including violence by the Myanmar military against the ethnic minority and journalists, and the overwhelming difficulties of the mass exodus of refugees to Bangladesh, CBS News' Pamela Falk reports.
U.S. Ambassador to the United Nations Nikki Haley warned, "The world is watching and waiting for Burma to act. What we have seen so far is cruel and barbaric." Haley said "real progress depends on an end to the terror and the killing."
Buddhist-majority Myanmar doesn't recognize the Rohingya as an ethnic group, insisting they are Bengali migrants from Bangladesh living illegally in the country. It has denied them citizenship, leaving them stateless.
The recent spasm of violence began when Rohingya insurgents launched a series of attacks on Aug. 25. Myanmar security forces then began a scorched-earth campaign against Rohingya villages that the U.N. and human rights groups have called a campaign of ethnic cleansing.
Grandi welcomed the agreement between Bangladesh and Myanmar on the voluntary return of refugees but said "the framework for return" should eventually be defined in a three-way agreement between the two governments and his office.
He said construction of structures to support the return of refugees is important "but should not be confused with the establishment of conditions conducive to voluntary repatriation."
"Let me be clear, conditions are not yet conducive to the voluntary repatriation of Rohingya refugees," Grandi stressed. "The causes of their flight have not been addressed, and we have yet to see substantive progress on addressing the exclusion and denial of rights that has deepened over the last decades, rooted in their lack of citizenship."
But Myanmar's U.N. Ambassador Hau Do Suan said it has given Bangladesh a list of 508 Hindus and 750 Muslims "verified as Myanmar residents, to be included in the first batch of repatriation," and has set up two reception centers and a transit camp to accommodate them before permanent resettlement.
The government is now ready to receive the first group of returnees, Suan said, noting that Myanmar's minister of home affairs will visit Bangladesh on Feb. 15 to discuss repatriation and the problem of about 6,000 Rohingyas stranded at the border.
But Bangladesh's U.N. Ambassador Masud Bin Momen echoed Grandi, noting "the prevailing reluctance to repatriation among those forcibly displaced." He cited questions about their rights, fear of reprisals and investigative reports on the discovery of mass graves and targeted killings in Rakhine State.
Momen said prospective returnees have made clear they first want assurances from the international community about resettling in their original villages and not closed camps, getting back land and businesses including traditional fishing, access to local markets, and "freedom of movement to conduct a normal life."
"The voluntary return of the forcibly displaced people can only take place under the assurance of non-criminalization, non-discrimination and sustainable resettlement and reintegration," he said.
Momen again urged the council to visit Bangladesh and Myanmar to witness the humanitarian situation and to "add momentum to the repatriation process."
More immediately, Grandi said tens of thousands of Rohingyas in Bangladesh need to be urgently relocated because of the upcoming monsoon rains.
"Their lives are at grave risk," he said, calling for building foundations to be strengthened, bridges to be built and reinforced, and new land found and made ready.
Haley said the Security Council has so far failed in its responsibility to act, Falk reports, calling what the military is doing "atrocities." She also called for the council to hold the military accountable for its actions and to pressure Aung San Suu Kyi to acknowledge the "horrific acts."
Thanks for reading CBS NEWS.
Create your free account or log in
for more features.