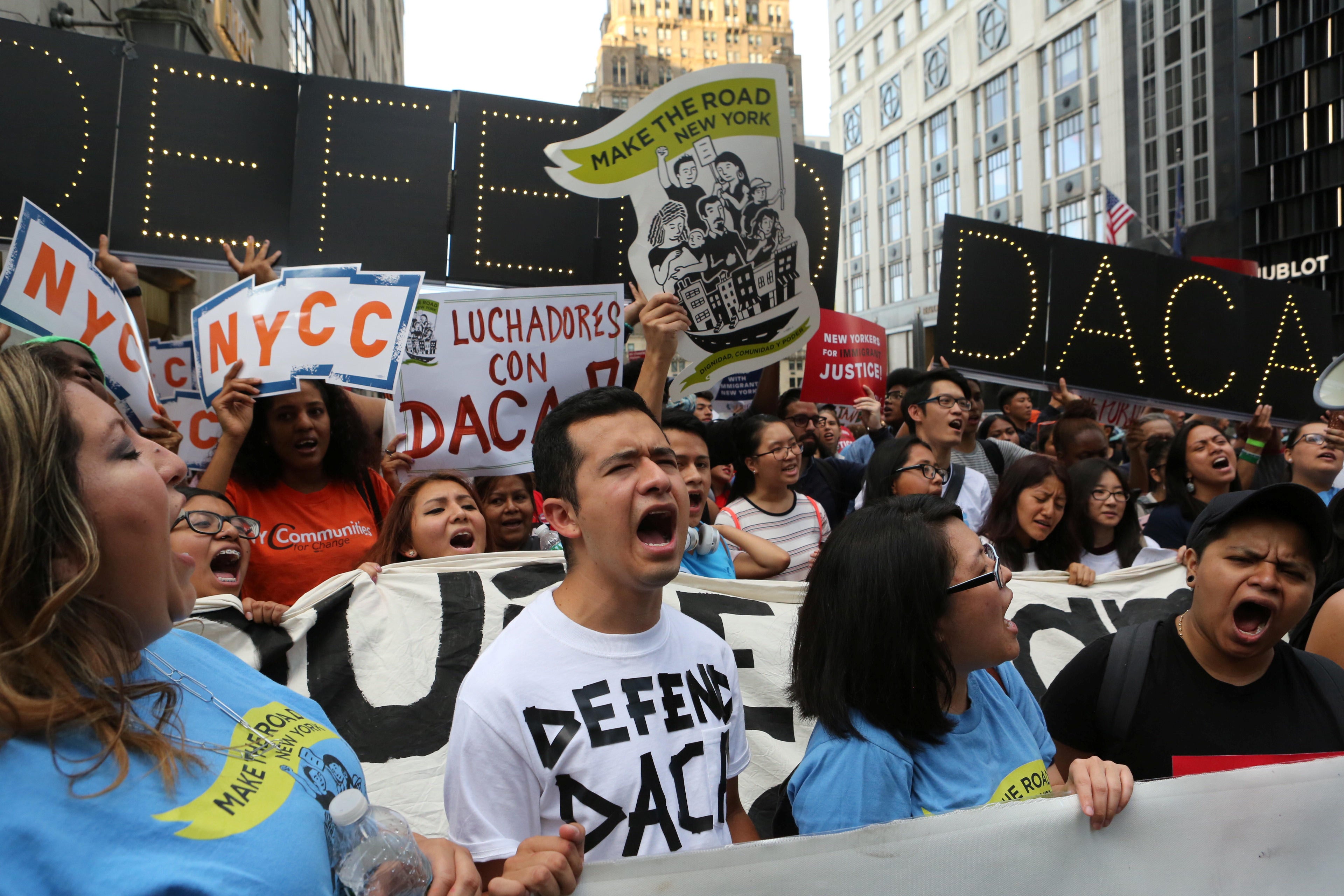 Trump expected to end "Dreamers" program
President Trump is expected to announce Tuesday that he has decided to end the 2012 program implemented by President Obama that has deferred deportations for people who came to the U.S. undocumented as children, CBS News chief White House correspondent Major Garrett reports.
Earlier Friday, during the signing of a proclamation for a day of prayer for victims of Hurricane Harvey, Mr. Trump had initially told reporters that his decision would be announced "sometime over the weekend, maybe this afternoon." Later, White House Press Secretary Sarah Huckabee Sanders said the announcement would come Tuesday.
Asked whether DACA recipients, known colloquially as "dreamers," had anything to worry about, the president said, "We love the dreamers. We love everybody," and later added, "I think the dreamers are terrific."
The president is expected to end the program by not accepting new permits and by allowing existing permits to expire with no opportunity to reapply, Garrett reports, citing two Republican sources on Capitol Hill. The message from the White House to Congress is that if lawmakers like DACA, they should write legislation for it, and the White House will consider it, likely favorably.
Several Republican attorneys general have imposed a Sept. 5 to end DACA —which stands for Deferred Action for Childhood Arrivals —or they will sue the Trump administration.
The decision comes after a review by the White House. DACA has deferred deportations for people who entered the U.S. as children, and were under the age of 31 before June 15, 2012. Fox News first reported the president's plan to end DACA.
Some top Republican lawmakers are urging the president not to rescind DACA, however. Sen. Orrin Hatch, R-Utah, tweeted a statement saying that rescinding DACA would "further complicate a system in need of a permanent, legislative solution." He called for a permanent solution for individuals "who entered our country unlawfully as children through no fault of their own and who have built their lives here." That solution, he said, needs to come from Congress.
House Speaker Paul Ryan, R-Wisconsin, also weighed in, telling radio station WCLO that he doesn't think Mr. Trump should end DACA. "I believe that this is something that Congress has to fix," he said. He also said he's had "plenty of conversations with the White House about this issue," and he pointed out that Mr. Trump himself has said "he wants to have a humane solution to this problem."
As of March of this year, the program has deferred deportations for more than 787,000 people, according to a Department of Homeland Security report released in June. Since Mr. Trump's inauguration, undocumented students have feared that the president will reverse the DACA program.
Applicants must have continuously lived in the U.S. since June 15, 2007 and come to the U.S. before his or her 16th birthday. Those who have been convicted of a felony, significant misdemeanor or three or more other misdemeanors or who pose a risk to national security or public safety are not eligible for the program.
A bipartisan group of mayors from across the country had called on the president to continue the program. Several hundred tech industry leaders have also called on the president to preserve the program, as well.
Obama announced the DACA program on June 15, 2012 in a speech from the White House Rose Garden in which he said his administration was taking steps "to lift the shadow of deportation from these young people."
"Now, let's be clear -- this is not amnesty, this is not immunity. This is not a path to citizenship. It's not a permanent fix. This is a temporary stopgap measure that lets us focus our resources wisely while giving a degree of relief and hope to talented, driven, patriotic young people," he said. "It is the right thing to do."
The president said he was moving forward with it because Congress had failed to tackle immigration reform on its own.
At a Senate Judiciary Committee hearing in 2015, then-U.S. Citizenship and Immigration Services Director León Rodríguez said that all individuals requesting DACA are subject to biographic and biometric background checks and each request is considered on a case-by-case basis. He then shared a story of two twin sisters who were born in Mexico and brought to the U.S. by their mother when they were 5 years old.
"Prior to DACA, these young women, who had spent nearly their entire childhood in the United States, did not know if they would ever go to college because they were undocumented," Rodríguez said. "The sisters were accorded deferred action pursuant to DACA, and went on to graduate from high school with honors. Now, they attend a prestigious college and have said they are committed to continuing to work hard so they can give back to the university and the nation."
The Department of Homeland Security formally rolled back Obama's 2014 immigration actions that created Deferred Action for Parents of Americans and Lawful Permanent Residents, or DAPA, program that would have deferred deportations for the undocumented parents of U.S. citizens or legal permanent residents who have been in the U.S. since before 2010. A Supreme Court 4-4 tie nullified the case.
Meanwhile, Sens. Dick Durbin, D-Illinois, and Lindsey Graham, R-South Carolina, recently revived a version of the Dream Act that would grant legal status and a path to citizenship for some immigrants who came to the U.S. illegally as children.
CBS News' Alan He, Arden Farhi and Margaret Brennan contributed to this report.
Thanks for reading CBS NEWS.
Create your free account or log in
for more features.