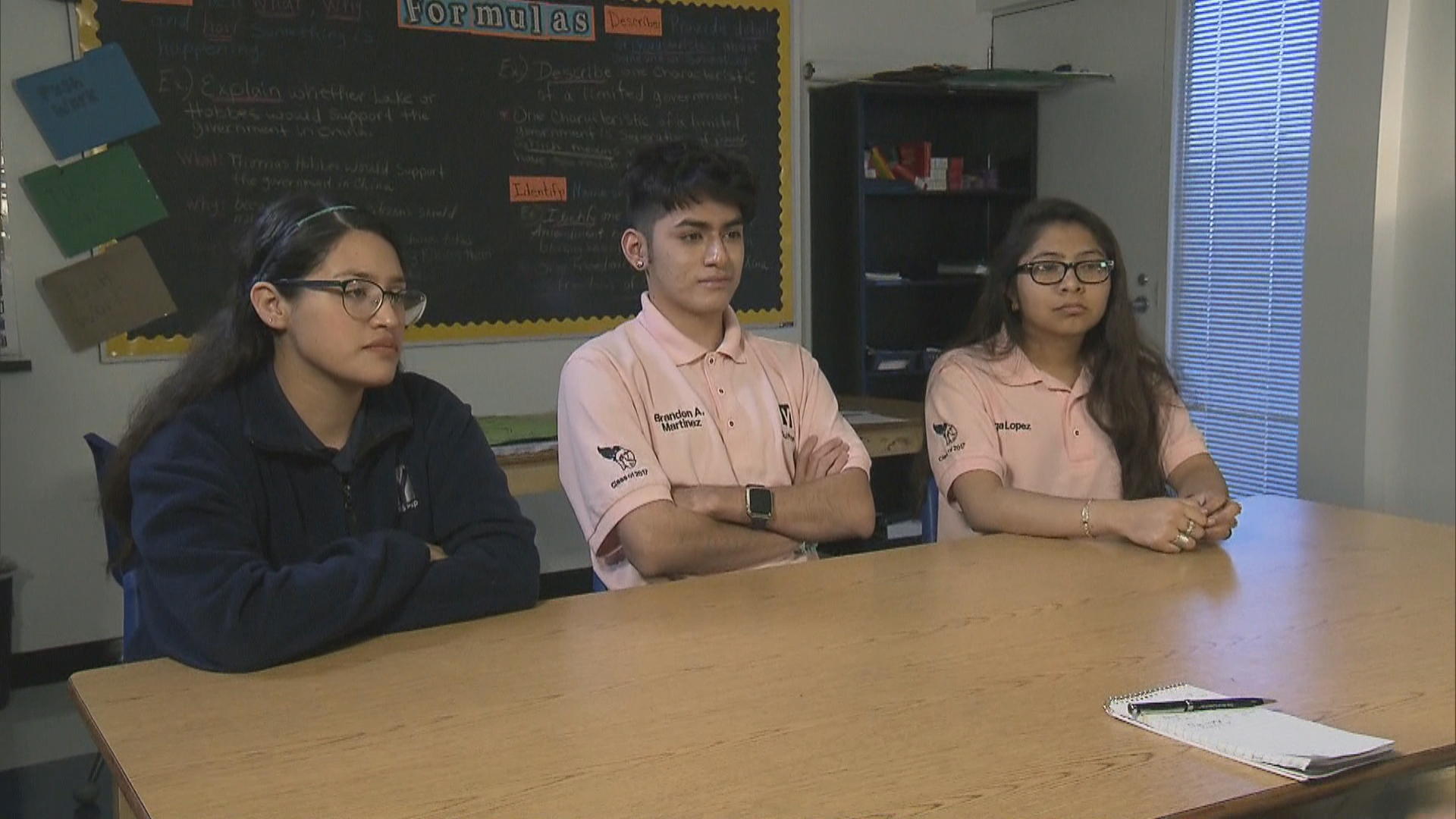 "My life is made here": Undocumented students fear fate under Trump
Under an executive order by President Obama in 2012, the feds have granted protection to immigrants whose families illegally brought them to the U.S. as children. But many students are worried about what comes next, as the Trump administration considers their fate.
Teachers at YES Prep Gulfton in Houston estimate about a third of the students are living under those protections. Several of them said they've been living in fear since the day after the election, reports CBS News correspondent Omar Villafranca.
Francisca Medrano and her classmates Olga Lopez and Brandon Martinez were all born in Mexico and raised in Texas.
"You didn't know at any moment that if you were in class, like immigration could come for you," said Francisca Medrano. "And I was scared that could've happened to me, that I was in class learning and like immigration could've came for me."
The three seniors plan to go to college in the fall. But their American dream started after arriving illegally in the U.S. as children. They've been living under the protection of Deferred Action for Childhood Arrivals (DACA).
"If Trump gets rid of DACA, they have our information, our addresses, and all of that stuff, so they can easily find us and get us and deport us," Martinez said.
The feds have protected more than 750,000 people from deportation under DACA. Those eligible were born after the summer of 1981, came to the U.S. before their 16th birthday, and meet certain qualifications, like having no felony convictions.
On the campaign trail, candidate Trump talked about ending the program.
"Anyone who has entered the United States illegally is subject to deportation," he said on August 31, 2016.
But he has since softened his tone.
"They shouldn't be very worried. They are here illegally. They shouldn't be very worried. I do have a big heart," President Trump said during a recent interview with ABC News.
According to critics, the program encourages illegal immigration. They point to the recent surge in undocumented minors caught crossing the border.
"The problem is, DACA is illegal," said Mark Krikorian, executive director of the Center for Immigration Studies, a think tank that supports tighter controls on immigration.
Krikorian wants the DACA program shut down, in hopes it would force lawmakers to come up with a permanent fix.
"Just get it over with: rip off the Band-Aid and give them green cards," Krikorian said.
In exchange, he said lawmakers should require the use of the e-verify system to confirm employment eligibility, and to impose restrictions so DACA recipients can't sponsor family members for immigration in the future.
"What was the mood like here with your students after the election?" Villafranca asked YES Prep Gulfton School Director Corey Crouch. She said it's been heartbreaking to see her students so upset.
"It was somber," Crouch said. "They need to be allowed to stay, and they should have a path to citizenship."
"My life is made here," said student Olga Lopez. "I'm trying to go to college here. And it's like, devastating to know that we have to go somewhere else."
They don't know that yet. A lot could happen between what Mr. Trump decides and what lawmakers do.
A bipartisan group of senators and representatives has co-sponsored a bill called the Bridge Act, that would protect young immigrants from deportation for another three years.
Thanks for reading CBS NEWS.
Create your free account or log in
for more features.