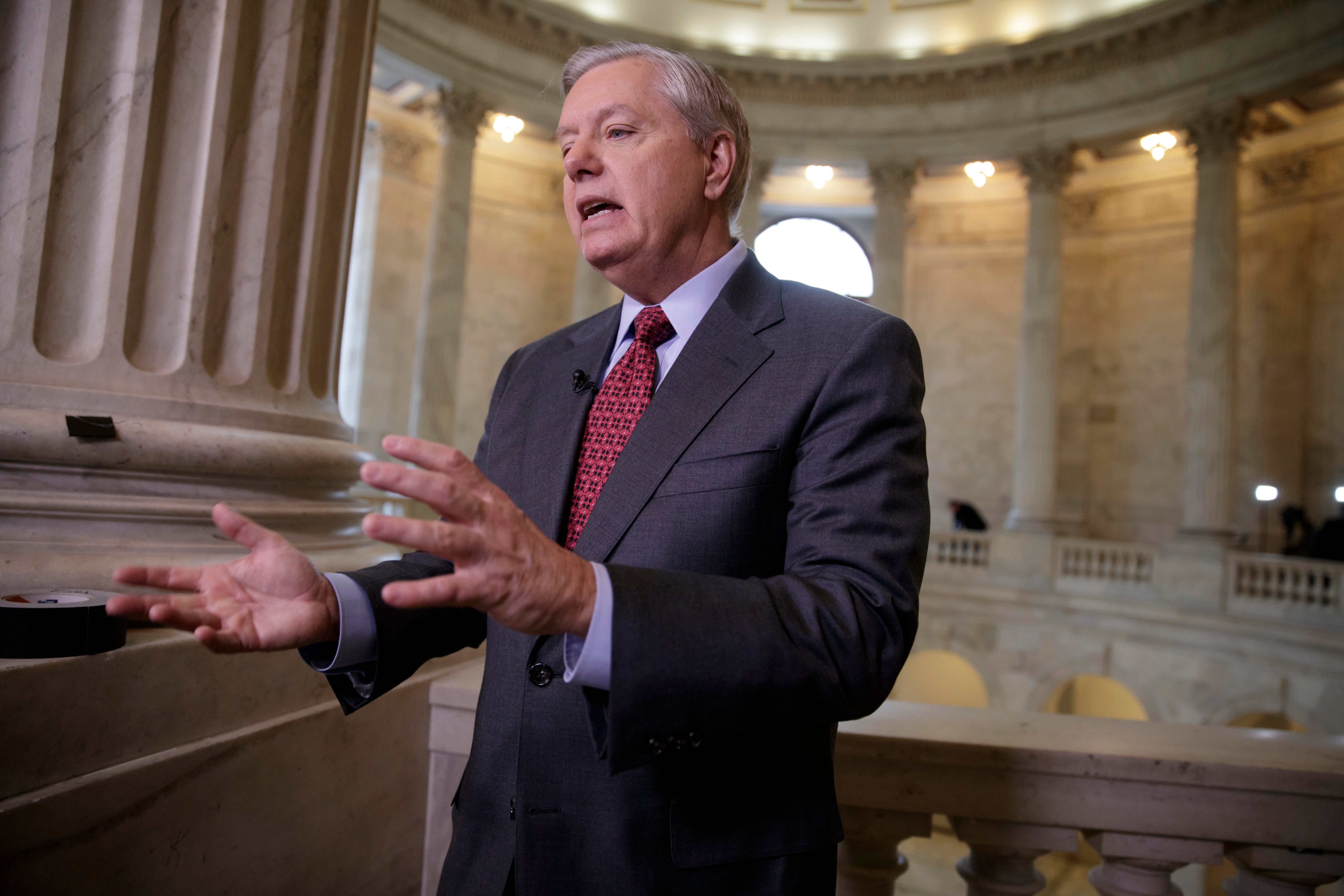 Graham tells Republicans "moment of reckoning" is coming on Dream Act
Sen. Lindsey Graham, R-South Carolina, had a blistering message for members of his own party in a Capitol Hill press conference Thursday as he and Sen. Dick Durbin, D-Illinois, pushed their bill Thursday to grant legal status and a path to citizenship for some immigrants who came to the U.S. illegally as children.
Graham and Durbin are reviving a new version of the bill, which has been introduced in previous years in the Senate, as the Deferred Action for Childhood Arrivals (DACA) program faces legal challenges in court. Graham said he appreciates the Trump administration's stated priority to prioritize deporting "bad hombres" who are in the country illegally and have committed crimes, but urged the president and fellow Republicans to treat law-abiding immigrants whose parents brought them as children "fairly."
"The question for the Republican Party is, what do we tell these people? How do we treat them? Here's my answer. We treat them fairly. We do not pull the rug out from under them," Graham said, adding those immigrants, "are no more connected with a foreign country than I am."
"So to President Trump, you're going to have to make a decision," Graham said. "The campaign is over. To the Republican Party, who are we? What do we believe? The moment of reckoning is coming. When they write the history of these times, I'm going to be with these kids."
The DACA program, implemented under President Obama in 2012, protects immigrants brought to the U.S. as children. On the campaign trail, Mr. Trump said he would "immediately" end that protection, but reversed course on that hard-line stance after taking office. The Department of Homeland Security last month said DACA recipients "will continue to be eligible" for renewed status, and the president has called DACA a tough issue to decide.
Durbin said more than 780,000 people have signed up for DACA since 2012, and one million might qualify. The program has attracted the most applicants from Mexico, followed by El Salvador, Guatemala and Honduras, according to federal records.
The legislation Graham and Durbin are introducing requires applicants to be in the country for four years or longer, have been 17 years or younger when they arrived in the U.S., graduate from high school or obtain a GED, be employed for three years, and pass a criminal background check and English proficiency test.
Graham joked those last two requirements would eliminate many of his own relatives.
"What I've described would knock half of my family out," Graham said.
Graham said the Senate has an obligation to these minors, who "took President Trump up on the offer" to stay in the country.
"These DACA kids have come out of the shadows at the invitation of their government," Graham said.
Graham said he wouldn't be supporting the legislation if he didn't have confidence that the federal government will be tightening its borders to restrict illegal border crossings in the future. Mr. Trump still says he plans to build a wall at the U.S.-Mexico border, although progress on that wall is moving more slowly than initially planned.
Durbin said he's "hopeful" that even in today's "anti-immigrant climate," the Senate would be able to work together on this issue.
"I think this is the one area of immigration where we can find common ground," Durbin said.
Thanks for reading CBS NEWS.
Create your free account or log in
for more features.