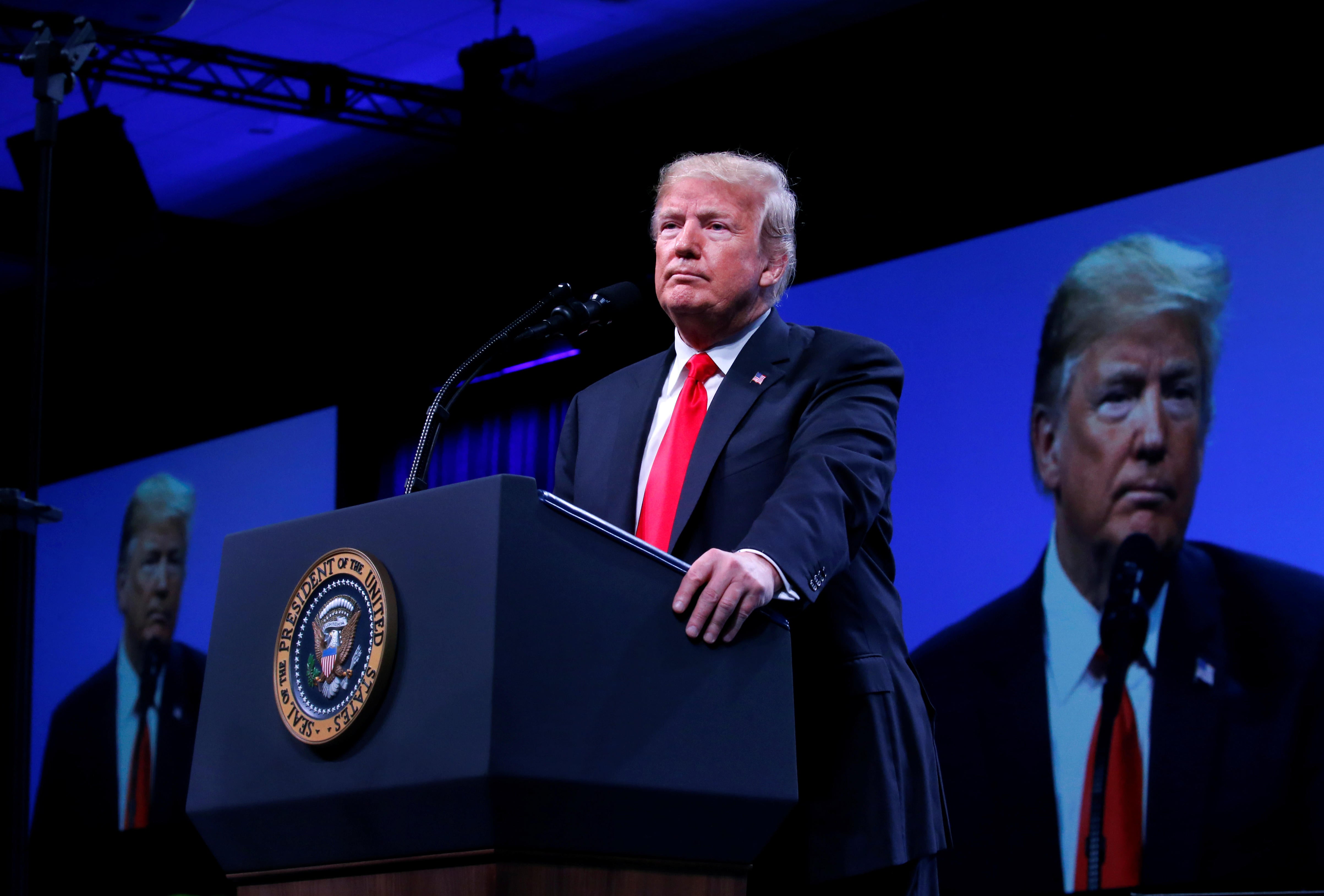 Trump calls attacks on Kavanaugh a "hoax"
President Trump, speaking to reporters before heading to Orlando Monday, called the allegations against Supreme Court Justice Brett Kavanaugh "all made up," and said he thinks the American public will see through Democrats' "charade" in the Kavanaugh saga. Mr. Trump slammed Democrats' behavior toward Kavanaugh as "atrocious."
"The way they really tortured him and his family, I thought it was a disgrace. I thought it was one of the most disgraceful performances I've ever seen," he said. He also called the attacks on Kavanaugh a "hoax" and predicted that as a result, Democrats would support Republican candidates on Election Day in November.
The president also said he has no plans to fire Deputy Attorney General Rod Rosenstein, who accompanied him to Orlando. Mr. Trump told reporters he has a "very good relationship" with Rosenstein, aside from the Russia investigation.
In Orlando, President Trump touted the "stop and frisk" policy in a speech to the International Association of Chiefs of Police Annual Convention in Orlando, saying it's a policy that works and was meant for places like Chicago.
The president, who regularly brings up Chicago when talking about crime, said that city should strongly consider the controversial "stop and frisk" policy used when his lawyer Rudy Giuliani was mayor of New York city.
"I have directed the attorney general's office to immediately go to the great city of Chicago to help straighten out the terrible shooting wave. I'm going to straighten it out and straighten it out fast, there's no reason for what's going on there," the president said. "I've told them to work with local authorities to try to change the terrible deal the city of Chicago entered into with ACLU, which ties law enforcement's hands and to strongly consider stop and frisk. It works and it was meant for problems like Chicago. It was meant for it. Stop and frisk."
"And Rudy Giuliani, when he was mayor of New York City, had a very strong program of stop and frisk, and it went from an unacceptably dangerous city to one of the safest city in the country and I think the safest big city in the country, so it works. Got to be properly applied, but stop and frisk works. The crime spree is a terrible blight on that city and we'll do everything possible to get it done."
Again in his speech, Mr. Trump also praised Supreme Court Justice Brett Kavanaugh, who was successfully confirmed over the weekend, while branding the people who brought about the controversy against him "evil."
Upon his return to the White House, asked about missing Saudi journalist Jamal Khashoggi, the president said, "I am concerned about it. I don't like hearing about it, and hopefully that will sort itself out." Khashoggi vanished after a visit on Oct. 2 to the Saudi consulate in Istanbul, and his friends and allies suspect he was killed inside the building.
Mr. Trump was also asked about singer Taylor Swift's endorsement of former Tennessee Gov. Phil Bredesen, who's running in Tennessee for Senate. After defending Bredesen's GOP opponent Marsha Blackburn, the president said, "I'm sure Taylor Swift has nothing or doesn't know anything about her. And let's say that I like Taylor's music about 25 percent less now, OK?"
Upon returning to Washington, the president will later swear in Kavanaugh at a ceremony at the White House. Hours after he was confirmed by the Senate, Kavanaugh was officially sworn in by Chief Justice John Roberts in a private ceremony with his family at the Supreme Court. First Lady Melania Trump will not attend, with her office citing a long-standing prior commitment.
"The first lady regrets that she will not be able to celebrate with the Kavanaugh family on such a special evening, but she has a longstanding prior commitment she was unable to change at the last minute," the first lady's spokesperson, Stephanie Grisham, told CBS News.
Thanks for reading CBS NEWS.
Create your free account or log in
for more features.