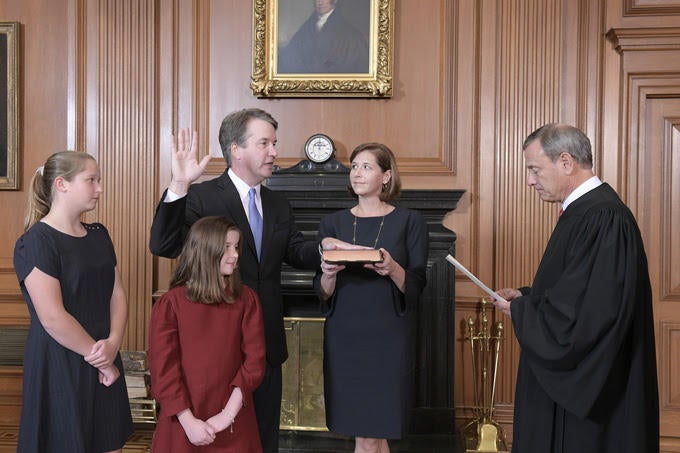 The confirmation victory of Justice Brett Kavanaugh
Associate Justice Brett Kavanaugh is beginning his first full day as a member of the Supreme Court. He left home late yesterday afternoon to be sworn in at a private ceremony at the Supreme Court, just hours after the Senate confirmed his appointment, reports Rita Braver.
With Vice President Mike Pence presiding, and frequent outbursts by Kavanaugh opponents in the gallery, the vote was a close 50 to 48.
Even as demonstrations raged outside the Supreme Court, it was the climax to one of the nastiest nomination fights in American history.
Because this wasn't just any nomination. It was to fill the seat held by Anthony Kennedy, known as a "swing justice," and Kavanaugh's vote could tilt the court to the right because he is expected to consistently vote with the Court's four conservatives.
So, Kavanaugh's role in Ken Starr's investigation of Bill Clinton; his White House work for President George W. Bush; and his conservative record on the U.S. Court of Appeals in Washington made him suspect to Democrats, who worried about everything from whether he would help overturn the Roe v. Wade abortion rights decision, to whether he would allow President Trump to sidestep the Special Counsel investigation into Russian meddling in the 2016 Presidential election.
Sen. Dianne Feinstein: "You can't give me an answer on whether a president has to respond to a subpoena from a court of law?"
Kavanaugh: "You're asking me to give my view on a potential hypothetical."
And then came that last-minute bombshell: Christine Blasey Ford's allegation that Kavanaugh had sexually assaulted her in high school:
Ford: "Brett groped me and tried to take off my clothes. I believed he was going to rape me."
Followed by Kavanaugh's passionate denial:
Kavanaugh: "I'm here today to tell the truth. I have never sexually assaulted anyone."
And an angry defense which raised concerns to some about his judicial temperament:
Kavanaugh: "This whole two-week effort has been a calculated and orchestrated political hit, fueled with apparent pent-up anger about President Trump and the 2016 election."
In the days that followed, we saw victims of abuse going after Arizona Senator Jeff Flake in an elevator ("Don't look away from me! Look at me and tell me that it doesn't matter what happened to me!"), and the President mocking Dr. Ford ("'How did you get home?' 'I don't remember.' 'How did you get there?' 'I don't remember.' 'Where is the place?' 'I don't remember.' 'How many years ago was it?' 'I don't know'").
Then, on Friday Senator Susan Collins, a Republican from Maine who Democrats thought might derail the Kavanaugh train, said she would vote for him.
Collins: "Certain fundamental legal principles about due process, the presumption of innocence, and fairness do bear on my thinking, and I cannot abandon them."
The Kavanaugh battle has already become a flashpoint for both sides in next month's Congressional elections. Just before yesterday's vote, Democratic leader Chuck Schumer was sounding the call:
Schumer: "If you believe the process here in the Senate was a sham, and if you believe Americans deserve better, vote!"
While in Topeka, Kansas, last night, President Trump rallied his supporters:
President Trump: "You don't hand matches to an arsonist. You don't give power to an angry left-wing mob, and that is what they've become."
As for Justice Kavanaugh, he is expected to be on the bench Tuesday.
Thanks for reading CBS NEWS.
Create your free account or log in
for more features.