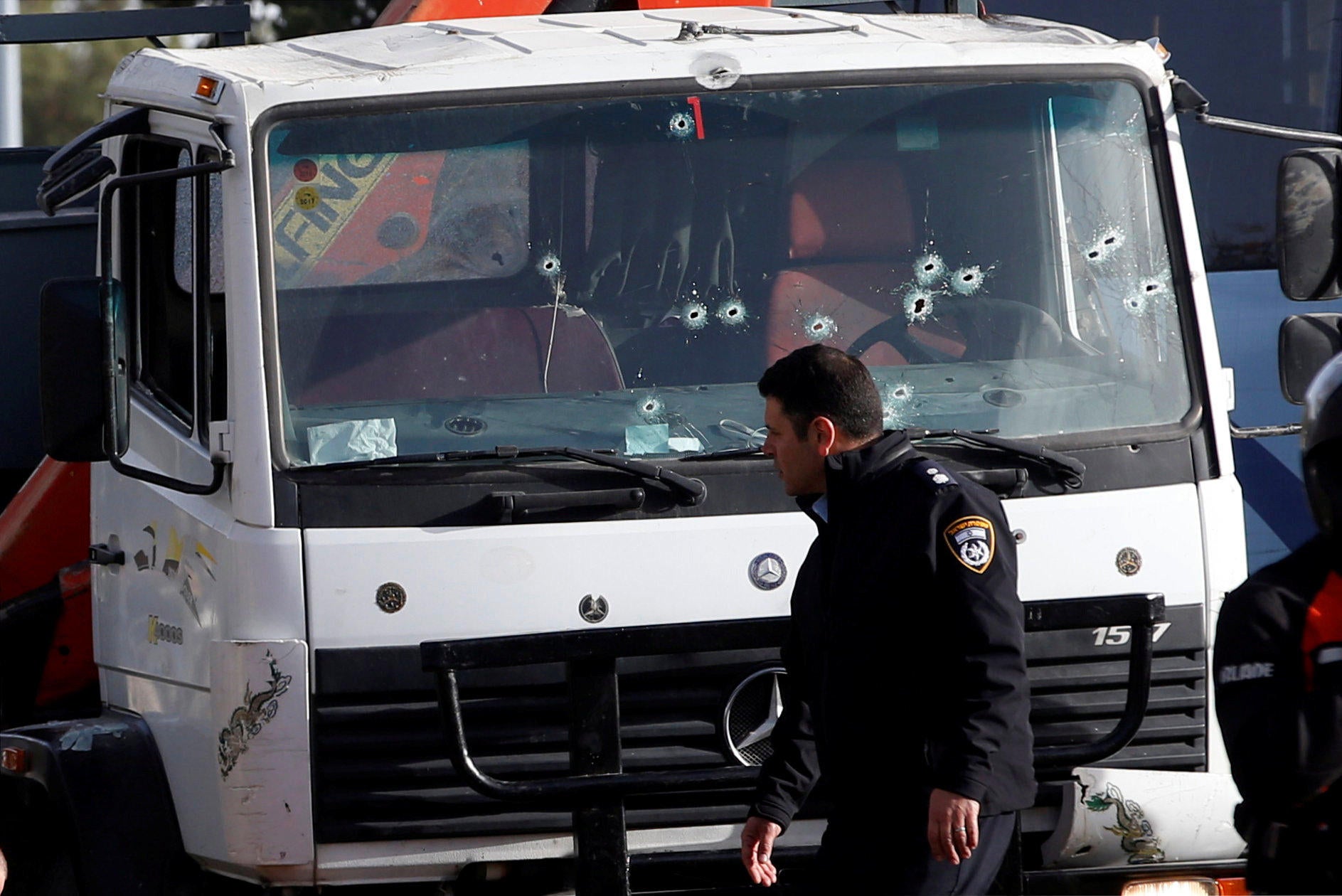 Hamas calls for escalation after Israeli soldiers killed in Jerusalem truck attack
JERUSALEM -- A truck rammed into a group of Israeli soldiers who were disembarking from a bus in Jerusalem on Sunday, killing four people and wounding 15 others, Israeli police and rescue services said.
Police spokeswoman Luba Samri said the truck veered off course and rammed into the group in the Armon Hanatziv neighborhood. She said the attacker was shot dead.
Visiting the attack site, Prime Minister Benjamin Netanyahu said there was strong evidence the attacker was a supporter of the Islamic State of Iraq and Syria (ISIS) and suggested a link to previous vehicle attacks in Europe.
"We know that there is a sequence of terror attacks. There definitely could be a connection between them, from France to Berlin and now Jerusalem," he said.
Netanyahu offered no evidence to support the claim. While Israel has arrested several Palestinians who allegedly traveled to Syria to join ISIS, the group is not known to have any serious presence in Israel or the Palestinian areas. Israel has said that two gunmen who carried out a deadly attack in Tel Aviv last June were also inspired by ISIS.
The attacker, identified as 28-year-old Fadi Qunbar, came from the Palestinian neighborhood of Jabel Mukaber in east Jerusalem -- located near the attack site.
The Palestinian Hamas movement praised the truck-ramming attack, but did not claim responsibility.
Hamas spokesman Abdul-Latif Qanou called it a "heroic" act and encouraged other Palestinians to do the same and "escalate the resistance." Qanou says Sunday's attack proves the wave of Palestinian violence has not ended, despite a recent lull. He says "it may be quiet, it may linger, but it will never end."
Hamas, which rules the Gaza Strip, is pledged to Israel's destruction.
Paramedic Chen Lendi Sharon was among the first to arrive on the scene of the Jerusalem attack and described 10 bodies trapped beneath the truck.
Israel's rescue service MDA said the four casualties were in their 20s and included three women and a man. Of the 15 wounded, one was in serious condition.
Israel's police chief Roni Alsheich told reporters the attacker was from an Arab neighborhood in east Jerusalem and forces had no advance warning. He refused to elaborate and a gag order was placed on further details pending an investigation.
It would rank as one of the deadliest in a more than yearlong wave of Palestinian shooting, stabbing and vehicular attacks against Israelis that had slowed of late. Sunday's incident marks the first Israeli deaths in three months.
On Friday, Palestinian President Mahmoud Abbas, invited Trump to visit the West Bank and urged him not to move the embassy.
Abbas said that doing so would mark a "red line that we don't accept." He promised to use all "diplomatic and political tools" to fight any such move, but ruled out a violent response, saying "we renounce terrorism."
Since September 2015, Palestinian attackers have killed 40 Israelis and two visiting Americans. During that time, 230 Palestinians have been killed by Israeli fire. Israel says most of the Palestinians killed were attackers while the rest died in clashes. The Palestinians and rights groups have accused Israel of using excessive force in some confrontations.
Israel says the violence is driven by a Palestinian campaign of incitement, while Palestinians say it's the result of nearly 50 years of Israeli occupation and dwindling hopes for an independent state.
Thanks for reading CBS NEWS.
Create your free account or log in
for more features.