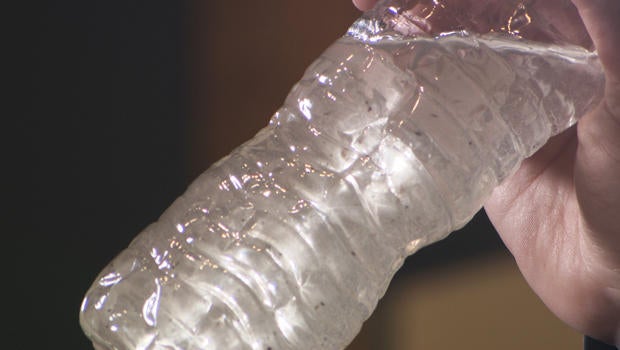 This week on "Sunday Morning" (June 17)

COVER STORY: The Flint water crisis | Watch Video
Martha Teichner talks with the whistleblower who exposed the dangers posed to residents of Flint, Michigan, by the very water they drank.
BOOK EXCERPT: "What the Eyes Don't See"
Writing on the public health crisis affecting Michigan residents, pediatrician Dr. Mona Hanna-Attisha says that resilience "isn't a trait that you have or don't have. It's learned."
For more info:

FATHER'S DAY: How to dress like a dad | Watch Video
Father really does knows best when it comes to fashion sense, as "dad style" takes hold. Mo Rocca reports.
For more info:
MUSIC: Rory Feek and family | Watch Video
Anthony Mason catches up with country musician Rory Feek, now planning a return to the stage after the 2016 death of his wife and musical partner, Joey Feek.
"It's been two-and-a-half years since Joey passed away," he told Mason. "I feel just as married and just as in love. And I feel like she's just as much a part of our life as she was."
FROM THE ARCHIVE: Rory Feek on mourning and life without Joey (08/04/16)
WEB EXTRA VIDEO: Rory Feek performs "A Little More Country Than That"
WEB EXTRA VIDEO: Rory Feek performs "Hard to Be Cool (In a Minivan)"
WEB EXTRA VIDEO: Rory Feek and Firekid perform "If I Needed You"
WEB EXTRA VIDEO: Rory Feek sings "Someone You Used to Know"
For more info:

ART: M.C. Escher: A mind-bending exhibition | Watch Video
An exhibition at Brooklyn's Industry City shows more than 200 works from the Dutch artist's topsy-turvy perspective. Jane Pauley reports.
For more info:
BIG TOP: Meet the man who ran away and built a circus | Watch Video
The Ringling Bros. and Barnum & Bailey Circus is no more, having given its last performance in May 2017. So, how can young people now dream of running away to a life under the big top? Kevin Venardos tells NPR's Scott Simon why he created his own one-ring circus that he takes around the country in a 28-foot long truck. He also remembers his father, Lane Venardos, a CBS News executive who died in 2011, and their shared love of trains.
For more info:

HARTMAN: A history lesson (Video)
Ten-year-old Sarah Haycox says she was just walking through a park in Shoreline, Wash., about a year ago when she came across a plaque paying tribute to Edwin T. Pratt, who died in 1969 at age 39. She assigned herself the task of finding out who Pratt was, and her investigation led to a pretty impressive history lesson for her community. Steve Hartman reports.
MOVIES: The superpowers of Paul Rudd | Watch Video
Tracy Smith spends time with actor Paul Rudd, star of the upcoming Marvel adventure, "Ant-Man and the Wasp."
To watch a trailer for "Ant-Man and the Wasp" click on the video player below:
For more info:
BOOKS: Seymour Hersh on the life of a "Reporter" | Watch Video
David Martin sits down with Pulitzer Prize-winning investigative journalist and political writer Seymour Hersh, author of a new memoir.
For more info:
OPINION: Carl Hiaasen's pep talk for grads: Assume the worst | Watch Video
Author Carl Hiaasen has thoughts to share with his son – and us – timed perfectly for Father's Day and commencement season.
For more info:

CALENDAR: Week of June 18 | Watch Video
"Sunday Morning" takes a look at some notable events of the week ahead. Jane Pauley reports.

NATURE: Komodo dragons (Extended Video)
We leave you this Sunday Morning at Komodo National Park in Indonesia, home to the legendary Komodo dragon, and a vast array of sea life. Videographer: Mauricio Handler.

WEB EXCLUSIVES:

NATURE UP CLOSE: The carnivorous Butterwort plant (with video)
Plants that don't rely on photosynthesis for nutrients can employ some tricky tactics to catch a meal.
---
The Emmy Award-winning "CBS Sunday Morning" is broadcast on CBS Sundays beginning at 9:00 a.m. ET. Executive producer is Rand Morrison.
"Sunday Morning" also streams on CBSN beginning at 9:30 a.m. ET and at 1 p.m. ET. Full episodes of "Sunday Morning" are now available to watch on demand on CBSNews.com, CBS.com and CBS All Access, including via Apple TV, Android TV, Roku, Chromecast, Amazon FireTV/FireTV stick and Xbox.
WE'LL SEE YOU ON THE RADIO: "Sunday Morning" is now available to CBS News Radio listeners.
You can also download the free "Sunday Morning" audio podcast at iTunes and at Play.it. Now you'll never miss the trumpet!
Follow the program on Twitter (@CBSSunday), Facebook, Instagram (#CBSSundayMorning) and at cbssundaymorning.com.

Thanks for reading CBS NEWS.
Create your free account or log in
for more features.