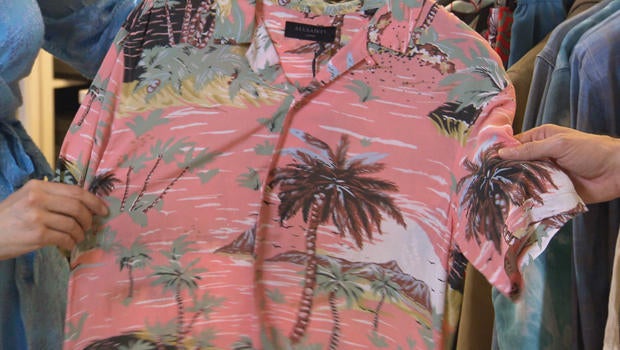 "Father knows best" about lots of things, we'll all agree. But fashion? REALLY? To which Mo Rocca says: "Yes, really!"
You may not think of Balenciaga as your father's fashion house – and no, your father probably has no idea what a fashion house is – but at the Spanish luxury brand's most recent annual show, the "dad look" dominated.
No skinny jeans here! Instead the runway was awash in washed-out denim, over-sized jackets, and Hawaiian prints … with a couple of kids to complete the ensemble.
"'Dad style' is kind of what we've called it," said Max Berlinger, who wrote about this sexy-unsexy trend for The New York Times. "A few years ago we talked about 'dad bod.' I think 'dad style' is kind of that natural progression of taking what a kind of red-blooded American dad represents, and adopting that and making it popular and cool."
"Dadcore," as Vogue dubbed it, wasn't always cool. Former President Barack Obama said he was "unfairly maligned" for his jeans. But one of the look's actual founding fathers wasn't even a dad when he sported "dad wear" in his 1990s sitcom.
"Jerry Seinfeld was kind of a good dad, kind of the high-waisted light denim, kind of a chunky white sneaker," said Berlinger.
And what are dads gravitating towards now? Chinos are having a comeback, says Erica Russo, a fashion director for Bloomingdale's.
And also: "You can't talk about dad style without talking about the Hawaiian shirt," Russo said. "It's having such a comeback. Love this! So, if you think about, years past, dad, Hawaiian shirt, Chino shorts, it would always be something like 'Agh,' but actually now it's something like, 'Yes.' Looks so good, so now, so happening."
And with dad wear, things we wished never happened are suddenly happening. Like fashion's third rail, the fanny pack.
"Yes, well, you know what? Fanny pack is a fanny must, because this is having such a moment," said Russo. "This is for all-day wear. You wear it across body like this, looks fabulous. Little bit slung, you know? You just look cooler."
Other must-haves: Gucci's dad sneakers.
"Characterized by this more thick sole, this more exaggerated look. Love it when it's distressed – actually the more distressed, the better," Russo said. "Feels a little bit more like a heritage shoe."
"Wow. So, you can wear these on the runway and for raking leaves?" asked Rocca.
"Absolutely!" And they'll only set you back a thousand dollars.
Retailers may love the trend, but what do the actual experts think?
Blance Somerfeld, the co-founder of City Dads Group, which connects thousands of fathers around the country, said, "I think dads should walk out of their homes every day in what they feel comfortable wearing. The dads we're seeing these days are chaperoning field trips. They're the ones at the doctor's office appointments. They're the ones who are helping their kids with homework."
Yes, dad wear is an aesthetic dictated, most of all, by comfort.
For Gavin Boyle, the dad look comes naturally. He's a father of two, and a senior producer at "CBS Sunday Morning" (so for all of our sakes this better go well).
Today, Boyle is sporting a more monochromatic look than usual. "Well, it's really the only thing I had that was clean today, so, yeah," he said.
Rocca asked, "Okay, so this is the weekend look, and you could use this for anything from…?"
"Well, from anything to mowing the lawn or going to Home Depot. Things that I do during the weekend. And it's comfortable."
"Let's talk about what's going on downtown. Your pants."
"What about them? They're jeans!"
And Erica Russo, it turns out, likes them! Assessing Boyle's look, she said, "He's rocking, actually, the look that we're talking about right now. He's kind of working with an over-sized shirt here, a light denim wash."
And of his footwear, she notes, "He has more of the aggressive sole sneaker on. Definitely feels like it's, you know, lived-in."
Still, Russo thinks that Boyle is due for a fashion reboot. And if you've ever watched TV before now, you know what happens now:
So, how does Boyle feel decked out in shorts and Hawaiian shirt? "I feel great. I feel comfortable. I feel easy-breezy. I feel like I'm on an episode of 'The Love Boat.'"
And then Russo adds the fanny pack accessory. "My two sons are gonna love this on television," Boyle said.
This Fathers Day it's worth remembering, $800 Ferragamo fanny packs may come and go, but dads are perennial.
And Boyle had the last word for us: "You're fired."
For more info:
Story produced by Gabriel Falcon.
Thanks for reading CBS NEWS.
Create your free account or log in
for more features.