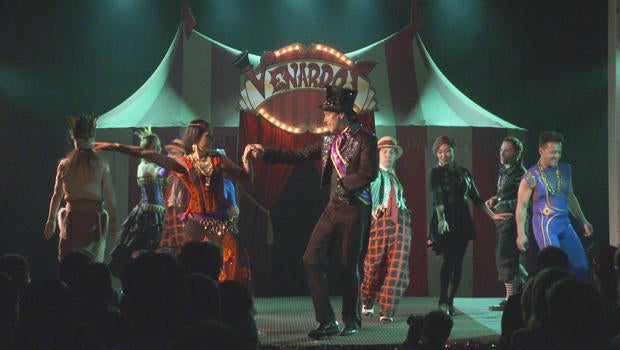 Meet the man who ran away and built a circus
A juggler like Kelsey Strauch (who, we should mention, juggles on stilts) is exactly the sort of performer you'd expect to find under The Big Top. The circus ringmaster who's been talking to contributor Scott Simon of NPR is another:
What does a kid who wants to run away to join the circus do these days? Kevin Venardos created his own.
In a time when circus dreams are dying, he's brought one to life: "It's not a huge circus yet," Venardos said. "But it's the little circus with the great big dreams."
But at first, that great big dream was just a little hocus-pocus: "I actually made a video, that I shot inside of a rented tent. The entire production, even though I think it looks like a million bucks, was held together with duct tape and gum and a lot of Hail Marys behind the scenes. This was long before I actually had anything of my own at all. It was like, 'Yeah, I got that circus. Sign here. We got a contract. And then I'll go find out how to make it.'"
"Every feat is a treat
Hold you seat
And lose your inhibitions..."

In 2014, their first year, Kevin Venardos put on just one show.
Things are looking up. Over the next year-and-a-half, his Venardos Circus (which fits inside of a 28-foot box) will visit some 20 cities:
As for Kevin, he fits into a 32-foot-long trailer that he calls home, wherever they are. "I can stand up in here. That's a huge advantage, being 6'4!"
The show usually runs in one ring in an open field. But Simon caught up with the Venardos Circus as they prepared to open inside the Alabama Contemporary Art Center in Mobile.
The performers usually change from town to town, but Venardos makes sure the mix in each show features acts of skill in the air, daring on the ground, and, of course, the unexpected.
Simon asked, "Were you the kind of kid who grew up wanting to run off and join the circus?"
"Circus was not on my radar," Venardos replied. "I loved Broadway. Went to Ithaca College, studied musical theater, and came back to New York. And a random audition, just like dozens of others, happened to pan out."
Which is how, at the age of 22, Kevin Venardos became one of the youngest ringmasters in the history of the Ringling Brothers and Barnum & Bailey Circus.
He lived on the train ("I lived on a train!"), then the largest privately-owned train in the world, hauling elephants, clowns, tigers, props, tent-poles, and trapeze artists from coast to coast.
Kevin's proud father often joined him: "He loved trains, and we spent my entire childhood, and all his childhood, building HO-gauge model railroads in the basement of our house," Venardos said.
Kevin's father made home movies of life aboard that circus train with professional skill.
For thirty years, Lane Venardos was a beloved producer and executive with CBS News.
Watch the first of four videos documenting Lane Venardo's treks with his son aboard the Ringling Brothers circus train:
"In the five years that I spent there on the road, he was with me for at least a year of that time," Kevin said. "He'd come out and spend a month and then another month. He spent tens of thousands of dollars over the course of his time there buying tickets to the circus to give to friends."
Lane Venardos died in 2011, just 67 years of age.
Kevin Venardos loved being ringmaster. But he left Ringling Brothers after five years: "I never liked thinking that someone else had, in their control, my future, and the future of my dream. So, I would have to create my own operation. And so here we are!"
"If you had a great time, tell all your friends. Seriously, it makes a huge difference."
"If there aren't butts in the seats, there's no way we can make magic and wonder," Venardos said. "So keeping that part alive and being involved in that, there are forces, there are giant forces that have pressed on my life. Because the only way to learn to do things is to fall on your butt and make mistakes. Even homelessness at short moments along the way."
"A homeless ringmaster?"
"I bought a house in Las Vegas with all my life savings after Ringling Brothers in 2005. Within about six months it was worth about half of what I had paid for it. And that started a kind of tailspin of depression, which ultimately led to … well, it led to me declaring bankruptcy at one point, and everything seemed to cave in. And so I'm looking forward to ..."
He started tearing up. "It's just bound to happen. It's the Venardos way."
Which, in a way, is the story of the circus: even if it can be packed into a 28-foot-long truck, on any night It can be put together to become the Greatest Show on Earth.
"I'm building something out of just a dream and an idea," Venardos said. "But I believe in it with all my heart. And I know that, with time, it will continue to grow."
"Is Venardos Circus the kind of place that a kid can run away to and join?" asked Simon.
"I am absolutely counting on it!"
To our viewers he had some advice: "If you wanna be a part of it, just give me a call!"

For more info:

Story produced by Jay Kernis.
Thanks for reading CBS NEWS.
Create your free account or log in
for more features.